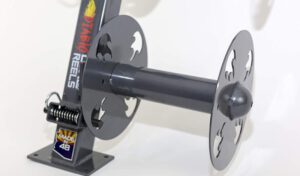 Are you working as a mechanic or a welder? Then are probably searching for the best welding lead reels. It keeps the workstation neat and clean. Along with that, it won't let you stumble over the cables. We know, welding cables become a headache for you. As a simple piece of equipment, it becomes a must-have option for the welder.
Lead reels for welding comes with a simple mechanism that can make your life much better as a professional welder or hobbyist. If choosing the right welding lead reels seems a complex job to you then we got you covered.
All the information you need is here in this guideline for the welding lead reels. Go through it and get yourself knowledgeable about welding lead reels. You'll get your best reel here.
Have A Glance At Our Top Pick For Welding Lead Reels
How To Pick Right Welding Lead Reels? Pros, Cons, and Buying Guide
Welding lead reel is not just only to store your cables, but it helps to organize your welding work. So, don't make a mistake by picking the wrong one that cannot fulfill your requirement.
We've gone through deep research and gathered all the information that you'll need to buy the best welding reel. Let's check the features, benefits, and specifications of these welder lead reels and get you the right one.
Highlighted features
Made of heavy-duty steel that made this unit more durable and strong.
Designed to allow free airflow to keep it cool.
Comes with a highly adjustable heavy-duty friction brake.
To keep the welder connect all the time, it comes with "Live Reel Setup"
The locking pull pin keeps the reel and the cable secure all the time when it is not in use.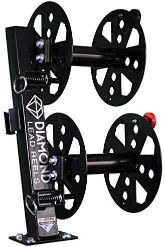 To get the job done, you must need an impressive welding lead reel. This one comes as a great option for the welder. It works perfectly and you'll find the improvements to your job in a satisfying way. This reel is super simple to use because of the handle. The handle is just set up with a bolt. It's easy to rip open a cable because of this mechanism.
As a heavy-duty fixed base welding reel, this one comes with a dual ball bearing spool. These 10" dual ball bearings are designed to hold 150 feet of 1/0 cable. For the 2/0 cable, it has the capacity to hold 125 feet. The steel construction makes this unit more solid and durable. This material comes with a powder-coated finish and the hardware are Zinc coated.
Every part (Spools, bearings, and pins) is made of quality material. As a result, you can easily use this unit for many years. The manufacturer includes 'Live Reel Setup" with this welding lead reel. This setup helps to stay connected to the welder all the time. When you are not using this reel, just lock the pull pin. It will secure the cables.
For better cooling, this reel is designed with ½" terminal connection to get the way to flow enough air. Even the capacity of the welding lead reel is amazing and it is 600 Amp. To set the tension it has adjustable heavy-duty manual friction brake. It also prevents free spooling.
Highlighted features
Every reel can hold 150′ of 1/0 cable and 125′ of 2/0 cable that is great as reel capacity for a single set.
To adjust the tension and prevent the spooling, this unit has a manual friction brake.
The powder-coated finish makes all the parts of this reel durable.
This unit is fully rebuildable along with the full line of replacement parts.
'Constant Reel Setup" helps to connect to the welder.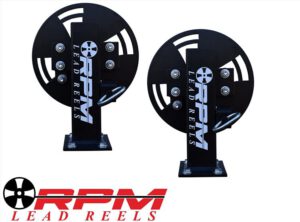 Sometimes you might need something different for the welding lead reel. So, buying welding reels like this one matters a lot. It comes as a single set (pair) and designed as a fixed base welding cable lead reel, but offers better performance to get the job done. I was checking this reel for a long time. This pair of reels has all features that you need to make your life easy as a welder.
You don't need to think about the durability of this product. All the parts of this product are powder coated. This coat ensures the durability of the parts. It also brings a shiny finish to the product. Heavy-duty material has been used to make this welding reel. This product is a great addition to RPM's product line.
Among lots of features "Constant Reel Setup" is the best one.  To keep the welder connected at all times, this feature helps a lot. As a user, you must adjust the tension of a welding lead reel. This unit has a heavy-duty manual friction brake. It's highly adjustable and offers more user satisfaction. Even it helps to prevent free spooling of leads which keeps you free from the hassles of organizing the reel.
The design of this unit makes it possible to rebuild the whole reel. This reel offers more room to use. The cable capacity of this reel is enough to serve your purpose. For 1/0 it can hold 150' cable and for 2/0, it can hold 125' cable.
Highlighted features
It comes with 1000 amperage capacity that is the highest in the world STANDARD.
This welding lead reel is made of 10 gauge steel that makes it the strongest and durable unit.
For safety and control, it has adjustable friction brakes
150' of 1/0 cable and 125' of 2/0 cable is enough length for any type of welding job.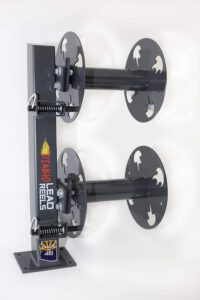 One thing we can say about this product is it's a fantastic one. This product is not only great but also best in quality. It is an example of impeccable craftsmanship that is available for everyone. First of all, you can stay connected all the time to your welder. This fixed base double welding cable lead reel makes the process easier to get the job done for welding, heavy equipment repair, and construction work.
The design is magnificent because every lead reel comes with 4 proprietary isolator plates. All these plates are capable of getting the power of 1000 Amp isolation. This amperage capacity is enough to complete a rough and tough job. It ensures full isolation, especially when mounted to a vehicle.  The power of Amp is rated as the STANDARD one in the world.
To ensure durability, this welding reel is made of 10 gauge carbon steel. The ball bearing of this reel is also sealed. This construction made this unit one of the strongest lead reel out there. The powder coating also makes all the parts more durable.
A good welding cable lead reel must come with a great cable holding capacity. This one offers the same capacity that you need. It is capable of holding 150' of 1/0 cable and 125' of 2/0 cable. Another good thing about this unit is the adjustable friction breaks. This break is independent to adjust every spool and thread.
You can easily lock the break after completing the setting for the next use. It secures the 10" spool in place. To ensure even airflow, the spool is designed with vent holes. This feature can keep it cool.
Highlighted features
This unit is a sturdy one piece and made of 12 gauge steel.
For the smooth and trouble-free operation, it has self-aligning pillow block bearings.
An adjustable tension brake helps to adjust the speed of the reel.
Has a locking pin to secure the reel when it is not in use.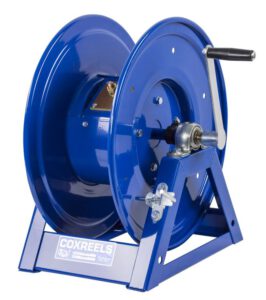 To organize the ground cable you cannot get the best welding lead reel without it. This hand crank reel is designed to save your time and effort. It is great for the welding cable investment because it ensures a longer life than other welding lead reel out there. As an organized unit, you can use 100% of this welding lead reel. This is a piece of robust workshop equipment.
This large unit is almost 18 inches tall. Even the width is also 21 inches. It has a removable panel that is easy to remove and easy to maintain. Like other lead reels, you don't need to remove the reel at all from the mount. To make it easier to use, it has CNC spun the discs. This heavy-duty CNC ensures the durability and overall strength of the reel. Even it is good for hose protection that is also essential for safety.
This sturdy unit is made of 12 gauge steel and it is a single-piece unit. The superior structure of this reel without any bolted spot makes it super easy to install and detach. It has a self-aligning pillow block bearing that is lubricated. This permanent lubrication helps to rotate and trouble-free operation.
This reel offers secure performance because of the locking pin. It has a long-handled locking pin. This pin can lock the reel and keep the spool secure when it is not in use. The adjustable brake is designed to adjust the speed. To get the desired performance, this break allows us to control the tension during operation.
Highlighted features
Featured with a heavy-duty manual friction brake to adjust the speed and prevent free spooling.
"Constant Reel Setup" helps to stay connected to the welder at all times.
This unit is fully rebuildable and the parts are replaceable.
The finish lasts for a long time because of powder coating.
12"reel is able to hold 200' of 1/0 cable and 175' of 2/0 cable.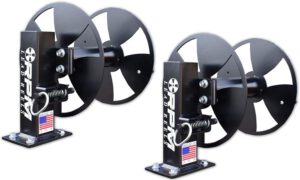 This unit is another example of a great welding lead reel. This single set is designed to fit in any compact space. Lots of users of this reel recommend it because of its usability. You better check this product as it comes with different features. A lead reel like this one helps to stay connected to the welder because it has "Constant Reel Setup".
It's made of durable steel that enhances the durability of this lead reel. To adjust the tension you just need a brake feature in a lead reel. Heavy-duty manual friction brake of this reel makes it possible to control and adjust the tension. You won't face any problem like free spooling of lead. This brake also prevents this free spooling.
The diameter of this reel is only 12". All the parts are replaceable, especially all the bearings and pins. This option makes it possible for the user to rebuild the whole reel. There is no doubt about its performance. It will serve you for the next few years easily. A powder coat has been used over all of its parts. This finish is going to last for a long time that can ultimately save you some bucks.
The cable extension capacity is great for the user. This 12" black single set reel is capable of holding 200' of 1/0 and 175' of 2/0 cable. It is also designed to get free airflow to keep the lead cool.
Factors Need To Consider For Buying Welding Lead Reels
This simple piece of equipment can make lots of confusion for you. Could you select the best welding lead reel? There are a few important factors you might need to consider for buying one. To clear your confusion, focus on the factors we are going to discuss. It'll help you to make a buying decision.
Power Vs. Manual
The first thing you need to look at and that is the welding lead reel is manual or powered by electricity. After choosing the right one you can look forward to considering other factors. Most welders prefer the manual one because it is much cheaper than the electric one.
The manual one is not easy to use because it needs more physical effort to wind the cable and it kills time as well. On the other hand, an electrical one can do it with the help of power. It can wind the cable very quickly.
Price
According to the model and type of welding lead reels, the price differs a lot. If you want more features, than the price of the unit will go higher. But there is some basic welding lead reel which comes at a cheaper price. On the other hand, according to the type, the price level also changes. Manual one comes at a low price, but the electric one does not.
Power
Welding load reel comes with different power. The manual one does not offer any power. Power reels are not meant for professionals. They need the power to complete some rough and tough jobs easily. It will also save valuable time. On the other hand, the manual one is perfect for hobbyists. It's also suitable for a small workshop. For the beginner manual reel is sufficient to complete the job.
Material
Welding lead reel made of a different material. The most common material that is used to build this piece of equipment is plastic and steel. But some welding reels are made of wood. Choosing one that is made of wood is a clever choice if you want to avoid any hazard in the hot. It is suitable to use in a dangerous environment or workshop.
Buying a welding reel of tougher and heavier material means you need to pay more money. Plastic is a bit cheaper than other materials. You should get the welding reel of heavy material. It's sturdy enough to hold the heavy and long cable. It's not going to break and need less maintenance that can keep you tension free. You also need to think about the location because you might need to store it outdoors. In that case, choose the reel of good material.
Storage
Storage is another crucial factor you need to consider. Welding lead reels come with different types of design. According to the design, the shape also changes. You'll find large and small welding lead reels out there.
Before buying one, you need to look at the space and where you are going to install or store it. You might be out of space for the larger welding lead reel. So, look for the smaller one or compact size.
FAQs About Welding Lead Reels
1. Do lead reels lead to arc blow?
Answer: Generally, there is no chance of such an incident. So, the answer is no. But, some scenarios can change the assumption of this problem. It happens when you keep the reel too close to the welding machine.
The only problem you'll face with the cable when the current passes through it. This process can create a magnetic field. Ultimately, it can affect the transistor that is installed in your welder. When you coil the wires around the base metal, then it will start to magnetize it. As a result, it causes an arc blow.
2. Which one is the best size of the cable to pick?
Answer: There is no specific answer to this question because the size always depends on the length of the cable. It's dependent on the amperage too. As an example, you can take the cable of maximum length and that is 15o' for 1 AWG wire when you are welding at 300 amps. But for the 400 Amps, you must need to get 2/0 size wire. The length should be the same as you took for 300 amps.
3. Is it important to unwind the cable from the reels while welding?
Answer: You must unwind the cable before you start welding. The only reason you need to do that is the current that will pass through the wire. Current plays a vital role to create massive heat. This type of heat can easily damage and melt the isolation of the wire. So, you cannot afford such a risk for welding. This type of risk is higher if you use undersized wire for welding.
4. How one can unwind the leads?
Answer: Hold both wires together to uncoil the leads and this is the best way you can adopt. Taking out both cables side by side is far better than creating a pile on the ground
Final Words
A perfect welding lead reel can easily make the life of a welder more convenient. I believe that you already got the answer about the welding lead reels from this article. This is a simple piece of equipment for the welder. But there are lots of positive impacts you'll get after using the right welding lead reel according to your need.
Best welding lead reels can increase your productivity and can change the working environment. This article is the perfect guideline to help you with the best pick of the welding lead reel. Taking a buying decision depends on your requirement. All the options I've discussed earlier can help you for making a good investment in this fairly simple welding equipment.
[amazon bestseller="welding lead reel" items="3″ template="table"]