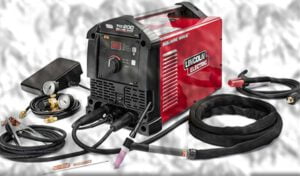 Tig welding is the most complicated version of welding in the industry. Beginners always struggle to find the right Tig for them. So, here are our reviews for the best Tig welder for a beginner.
There are many options for TIG in online or offline. But choosing among them is a real mess unless you know all the pros, cons, and features of those machines. Though all the TIG doesn't come from the same brand, model, and size. And then what makes all of those differences is the power.
Still, a powerful TIG welding machine doesn't mean it will satisfy all of your requirements. You have to make the right choice while you're purchasing your TIG welder. If you're a beginner or a professional welder, you must have to follow some criteria that meet all of your requirements.
Best Tig Welder Reviews For Beginners In The Budget With Highlighted Features
It's a challenge to make the right decision for choosing any welder machine whether you need one of the top MIG welders or Tig. And everyone should get the most efficient welder machines for making their welding profession worthy of time.
So, here we have come along with the top-rated TIG welding machines beginners and they are somehow eligible for performing professional welding tasks too.
Highlighted features
Allows you to multiple welding task using lower power consumption.
The design is compact and perfect for any less spacious Jobsite.
Changing the options and controlling the setting adjustment is easier.
It provides safety requirements and safer to operate in any condition.
It comes with all the essentials and also doesn't consume much space to be carried.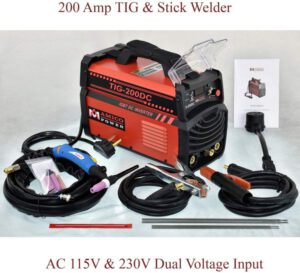 This Amico 200 Tig welder is a great choice for any beginner. It supports multi welding processes. So, beginners can try their skill with it and get the best use of it. It allows the welders to work with an impressive range of features of Arc, Stick, and DC inverter options.
Well, it doesn't come alone in the box. You are getting all the essential things like cables, electrode holders, torch, and everything in the kit. While you are a beginner and don't know how to set up a welder machine, it's the best amp TIG welder for you not to suffer any hassle. You can easily set everything and get started for your basic welding process.
We know how much it's the hassle to carry a welder machine in between the work or places. So, we always prefer something portable and compact as well as lightweight. This is a very lightweight Amico TIG welder machine which can be the right companion for your starting. The overall design is minimal and also doesn't weight much.
The welding capacity is ½ inch which is a superior feature for the beginners. Both beginners and professionals can use it for welding copper, titanium, and aluminum too. If you are someone from the automobile industry, then you can cut the tubes of pipe, bicycles, and other thin things.
Its cable comes with 13-foot long portability. You can enjoy your freedom of changing places in the workshop. And also, you can do multiple welding processes at once. The restriction of reaching to places while welding can decrease the efficiency of the tasks.
There is a dual voltage input feature that allows you to connect to any power source and enjoy the best of the Jobsite welding performance.
If you want quality performance then this Amico Tig 200 amp Tig is indeed the best option. It's quality fully controlled by the USA manufacturers before sending it to hand by hand.
Highlighted features
It provides the most powerful welding capacity with advanced inverter technology.
Perfect for the home quality welding task for the compact design.
Controls the temperature automatically and support generators.
60% duty cycle with the variable amperage settings.
Spatter free performance with clean and flawless welding.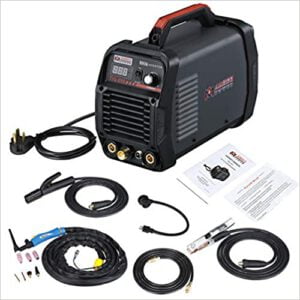 Amico Tig 205 is a multi-process welder machine that supports Stick, Tig, and arc and many more. Welders who have to weld only ½ inch metal, they can easily pick it. If you are going to try some new fabrication tasks and explore the world of welding, this is the right weapon indeed. You can weld varieties of metals like steel, stainless steel, alloy steel, iron, and many more.
It includes all the technologies that every beginner or professional welder seeks for in any TIG welding machine.
This Amico 205 has an LCD screen to monitor everything. Also, the IGBT inverter makes it faster to operate and also safe for sudden off when necessary. Well, faster switching technology keeps you safe from any uncertain incident.
You don't need to buy any additional equipment like welding cable, clamp, and torch. This TIG 205 provides the best frequency that ensures high-level tungsten. So, the startup is always smoother.
The overall functionality depends on the power and capacity of the welding. Its 230v is a prominent feature that makes you weld versatile materials in the required power. It has a dual voltage power option that can make your hobbyists to professionals welding application tasks easily. Where you can get the best of 110v but some cases only can be done with 230v. So, the dual voltage option allows you to work with every different.
Beginners always find it difficult to handle spatter. But this will give them a smooth, faster, and spatter free performance.
This comes with the low to high amperage setting adjustment. You can do application tasks that require 15 amp to 200 amp. Therefore, beginner level work to professional level works everything is possible with it. When you need to work with thin metals, you can go with minimal amperage unless you have to opt for a higher amperage level.
Highlighted features
Multifunctional welder machine supports to weld up to 3/8 inch materials.
Perform welding on multiple materials and offers a clean weld.
Spatter free performance and doesn't cause difficulty to handle or operate.
Adjustable to any common power supply and voltage control feature is flawless.
It provides 60% duty cycle for both input voltage.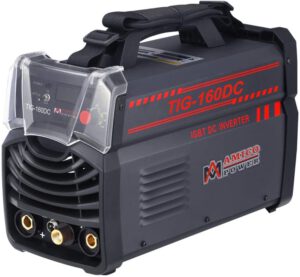 This is another Amico pick which is in our best Tig welder review for beginners. There are many reasons that this is on our top list. Well, this is a very efficient TIG welder for the beginner who wants the simple operation system but the best quality. Those who want the dual voltage to accomplish their hobbyists or workshop welding with one TIG welding machine, they can prefer this one for them.
It comes with dual voltage flexibility and also able to weld multiple materials. If you want to weld like stainless steel, mild steel, iron, and other alloys, this can ideally do everything.
Since this is a multi-functional welding machine, it can deal with everything from TIG to the arc welding process. It's also the best option for stick welder.
The controlling system is superior. You can easily control the output voltage. The amperage is 160A which gives the same duty cycle for 110V and 230V. So, you can do anything for your home DIYs or professional welding things.
Its arc quality is always smooth to make any alloys only except aluminum. It also doesn't make any spatter while welding something thick metals. So, it offers an easy and clean welding experience.
The input plugging system is also dual like the output voltage. You can plug in it any 110v or 230 power sources. Whether you're at home or in the Jobsite, this is eligible for any situation.
It comes with all the essentials in the box. Comparing to its price, it's a pro-welder machine for any beginner. You are getting 13 feet cable, electrode holder, welding clamp, and TIG torch too. So, you hardly spend money on any additional equipment.
Highlighted features
Ideal for beginner and mid-level welding projects.
Offer maximum out of 140 amps and smoother welding experience.
The range of wire feed is efficient with 90 to 390 IPM.
Able to weld the thickest plate up to 3/16 inch.
Lightweight flexibility and sturdy construction give a rigid performance.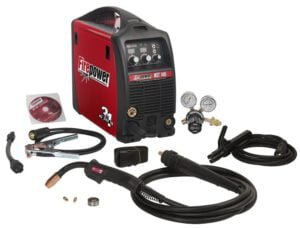 Firepower MST 140i is the ultimate welding machine that can MiG, Tig, and Stick too. So, beginners can learn and practice different units of welding with the same machine. So, if you are running out of budget, you can get this firepower multi-process welding machine and enjoy every type of operation.
It has used the MST 140i power supply system. Hence, this technology allows the machine to start faster and also doesn't cause spatter in the starting. Well, spatter is not never welcomed in the welding operation. It decreases creativity as well as make you fall into uncertain situations.
This TIG welding machine uses 115 volt AC flow and the output current is 140 amps. Well, this is a great impressing for any professional welder too.
Whatever the metal is, it doesn't make any crucial difference on it. It welds 3/16 inch thick materials even smoothly. Else, if you want to use it beyond your basic welding tasks, you can surely use it. All of the settings and controlling system is eligible for any construction site work. Your fabrication job site place would be thankful for it.
The overall design and construction are durable. Still, it doesn't weigh much. It only weighs 33 pounds which is an outstanding peak for the beginner or professional welder. It allows you to carry it easily.
Highlighted features
It offers precise arc control and higher quality welding.
The flexibility of accepting general common cups and collets.
Gives 60% AC duty cycle in dual voltage 120V and 220V.
Able to perform on both thick and thin materials.
Smart design and comes with all the essentials.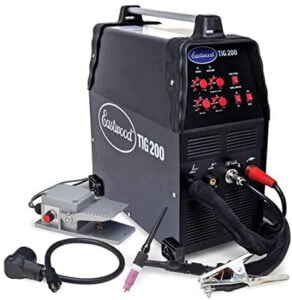 Do you want the most powerful TIG welder and able to do professional and beginner level welding projects with the same machine? Well, this Eastwood 200 TIG welding machine can do everything from home DIY projects to heavy-duty fabrications tasks. To handle multiple materials types with this Eastwood Tig welding enjoyable than ever.
You can weld on professional materials like stainless steel, aluminum, mild steel, and more. It can manage to go through thin materials up to ¼ inch. There is no risk of even getting a breakage of the pieces that you are going to weld.
The design is user-friendly. All the switches and settings are in the right position. It has a higher frequency that can bestow powerful welding. And the quality welding is assured for the square wave inverter. If you want to deal with aluminum pieces, this is the best TIG for you.
It can weld in both directions AC and DC. So, there is less risk of a sudden break out of the circuit. This TIG also supports dual voltage capacity. So, the output amperages are 145 and 190 amps following 110VAC and 220VAC.
---
Things To Consider Before Choosing Beginner and Professional TIG Welding Machines – Buying Guide
Beginners must know some factors before they purchase their first Tig welder. Well, there are many TIG welding machines out there but which is the best TIG welding machine that will serve you the best of your welding profession? Since professionals already understand what should they choose for their welding machines, but beginners often struggle.
You can't get impressed with the design, color, and overall appearance of a welder. There are many factors and essential needs that you should keep in mind before purchasing any TIG welder for beginners.
Input Power:
One of the most important factors that you always should be careful about is input power. Only the input power ensures what type of tasks you can accomplish with the TIG welding machines. Most of the TIG comes with the AC and DC flow options. When you want to do something very light, DC flow is enough. But to do heavy-duty work you must have the AC control in the input power.
Else, different types of materials require different input power. So, choosing the dual voltage input in the smartest move that you can ever take. As we know TIG welding is effective for thin materials. So, you would need AC else DC can go for the dense and thick materials.
Duty Cycle:
There is a percentage ratio of the ability that you always should consider before buying TIG. The duty cycle makes the machine run simultaneously for working minutes after minutes at a stretch.
To get a good cycle, you must have to spend some extra bucks. Otherwise, many cheap models don't offer more than 20%. But 20% duty cycle won't make anything so efficient while you want to weld a thick material.
Like you have to wait for the welder machine to get cool down frequently. So, the ratio of the waiting would be more than the actual welding time. This is how your overall performance and impression will fall and sometimes welders don't feel motivated to work with welding if the duty cycle isn't enough.
So, opt for those expensive or good quality TIG machines which can satisfy you with a great duty cycle. The best duty cycle is 60% which can operate 6 minutes at a stretch.
Weight & Portability:
The weight must be as much as you carry from places to places. You are not paying hundreds of bucks for one place purpose welding. From home to Jobsite, you must have to carry it whenever it's needed.
While you are determined to work in a fixed position, you can choose any heavyweight chunk for you. As far as the concern is to move it along with you, there is no alternative to the lightweight TIG welding machine.
Else, portability is another pro thing in a TIG welding machine. If you are running out of space in the home or workshop portability is the only option that solves the space issue.
Display Monitor:
The settings adjustments are visible to a digital display. And without a digital display, welder can't work precisely without a digital monitor. If there is no display to monitor the settings, there are high chances to be in messy situations.
FAQs for Beginner Mig Welder
1. Is TIG welding easier than MIG?
MIG and TIG welding machines are easier to learn. Both of them create an electric arc in the material and electrode. But TIG welding doesn't create much splatter and offer a clean weld.
2. What is the best TIG welder for a beginner?
There are many TIG welders out there. Every piece comes with different brands, models, sizes, and features.
3. Can you TIG weld without gas?
TIG welding always welds clean and doesn't cause much splatter. So, everything needs to be run smoothly. Therefore, you need 100% argon gas for shielding gas. And there won't be any risk of burning tungsten.
4. What is the disadvantage of TIG welding?
TIG comes in handy when you need the cleanest welding performance. Otherwise, you can go for the MIG for faster performance as TIG does everything slowly.
Final Words
We finally reached the end of our best TIG welder reviews for beginners and professionals. Here, we've discussed everything from scratch and tried to clear everything whatever you need to know before buying a TIG.
If you still couldn't make the right decision, you can choose the Eastwood TIG 200 at a higher price. If you don't have a good budget but want to enjoy the best of a TIG, then you can try Amico TIG-160 DC. Otherwise, you can Firepower 1444 MST which is the eligible choice for both beginners and professional TIG welding tasks.
So, did you choose the right TIG for you? Well, it's time to do some TIG welding and enjoy the vibes.
Happy TIG Welding!!!!!!!!!!!!
[amazon bestseller="TIG Welder" items="3″ template="table"]