Are we just a blip in the existence of the universe? Does our survival truly matter? So, why are we so careless when it comes to our safety and security? In fact, the horror of burns is pretty real once you work closely with fire in your profession.
Speaking from my experience, on several occasions, I scarcely avoided severe burns from getting too close to the flames. Welding with care is only possible if you have enough protective equipment to safeguard you.
Otherwise, you indubitably put your life at risk. Among so many fireproof means, acquiring the best welding blankets is perhaps the only way you can properly shield yourself from fire hazards.
On the contrary, I encountered a relatively difficult situation while seeking out an ideal welding blanket. There are so many options to choose from, each functioning differently with equal or inferior effectiveness. But the question remains, which models operate the best in terms of your circumstances.
Best Welding Blankets Review
Clearly, many of you skip the tedious process of seeking out the best available option. As a result, you end up with a purchase that does not fully satisfy you. Sometimes, it's just money down the drain.
If anything, to avoid such an occurrence, we bring you a broad and thorough list of the best welding blanket.
You may want to buy a product that not only aids you during weld formation but also functions as a multi-purpose thermal-resistant blanket. Simply put, you are susceptible to flammability during grilling and while enjoying a bonfire.
In that case, you can make use of this particular blanket to keep the drawbacks of fire at bay. Most importantly, the curtain-like product is extensive enough, 6ft by 8ft, to cover most of the welding tasks.
For small-scale operations, you need not cut the blanket; just fold it for highly resistant usage. Regarding construction material, undoubtedly, the 19.8 Oz/yd² fiberglass composition gives you the liberty of remarkable working experience.
Aside from exhibiting state-of-the-art thermal insulation, which ensures absolute flameproof execution, the fiberglass formation also provides a lightweight structure, corrosion-resistance, and increased strength.
Subsequently, the blanket's building blocks allow high-end thermal resistance up to 1,000℉ in all forms of welding, including TIG, MIG, and stick welding. Moreover, this feature further adds to the durability aspect.
In fact, the fabric's firm and closely knitted weaves of 30 x 30 per inch² maintain a strong surface that flies in the face of wear and tear. Apart from confirming longevity, the incorporated eyelets enable convenient storage.
As mentioned earlier, you can easily fold the welding blanket for less comprehensive jobs. This attribute displays the flexibility of the textile, and with a folding result of 14-inch by 13-inch by 2.8-inch, you can assure comfortable portability.
Pros
Maximum heat retardant up to 1,000℉
Easy transportability and storage
High-quality fiberglass building material
Strongly knitted weaves for durability
Large size of 6ft by 8ft
Cons
You may find loose fibers
Molten slag burns holes
Have you ever had events where the flares and slag from welding destroyed almost all the furniture in your facility? It is a common phenomenon; you have to come to terms with it once you start perfecting welds.
However, a welding blanket as superior as this specific model can significantly reduce the risk of fire. For all intent and purposes, this option maintains maximum fire-resistance up to 1000°F.
In short, up to the designated temperature limit, the heat and the flames will not bear any damage to the product. More significantly, nothing is as important as the structural material of a welding cover.
For that reason, the makers encompass fiberglass in the blanket's assembly. In point of fact, the construction material's quantity measures up to 19.8 oz. per square yard. As a consequence, you will attain unmitigated long-lasting ability.
Fundamentally, the low maintenance attribute of fiberglass further aids in providing top-notch spark and spatter protection. Besides, the building material functions as a substantial insulator at an affordable rate.
Simultaneously, the craftsmanship of the fabric involves threads and fibers that tightly hold together. The weaving pattern has a measurement of 30 x 30 per square inch, which is why you can entrust the product with your life.
Furthermore, throughout the extensive fabric of 4ft by 6ft, we noticed an eyelet every 11-inch apart. This feature allows for suitable storage of the blanket by hanging. On another note, the makers reinforce the edge by 3/8-inch, which improves the appearance and assures durability.
Pros
Fiberglass of 19.8 oz. per square yard
Exhibits utmost flame retardant up to 1000°F
30 x 30 per square inch of weaving pattern
Significant dimensions of 4ft by 6ft
Reinforced edges
Cons
Building material shreds easily
Flimsy brass grommets
[amazon box="B07TYHX7GS" template="horizontal"]
It is in no way acceptable to endanger the lives of the employees working along with you in your project. You may take your safety for granted, but your associates deserve to be safe in the workplace.
If anything, this particular model focuses on offering you an isolated place that avoids jeopardizing your workspace with a fire hazard. The heat insulation property of the welding blanket comes from fiberglass inclusion.
As it happens, fiberglass has a high heat tolerance that results in enhanced resilience and endurance. Primarily, the elements of design consist of 19.8 oz. per square yard of fiberglass, which is the driving force of this blanket's durability.
If you were having issues with storing your previous welding blanket after application, then the integration of metal grommets relieves you of any complications.
On the subject of thermal protection, the operating temperature of this option is 1000°F. Therefore, any welding task, either heavy-duty or not, under this particular temperature, guarantees thorough shielding.
Molten slag along with flares is inevitable as far as welding is concerned. However, this top-grade woven fabrics formation brings forth a firm and detailed exterior that protects in the wake of a sudden mishap.
On top of everything else, you will most definitely have a hard time with a hem not stitched properly. That means the 4ft by 6ft welding blanket will have loose fibers and thread coming out of the edge. Hence, the incorporation of reinforced hemming reduces unnecessary complications.
Pros
Tightly woven fabric
Assures reliability and long-lasting ability
Includes metal grommets every 12-inch
Provides absolute thermal protection up to 1000°F
Stitched edge to prevent loose ends
Cons
Fragile and delicate
Grommets are prone to rusting
Versatility has always been an issue in regards to welding blankets. Some are inadequate to even accommodate a suitable space for welding tasks. Nevertheless, rest assured, this exclusive option ensures a bang for the buck.
The cover establishes a square shape with 36-inch-by-36-inch dimensions that you can effortlessly trim to get your desired outcome. Besides, the welding blanket comes with smooth and seamless edges with no loose ends.
Unlike the aforementioned products, this model does not incorporate fiberglass. Instead, the welding cover exhibits carbonized thermal-resistant layering that safeguards your flesh from critical burns.
Aside from cost-effectiveness, the carbonized fiber offers a great deal of strength and heat resistance. On top of that, if the premium-quality blanket is exposed to your skin, you will no longer feel the itchiness you felt with fiberglass.
Consequently, you can utilize this product during grilling and other fire-related tasks. This multi-functional option also promotes an improved and enhanced temperature resistance that goes up to 1800°F.
Anything above this temperature may damage the welding blanket. On a separate note, the diameter of the cover is 0.18-inch, which is pliable and tough enough to envelop any machinery, including grills and smokers.
Moreover, the overall weight of the product is merely 15.8 ounces. As a result, you will have improved portability due to the lightweight aspect. No other option provides as much fire protection as this particular welding blanket, and that is visible through the ergonomic features.
Pros
Super soft carbon fabric
Offers flame resistance up to 1800°F
Lightweight blanket of 15.8 ounces
Square-shaped cover has dimensions of 36" x 36"
18-inch of thickness
Cons
Foul smelling construction material
Accumulates moisture and vapor
Before we introduce you to this extraordinary and unique product, you must have a clear mindset and put your and your environment's safety as the first priority. Otherwise, your doom is near.
Regarding this option, you will encounter plenty of features that you cannot say no to. As a matter of fact, the 6ft by 6ft welding cover delivers you with a considerable expanse to work with.
Instead of cutting, you can simply fold and rearrange the fabric to support minor welding. It turns out; the blanket's building material is fiberglass. This material, in itself, is quite sturdy, with highly reliable heat retardant characteristics.
In comparison to other models, the manufacturers had a vision in mind that they installed within the welding blanket's framework. This incompatible factor is the inclusion of double-sided vermiculite treatment.
As a consequence, you will have zero chances of loose threads and fibers. Moreover, you will obtain an ultra-smooth and itch-free fabric. Most importantly, you can rely more on the cover as it highlights another thermal-resistant layering.
More on the fire resistance aspect, the blanket exhibits 1400℉ as the boundary, and under any circumstance, if you exceed the limit, your welding cover may go up in flames.
Besides, the stitching in the hems with Kevlar fiber assures that the edges will have no dangling threads, which will ensure productivity. Most of all, the brass eyelets permit you to hang the welding blanket after use.
Pros
Kevlar hem stitching for durability
Comes with a measurement of 6ft by 6ft
Fiberglass is the base material
Double-sided vermiculite treatment for more reliability
Heat resistance limit is up to 1400℉
Cons
Flares may burn holes
Insubstantial stitches on edges
Benefits of Welding Blankets
Experts at welding always had trouble maintaining adequate safety precautions in their work environment. Hence, countless safety measure tools failed at their task to provide sufficient security. However, a welding blanket is an exception for the reasons stated below.
Shielded Area for Welding
We all know, the fire associated with welding can affect the employees around you. And that is a major concern. Consequently, this product allows you to create a definitive space shielded for welding.
It is a budget-friendly option, which avails you of quick and easy installation. You can always move the welding curtain at your command.
Heat Regulation
Without a doubt, you will wear protective gears while striking the arc. But there is little to no shielding when it comes to the heat radiating off welding, which can go as high as 6,300℉. It is very likely that the people around you will have a hard time staying around.
As it happens, a premium-quality welding blanket will allow you to control the temperature and keep your occupational setting risk-free.
Fire-Retardant Blankets
In every respect, the welding profession potentially puts all the workers residing in the same facility at risk. The properties within the blanket bring forth an exceptional fireproof feature, which also prevents your valuable goods from getting ablaze.
Thus, fire resistance is by far the single most important aspect that will save you from unexpected instances.
What to Look for Before Buying?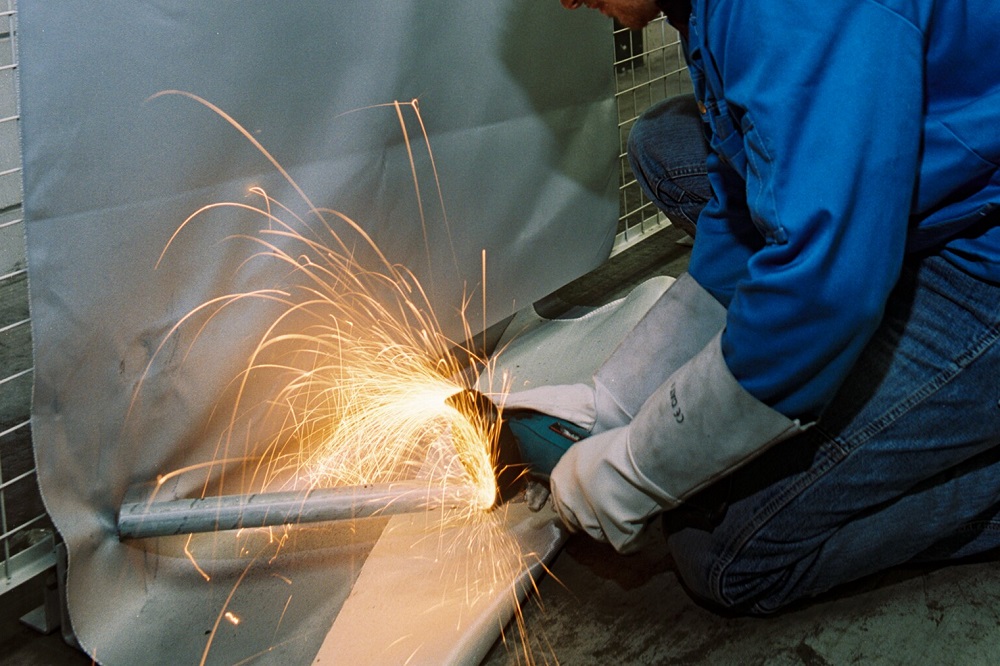 Despite have numerous protective gears, we all are very aware of the importance of owning a high-quality welding blanket. It is a reminder to each and every one of you that no amount of protection is enough when it comes to fire-related professions.
And that's what brings us here to this dedicated segment that allows you to acquire an in-depth knowledge of the exclusive features of welding blankets. Let's not waste anymore of your valuable time and jump to the interesting bits.
Thermal Resistance
Fire, in all its forms and glory, never fails to give us a fatal blow when it comes in contact. Therefore, it is crucial to elevate us from the trouble associated with flames. As for welding blankets, the diverse range of options provides a selective temperature resistance limit that you must abide by.
Depending on your task at hand, if it's heavy-duty welding, you will require a higher heat-resistant property in your product. For instance, a blanket mentioned above offers a flame-retardant feature up to 1800℉.
On the other hand, if your welding job exudes insubstantial heat and flame, then there are options that extend a lower temperature resistance boundary.
Size and Shape
This feature is a no-brainer to all professional welders. Can you imagine purchasing a product that does not fit your space? Either it's too small or too big to accommodate. What a nightmare, isn't it?
Perhaps, this is why you should pay more attention to this criterion because without having adequate surface coverage, you cannot rely upon the welding blanket.
Some options will allow you to trim and cut the blanket to get your suitable size and shape. Similarly, few options enable you to fold the fabric in order to garner protection for small-scale welding. But in the end, a large and wide cover ensures considerable safety compared to a small product.
Comfortability
Most of us tend to overlook this feature altogether. But as soon as the buy-in, you will realize what a grave mistake you have done. In general, fiberglass is the most common construction material for welding blankets due to the economic efficiency.
However, fiberglass is rather an irritant material that may make your skin itch. For those with sensitive skin, it can be a deal-breaker. Moreover, there are other, sturdier options like ultra-soft carbonized material or vermiculite treated fiberglass material.
Ease-of-Use
It is quite a hassle to put up and store a welding blanket. For example, you purchased a hefty product, suggesting you will have a hard time handling it. And for what it's worth, our advice to you is, buy a fireproof blanket that is sufficiently lightweight to carry it around effortlessly.
Not to mention, the incorporation of brass grommets is particularly our favorite as it provides an opportunity to hang the welding blanket with ease. In every aspect, this feature is equally convenient and reliable for storage.
Welding Blanket Material Types
As it happens, knowing the ins and outs of the welding blanket's building material is the only way to succeed in making the ultimate purchase. For the record, we are simply bringing forth the most widely used materials.
Fiberglass
Cost-effective and lightweight are the first two words that come to mind for fiberglass. Not to forget, the flame-retardant property of this material is superlative. Fiberglass's thermally insulating attribute makes it the perfect component for welding blankets.
Carbon
Carbon fiber offers a considerable amount of heat resistance. In some cases, the material has the ability to withstand a temperature as high as 1800℉. With a superior heating efficiency, beyond a shadow of a doubt, you can put your faith in carbons' potential to prevent injuries and promote safety.
Vermiculite Coated Fiberglass
This material not only increases the fire-resistant property of fiberglass but also takes durability up a notch. If anything, vermiculite-coated fiberglass makes sure of seamless uniformity in the exterior that resists shedding. The additional protective layer increases the heat-resistive limit of the welding blanket.
Frequently Asked Questions
Can you wash a welding blanket?
Yes, you can, but you need to maintain few strict rules. Ensure that the temperature is not too high, around 140℉ is all right. The detergents should not have bleach in them. And lastly, do not soak for a prolonged period.
Are welding blankets water-resistant?
Some are water-resistant but don't bet your life on it. Bear in mind; welding blankets are made to protect you from fire and its components, not from water and moisture.
Are fiberglass-welding blankets safe?
As safe as it can get, fiberglass fabric is smooth and pliable. However, this material is a bit itchy when it encounters sensitive skin.
Can a fire blanket catch fire?
Unfortunately, yes, because if you exceed the heat-resistant limit, then the fabric is prone to catching fire.
When should you not use a fire blanket?
Welding blankets are perfect for sparks and spatter, sometimes even slag. However, you cannot use it around places where there is substantial fire present.
Final Words
Are you finally ready to make your decision and purchase the ultimate protective coverage? We can assure you that we delivered the best welding blankets in the market to you. So let's make haste and keep yourself safe and sound.