When it comes to protective gear for welding, the first thing that comes to our mind is the welding helmet. But without the best welding jacket on you, you can't really be fully protected, can you? The sparks and sprouts of fire can immediately hurt you once it pierces through the cotton clothing! That's why wearing a welding jacket is not only crucial but also a prerequisite for welding. 
So, where do you start? Which welding jacket suits you the best? Well, to find the answers, we have listed 7 of the most useful jackets on the market. Hang on till the end to find out what we have got in the pack for you! 
Ready? Let's hop in! 
| Image | Title | Editor's Rank | Price |
| --- | --- | --- | --- |
| Top | Lincoln Electric Heavy Duty Leather Welding Jacket K2989-L | Best Overall | See Price |
| Top | West Chester IRONCAT 7005 Heat Resistant Split Cowhide Leather Jacket | Specially Designed to Protect from Spark and Spatter | See Price |
| Top | Lincoln Electric Premium Flame-Resistant Welding Jacket K2985-L | Best Budget Welding Jacket | See Price |
| Top | QeeLink Leather Welding Work Jacket | Best Multi-functional Jacket | See Price |
| Top | Waylander Welding Jacket | Designed for Maximum Skin Protection | See Price |
| Top | Caiman Black Boarhide 30-inch Jacket | Lighter in Weight | See Price |
Best Welding Jackets Review 
Not all that glitters are diamonds. That's what we had seen when we tried to pile up the best options for welding jackets. We dived into the ocean of jackets and brought out 7 pieces that should withstand time. So, here we go. 

To start it off, we have the K2989-L welding jacket from Lincoln. This heavy-duty jacket is completely made from heat and spark-resistant split cowhide leather. The jacket's front and sides are covered with leather that can easily eliminate spark and heat. Plus, the sleeves are also made from cowhide leather with a unique two-part armpit design.
This unique design lets you move your arms in a better way than most other jackets found in the market. Apart from that, the back of the jacket comes with yet another high-quality material – red cotton. This 9-ounce flame-retardant red cotton allows excellent airflow inside your jacket to keep you cool all the time. Again, to protect your body from sparks, the front button column is designed with three-layer leather, velcro, and fabric. This improves the level of protection and safeguards your body from flame and spark. As for the cuffs, you can find chrome-plated metal snaps that also keep the flames from touching your hands and cuffs. 
Features 
The jacket is crafted from pure heat-resistant cowhide leather 

It has a two-part armpit design for smooth movement of arms

The back part is made from red-cotton for cool airflow

It comes with a large pocket for protected storage 

Cuffs are chrome plated to provide extra protection for your hands 
Another champ in the pack is the West Chester Ironcat 7005 leather jacket. To give flames and sparks a hard time, the jacket is made from durable cowhide leather. That means it can protect you from heat and sparks, no matter how long you are exposed to it. Apart from that, the jacket comes with a hip-side pocket, as well as a storage pocket on both sleeves for keeping your essentials. 
The best part is, the leather housing is reinforced with additional leather for better protection and durability. Plus, the thread used to stitch the parts together is Kevlar, which is a high-strength thread that ensures maximum resistance. Also, you can find black anodized snaps and rivets on different high-stress areas on the jacket for long-term durability. 
As for the fitting, this jacket comes in a number of sizes to fit your body. Thanks to its underarm gussets, it guarantees that you have a comfortable fitting for you. Then again, you can also adjust the wrist of this jacket to make sure it fits your cuffs pretty well. 

Features
The jacket is crafted from heat and spark-resistant cowhide leather 

Additional reinforcement of leather for better durability 

The wrist can be adjusted according to your hand size 

It comes with black anodized snaps and rivets on impactful areas 

Stitches are done by heavy-duty Kevlar thread for maximum resistance 
If you are talking protection, you need to talk Lincoln. The K2985-L from Lincoln shows exactly why! This flame-resistant jacket comes with FR black cotton that is famous for its fire-proof feature. The jacket uses a 9-ounce variant of cotton that is in compliance with ASTM D6413 to make sure it's worth your bucks! 
To make sure you are getting the right protection you need, the jacket comes with an anti-mildew and anti-static coating. This adds to the longevity of the jacket to give you the most durable protection ever. Does this mean you are putting on a heavy load on your shoulder? Well, not really! This is because the jacket has lightweight FR material in it that allows comfortable airflow to make sure you are cool from the inside. 
As for the cuffs, there's more surprise! Each of the cuffs is chrome-plated to protect the wrist and forearm from flame and spark. That means when you are actually dealing with the fire by your hands; you are still protected from the sparks. Moreover, the collar of the jacket is crafted with a flip-up design to secure your neck from fire sparks, too! 
Features
The jacket is made from 9-ounce FR black cotton for protection

It comes with an ASTM D6413 compliance for the best protection from fire

The cuffs have a chrome-plated layer for added security to the wrist area 

It has a large inside pocket for a huge storage option 

The flip-up collar design provides protection to the neck area 
The first thing that's going to impress you about this welding jacket is its color. The mesmerizing brown color somewhat blends into fire and flame – giving it an exact look it deserves. But that's not all! The jacket is made from flame-resistant cowhide leather for maximum protection.
Apart from that, the stitching is what grabbed the most of our attraction. Having a US Kevlar thread for stitching all the parts of it is really going to add to the strength of the jacket. Plus, it will also ensure top-class durability and prevent wear and tear from different parts. As for the rivets, the wearable has a number of corrosion-resistant rivets on multiple high-stress areas for durable protection. 
The best part is, you can keep as many tools and accessories as you want in the 4 large pockets of this jacket. Two large pockets inside and outside and a couple of soapstone pockets on the sleeves will solve your storage problem once and for all! Then again, the cuff and neck of it can be adjusted according to your size for the best fitting. 
Features 
The jacket is made from heat and flame-resistant cowhide leather 

Its cuff and neck can be easily adjusted according to your size 

The wearable comes with 4 different pockets for easy carrying accessories

Rivets are placed on pressure points that are corrosion-resistant 

The entire jacket is stitched with high-quality US Kevlar thread 
On our quest for the best welding jacket, we have on our list – the Waylander welding jacket! Made from genuine split cowhide leather, you are well-protected from the flames and sparks coming out of the welding area. Surprisingly, even though heavyweight leather is the actual material for it, the jacket is pretty lightweight. 
This is because the inner part of the jacket is covered by flameproof lightweight cotton. The cotton layer not only keeps the weight low but also cools it down on the inside, giving you a perfectly comfortable experience. To add to the comfort, the sleeves are lined so that you can move freely with your arms inside. 
Hats off to the designer as it comes with velcro and snap-buttons on different parts of the jacket. Again, you get the stand-up collar that protects your upper parts beneath the helmet. As for the cuffs, you don't need to hang those as you can easily adjust them according to your wrist size. In addition, the jacket has 3 inner pockets that can be used to keep your necessary tools handy. 

Features
Jacket crafted from genuine flame-proof cowhide leather 

Flexible sleeves come with a lined design for free movement of hands

It comes with velcro and snap-buttons for safe closure 

Three interior storage for the convenient carriage of small tools 

The inner part of the jacket is covered with lightweight cotton for coolness 
[amazon box="B003PD379K" template="horizontal"]
If you don't want to give up a stylish look for protection, you can simply opt for the Black Stallion FN9-30C. This navy-blue jacket has got it all to make you look stunning, even if you are playing with fire. Yes, that's what this 30-inch flame-proof jacket is all about. Maintaining looks with protection is the deal you get at an amazing price. 
Although the outer part of the jacket is pretty rough and tough against sparks and heat, the inner layer of it is actually quite cool. That's because the inner layer is treated with flame-resistant cotton that has the cooling component to keep the temperature down. It gives you a comfortable feeling while you are welding before a thousand-degree flame. 
Plus, the design of the jacket deserves special recognition. Firstly, the buttons on the front are snap types that can easily be closed and opened. Secondly, these are leather reinforced for better durability and to mitigate the risk of burning. On the top side, the collar of the jacket is raised to protect the neck up to your chick. That gives you a hint of total protection of your body. 
Features 
Heat-resistant construction protects the body from coming into contact with sparks

The inner part of the jacket is layered with 9-ounce cotton 

It has a tall collar design to protect the neck from flames 

The buttons on the front can be easily closed and opened 

Leather reinforcement on the buttons provides extra protection 
And finally, we have the Caiman Black Boarhide Jacket with us. While most jacket producers are kind of obsessed with cowhide leather, Caiman came up with boarhide leather which is much higher in quality than cowhide. Plus, the leather is cooler, as well, giving you better comfort while wearing it. 
This is because the boarhide leather is almost 10 to 15 percent lighter than cowhide. That's why it supports a better cutting and stitching option. In addition, it offers superior heat-resistance and abrasion-proof, as well. Overall, you are fully protected against any kind of heat and fire, for sure! 
What makes it stand out from the crowd is its elasticity. You can literally move freely with it on your body – just like any t-shirt or shirt. Plus, the vented back and underarm of the jacket offers optimum comfort for your body. And of course, you can enjoy swift mobility, too! 
Features
The jacket is made from high-quality boarhide leather 

It is quite cooler than traditional cowhide leather 

The jacket comes with a 10-15% lighter profile than cowhide leather 

It comes with great elasticity for smooth movement 

The vented underarm and back offer excellent comfort 
How Long Will My Jacket Last?
Honestly speaking, it really depends on how you are using the jacket. A jacket's lifespan has a lot to do with the quality of the fabric and the exposure of it to fire and flame. The more you expose it to fire, flame, spark, or dust, the more it will be prone to wear and tear.
So, that being said, you can expect a welding jacket to last around 2 years with a minimum level of protection. But if you are using it with proper care without much exposure to heat and dust, the tenure may lengthen.

How to Find the Right Size of a Welding Jacket?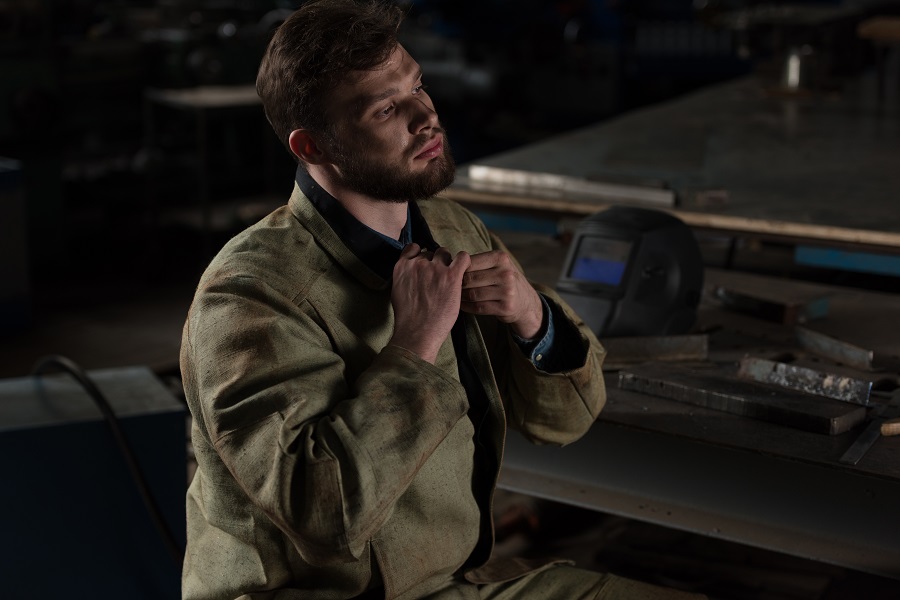 There are a lot of ways to know the size of the jacket you need. But the best way is to measure your chest. Yes, simply measure the largest part of your chest with a measuring tape. Then check it out with the size chart of any jacket's selling page. There's always a size chart on the website, for sure.

One more thing. If your belly is kind of bigger in size than your chest, then measure the biggest part of your stomach, as well. Make sure you are not wrapping the tape too tightly around your chest or stomach.  
What to Look For Before Buying The Best Welding Jacket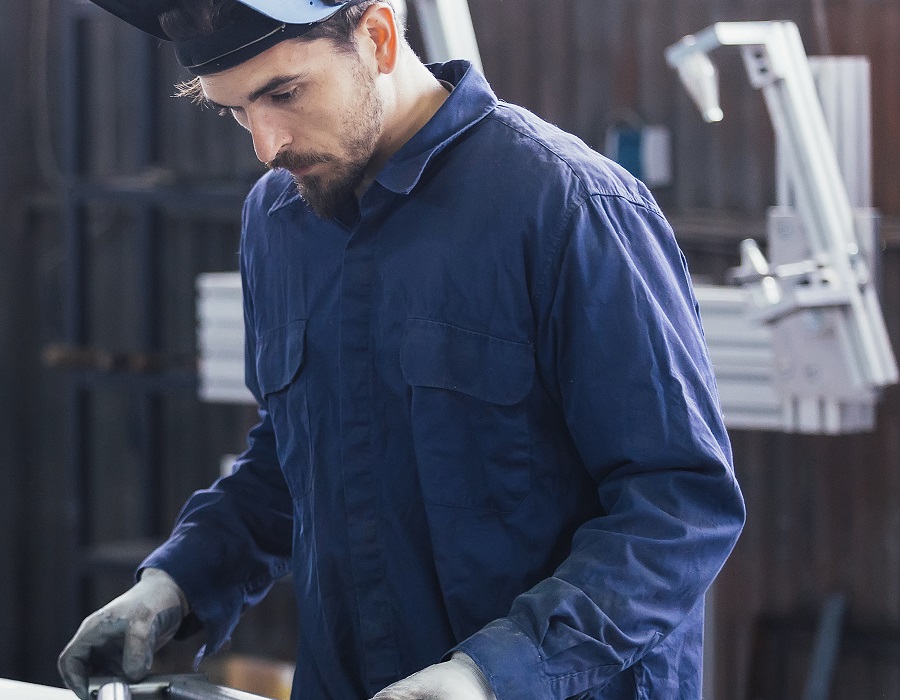 Although it seems like a one-off experience in buying a welding jacket, it's not that simple. When it comes to getting the best welding jacket, you have to keep a sharp eye on a number of factors. Here's what you can't simply miss. 
What Is Your Welding Type?

We all know that MIG and Stick welding cause more heat than TIG welding. So, if you are a regular welder who deals in MIG and Stick welding, you should make sure you're getting the most protective one. In a practical sense, most welders do keep a couple of welding jackets – one for heavy-duty welding and the other for lightweight works. So, before you even think of selecting a jacket, make your mind up for the type of welding you are going for.
Is It Comfortable? 
You can't simply trade-off your comfort for an over-hyped jacket, can you? The very first thing you need to ensure is that you feel comfortable enough wearing the jacket. Make sure it's not too heavy that you need to put extra effort into carrying it. Choose the lighter options you have. 
As for the size, you be the judge. You need to measure yourself before you even put on a jacket as a trial. Take proper measurement of your body and double-check the size with the size chart of the jacket's selling page. If you find a match, then voila! That's the one you need. 
Look For Stand Up Collar 
Having a stand-up collar can play a huge role in safeguarding your neck and the parts around. It will save it from the sparks and flames pretty well. But if you get a jacket that comes with a permanent stand-up collar, it may cause itching and discomfort once in a while. So, it's better you get an adjustable one that can be raised when needed and lowered when not. 
Crafting Material Is The Key 
This goes beyond saying. You have to make sure that the material used for the jacket is flame, heat, and spark-resistant. For this, you have a very common guess – cowhide leather. This is because most of the durable and flame-resistant jackets are made from cowhide leather. But the thing is, you have to be skeptical of the authenticity and originality of the leather itself. Plus, you can also go for boarhide leather, as well, if you need better durability. 
As for the inner lining and layer, soft 9-ounce cotton can play a significant role here. It will keep it cool inside, letting you ignore the heat a thick leather-jacket produces for the body. 
Pockets 
It really kills the mood if you need to keep pausing your welding works to fetch a tiny little tool. So, it's better to keep useful and necessary tools around you when you are welding. That's possible if you have a number of pockets and storage in your jacket that allow you to store a few of your regular accessories, just to save your time.
Brand
The best way to make a good decision is to go for a well-known brand. Yes, although it may sound like a blind guess, trusting a brand isn't far-fetched. You can easily check the aforementioned points and then select the one that comes with a renowned brand name. 
Price

And finally, which leather jacket suits you totally depends on your budget. If you are low on budget, you should filter your options before you even check for other parameters. So, make sure you have a proper budget that you can spend on. 
Frequently Asked Questions 
Q1. Can I machine wash a welding jacket?
Ans. It is highly recommended not to wash a welding jacket in a machine. This will definitely cause damage to its material and affect its fire and flame resistance capacity to a higher level. To clean it up, just take a small piece of wet cotton cloth and rub it against the jacket. That's all. 
Q2. Do these jackets live up to the mark in the summer heat?
Ans. Interestingly, these jackets do come with proper ventilation and cotton-cool lining. These make sure that you can feel cool even if you are wearing the jacket on hot summer days. 
Q3. What are the drawbacks of wearing welding jackets?
Ans. Although it's a must to wear welding jackets when you weld, it has only one drawback. You don't feel much comfortable putting these on, as these are somewhat pretty heavy. However, it shouldn't make you think otherwise that you need to abandon it. 
Q4. What type of welding can I do with a welding jacket on?
Ans. You can do literally any welding with a welding jacket on. Such as MIG, TIG, Stick, and even Arc welding is possible if you are wearing a welding jacket. 
Q5. How much does a welding jacket cost?
Ans. Ideally, there are different types of welding jackets out there that can cost you differently. Depending on the quality of the materials used, warranty, and even brand value, the price may differ. But generally speaking, the price range should be from $50 to even $200. 

Q6. Should I choose fire resistance capabilities in a jacket rather than comfort?
Ans. This is a point where most new-users mess up things. You can't trade-off one for the other. But if you are really in a position to let go of any of these two, you must put more emphasis on fire-resistance than comfort. 
Final Words 
It's not that you can't even weld if you don't have the Best Welding Jackets. But the thing is, having the best one within your range makes your work pretty much safer. A high-quality welding jacket can protect your entire upper body safe, even up to your neck. If you are someone who is regularly dealing with sparks and flames, you probably don't have any other options than putting on a flame-resistant jacket.