If you are a welder and planning on investing in your skills, keep aside some of your bucks for the best welding helmet, as well. It's not something you spend on; it's an investment. A superior welding helmet will make your job unimaginably easier, and you can yield a better result than before.
Matching the equilibrium of best value for money and the top-performing helmet is a challenging one. That's why we are here to solve the riddle. In this article, we have gathered 10 best welding helmets that you can try out for your projects. We have taken multiple features into consideration while picking these up.
Excited? Let's hop in!
| Image | Title | Price |
| --- | --- | --- |
| | ESAB Sentinel A50 Welding Helmet | See Price |
| | Lincoln Electric 3350 Series Welding Helmet | See Price |
| | 3M Speedglas Welding Helmet 9100 | See Price |
| | Miller 281000 Digital Elite Black Welding Helmet | See Price |
| | Jackson Safety BH3 Welding Helmet | See Price |
| | Jackson Safety Ultra-Lightweight Halo X 46131 | See Price |
| | 3M Speedglas Welding Helmet ADF 9100Xxi 06-0100-30iSW | See Price |
| | Dekopro Solar Powered Welding Helmet | See Price |
| | TACKLIFE Professional Welding Helmet PAH03D | See Price |
| | Optrel Crystal 2.0 Auto-Darkening Welding Helmet 1006.900 | See Price |
Best Welding Helmets Reviews – Top 10 Picks
After passing tons of time in pursuit of the best welding helmets, we have listed down the following 10 accurately designed helmets for your consideration. Read till the end to find out what we have come up with.
Topping our list, we have the ESAB Sentinel A50 heavy-duty welding helmet. If you prefer sturdy build-up, coupled with comfort and a slight sprinkles of modern tech – here's your lucky bet.
This helmet is made entirely from high-impact resistance nylon. That means it is totally protected from fire sparks and debris that comes shooting at your face while you weld. Plus, it also repels high-heat to make sure you're not sweating underneath.
Further, you can adjust the inner strap of the helmet according to your own comfort. With the 5-point headgear adjustment system, there are literally half a million ways you can set it up. This number shows you how extremely flexible it is to fit anybody's head!
With this super-comfortable gear on your head, you can see almost everything in front of you. As the view area is 100 X 60 mm, it allows you to see every detail in your welding project. Thanks to its ultra-clear true color lens, there's no need to see through spooky green color anymore. You can see you welding in actual real color in proper pixels.
You can control the screen color with the help of a touchscreen enable panel inside the helmet. Moreover, there are 8 memory settings that you can set to immediately switch simply by tapping. And that, too, with automatic darkening within 1/25000 second!
Highlighted Features
Heavy-duty build up with high-impact resistance nylon
Auto-darkening shade range from 5 to 13
Wide 100 by 60 mm viewing area
Ultra-clear lens with true color representation
Color setting can be accessed through touchscreen inside
Another topper of the list is the Lincoln Electric Viking 3350. We seriously didn't expect a plastic-made helmet to be that robust when it comes to welding. But Lincoln Viking 3350 simply outperforms most premium helmets with its sturdy anti-heat profile. You can rest assured no debris nor any fire spark is going to harm your face.
That doesn't mean you need to restrict your views in any way. With a 95 by 85 mm wide viewing area, it's almost like a pair of goggles on your eyes. You can clearly see what you are doing with proper color representation. Plus, it gets immediately dark when the spark of fire is lit. How immediate? Well, it takes only 1/25000 second to switch to the dark mode!
Again, you can quickly switch from the weld mode to grind mode with the help of a simple button placed externally on the helmet. It's super easy to switch between the modes to and fro, and it's definitely fast.
Fitting it on your head is one of the simplest tasks you have ever done. With its comfortable 5-point adjustment knobs, it's a convenient experience to adjust it on your head. The backside of the helmet is cushioned so that you don't feel any pressure on your skull.
Highlighted Features
Auto-darkening rate ranges from DIN 5 to 13
Runs on batteries that last up to 6 months
5-point adjustment knobs for easy fitting
Large viewing area of 95 by 85 mm
Auto-darkening takes 1/25000 seconds to switch
Don't be stuck to tunnel view anymore. Own the 3M 9100 welding helmet to let your vision set free. Apart from the large front viewing panel, the helmet comes with a couple of side windows around it to provide you a complete peripheral vision of your surroundings. This way, you will never miss anything around you while you concentrate on your own welding job!
Apart from that, this helmet comes with 3 sensitive arc sensors. These sensors can detect an arc immediately it is lit and activates the auto-darkening mode on the screen. This transition takes only 1/10000 second. And it returns to its default vision within 300 milliseconds.
The 9100 from 3M is designed with heavy-duty construction. Apart from the fact that it saves your head from sparks and debris, the robust construction also prevents ultra-violet and infra-red radiation. So, once you wear it on your head, you are safe at a 360-degree angle.
What's so genius about this design is its exhaust vents inside the helmet. When you breathe out inside the helmet, it naturally heats up the inner atmosphere. That's why 3M has included exhaust vents inside so that the heavy breathes easily escape from inside.
Highlighted Features
Large looking area with side windows for peripheral vision
Prevents UV and IR radiation
Exhaust vents for channeling breath out
Battery life is expected to last 2800 hours
Auto-darkening mode rating ranges from DIN 5 to DIN 13.
Control what you see with the Miller 281000 Digital welding helmet. Its clear light lens system sets you free from the greenery of your welding sessions. It can process more natural colors than the average regular ones and let you see everything in a more natural way.
Before that, it immediately darkens the welding point so that you can have the best vision possible. Thanks to its 4 arc sensors that can instantly turn the auto-darkening option on. It takes less than 1/10000 second to react activates the darkening shade.
Speaking of shade, there are many levels of shades to choose from. Depending on the type of welding you are doing, you may need diverse types of shades for clearer vision. To make it easier for you, the Miller 281000 comes with a digital control system inside the helmet. You can simply select a shade, the delay rate, and the sensitivity of it and save it for future use.
Apart from arc darkening, the lens also prevents sunlight that darkens the lens naturally. So, if you are welding in an open space where sunlight is blocking your view, there's nothing to worry about.
Highlighted Features
Extensive headgear adjustment system for comfortable wear
Helmet construction meets ANSI Z87.1+ and CSA standards
Auto-darkening rate up to DIN 13.
Digital control panel inside to alter shades and delay
Four arc sensors for auto-darkening and clear light transmission
The Jackson Safety BH3 is a wonder when it comes to construction. It comesh with super lightweight plastic construction, but the high-density of the plastic makes it extremely durable to sparks and heat. The plastic shell protects your head and face from sparks and tiny debris shooting out from the material you are welding.
Apart from this brilliant construction, the design of the helmet deserves a round of applause, too! Although it looks like a regular welding helmet, the front side of it is a bit curved and aerodynamically designed. What this interesting design does is it allows your breath to channel out from the helmet's inner atmosphere. This prevents heat and fog from building up inside the helmet.
With this level of convenience, you can expect the helmet to feature auto-darkening mode, as well. Yes, it doesn't disappoint and comes with 5 different shade options, all from 9 DIN to 13 DIN rating. You can easily set the shade and delay time all by yourself according to your comfort level.
Another key perk of this gear is that it is compatible with magnification filters. If you buy a separate filter to magnify your working zone, the helmet can easily attach to the filter and give you from 2X to 3X zoom while you weld.
Highlighted Features
High-density and lightweight plastic shell protection
Adjustable helmet with 3 different headgears inside
Meets Ani Z87.1+ safety standards
Shade and sensitivity adjustment system
Aerodynamic front cover for better breathing and anti-fogging
Another brilliant addition to the Jackson Safety family is the Halo X 46131 lightweight welding helmet. This one is also constructed from lightweight plastic but really does its job as a heavyweight protector when it comes to repelling spark and debris. Being lightweight also has a ton of advantages, including low pressure on your neck.
With its 100 by 60 mm wide viewing area, you can take full advantage of seeing whatever is in front of you. This is one of the widest viewing lenses that we have reviewed so far and does a pretty neat job in providing optimum visibility for you.
That brings us to the darkening process. The lens comes with a number of auto-deeming sensors that can detect an arc almost the moment it is lit. To be precise, the automatic darkening is activated within 1/15000 second, which is pretty fast compared to most premium models of helmets out there in the market.
Putting it on your head is a piece of cake. You need to adjust only 3 knobs on the helmet to get fit to your skull. Two knobs on both sides and one in the back for easy adjustment.
Highlighted Features
Wide viewing area of 100 by 60 mm
Four auto-deeming sensors on the helmet for auto-darkening
Switching from regular mode to auto darkening takes 1/15000 second
Shade rate and delay time can be easily adjusted
Meets ANSI Z87.1+ and CSA standards
Remember the 9100 from 3M? If you have liked that, you will simply love the 9100 Xxi, for sure! Because this one comes with an improved look, sensitivity, and performance! Altogether, this one is by far one of the most top-performing welding helmets from 3M.
It comes with an improved and updated optical system that allows it to process more colors in a better manner. That means you can now easily see natural colors through the lens, even if it has darkened the vision.
Speaking of darkening, the gear comes with a number of shade options for darkening. From DIN 5 to even DIN 13, you can manually select which one you want to use. Depending on the arc light, you can adjust the shade and the delay time as per your terms. And these settings have also been upgraded for a more user-friendly interaction.
With all the controlled visibility, the vision area you get is massive. You can see with a wide range of 106 by 72 mm that makes pretty much everything around you as clear as crystal. You will never miss a single detail ever again!
Highlighted Features
It comes with improved optics for accurate color conversion
Grab and go system with auto-turn-on feature
Wide viewing area of 106 by 72 mm
Ergonomic and adjustable headgear for better comfort
Auto-darkening mode can be set from DIN 5 to DIN 13
The Dekopro Solar-powered helmet is a genius build-up. Not because that it's solar-powered, but because of its immediate reaction to the bright arc formation. It comes with 4 highly sensitive arc sensors in it that immediately recognize the arc and activates the dark mode within 1/25000 seconds. That's quite a fast transition we have seen so far!
Apart from that, you can access the inside of the helmet to check and balance the shade and delay-time of the darkening features. The manual control system lets you pick your own adjusted setting that suits your eyes.
The whole construction of the helmet is a robust one. It protects the helmet from UV and IR radiation. That means your head and face are safe as long as you are wearing the helmet on your head.
And not to mention, the lens allows you to have your eyes on the maximum area possible with its wide vision of 98 by 80 mm. Take control of what you are doing and eliminate guesswork like a pro!
Highlighted Features
Durable build-up protects from UV and IR radiation
4 arc sensors to trigger auto-darkening mode
Adjustment setting for shade and delay time
Wide viewing area of 98 by 80 mm
Built by following NSI Z87.1-2010 and EN379 4/9-13 standards
Take your welding skills to the next level with the Tacklife PAH03D helmet. This one is designed to attract professional welders who need excellent durability and precise visibility. That's because it is built with PA material that can endure high impact and high temperature.
Although the material is popular for its lightweight profile, it equally offers durability, as well. The PAH03D is a lightweight helmet weighing just above a pound and still a heavy-duty gear that can withstand high heat and great impact.
Being lightweight gives a lot of benefits to the user. You will feel almost no fatigue and pressure on your head or neck while wearing it. That's what pro welders look for, as they need to put on the helmet for a long time for different welding purposes.
With a wide vision of 100 by 73 mm, you can't miss anything while you weld. Offering an optical clarity of 1/1//1/1, the lens makes sure you see every single particle in precise detail. Not to mention that the auto-darkening feature also allows only 5% light transmission for a clearer view.
On top of that, it provides DIN 13 level security from UV and IR radiation to your skull and face. Overall, this one is a true professional-grade helmet that you can rely on!
Highlighted Features
Comes with 4 arc sensors to detect arc light
Auto-darkening system allows only 5% light transmission
Protection from UV and IR radiation
The adjustable knob can be easily regulated for best fitting
Made from strong and lightweight PA material
And finally, we switch off with the most advanced color filtering welding helmet – The Optrel Crystal 2.0. This welding helmet comes with a brilliant light transmission of 31% that welders, in general, have never experienced. No matter how bright the light is, the vision is as clear as it can get.
Its true color sensors make no mistake in converting the colors. You can hardly differentiate between looking through a shade lens and seeing through a transparent glass. The vision will seem quite identical. It lest you see what exactly is happening before you in all the original colors.
The arc detection system is fully automated. You don't need to manually set up the shade or delay time as the helmet itself can take care of it. It will automatically darken the screen from DIN 4 up to DIN 12 according to the arc's brightness.
When the arc is blown out, it won't let the regular vision in the blink of an eye. It will gradually return to the previous state so that your eyes won't feel any stress.
Apart from all these amazing features, the helmet is quite durable and sturdy. It can save your head and face from the sparks, dust, smoke, and aerosol pretty effectively.
Highlighted Features
Crystal lens technology to convert true colors
31% of high transmission of light in a bright environment
Automated darkness can range from DIN 4 to DIN 12
Extern control from switching to grind mode from weld mode
The Twilight system gradually lightens up the vision
How To Choose The Best Welding Helmet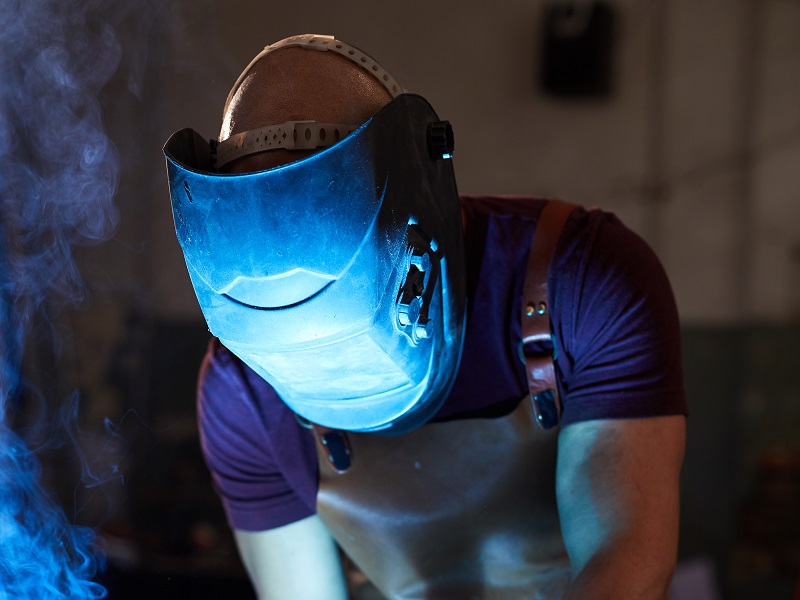 So, you are up for the best welding hood, right? As you can see, we have piled up 10 of the best welding helmets you can find in the market. But before you stretch your hand to grab one, here're some quick reminders to make it easy for you.
Build-Quality
A welding helmet is a gear that is used to deal with high-impact jobs. There's literally a fire arc lighting in front of you, and sparks are shooting from it here and there. This is the scenario when you put on a helmet like this. That's why you have to make sure that the helmet is made from durable materials.
From resistance nylon to the high-impact plastic shell, you have a variety of options to choose from when you are considering the helmet's durability. You can also go for PA material for this purpose, but make sure the lightweight profile doesn't compromise the durability.
Needful Darkening
There's no alternative to the auto-darkening feature. You have to ensure that the helmet comes with this option. But above that, you need to ensure that the darkness level can be adjusted manually.
Depending on the arc brightness, you need to regulate the level of darkness of the lens. Try to find the one that allows you to roam between DIN 6 to DIN 9 rating for your comfortable darkness selection.
Wide View
Watching what you are doing is most crucial in welding works. You can't expect a good result out of the job if you are doing guesswork while you weld. A wide view will allow you to see clearly everything in front of you with the utmost details. So make sure the lens allows you a wide view.
Adjustment Option
If you can't set the helmet on your head properly, you won't be able to reap the true benefit of the helmet in any way. Plus, it will cause fatigue and pressure on both your head and neck. So try to find the one that comes with a comfortable and convenient adjustment system.
Again, you can't settle for the one that comes with a heavyweight profile. Make sure that the helmet is lightweight, as well.
Anti-Fog Design
What if you can't breathe easily underneath the helmet? It will cause fog to form before you in the lens. That's the last thing you want to see. Make sure that the helmet comes with an exhaust system, or at least it is designed in a way that lets the inner breathing go out.
Darkening Switching Time
When the arc is lit, there's no way you can delay. The lens should immediately switch to dark mode when it senses an arc. Now this switching should be done within the fastest possible time. Find the best welding mask that switches the mode faster than a blink of an eye.
True Color
And finally, if your budget allows, go for the one that gives you the chance to view the field in its true color, not in the green mode. It will make sure that you can work in a more precise and accurate manner.
FAQs on Best Welding Helmets
Q1. Does the brand matter when I am choosing between welding helmets?
Ans. It's pretty common for users to stick to a brand for any product, be it a regularly used cosmetic or even a welding helmet. Although what matters the most is the quality and features, brands do play a vital role in confirming both of these.
Q2. Why are welding helmets important?
Ans. When you are welding, the brightness of the arc light will blind your eyes, and you won't be able to see anything. Plus, the fire spark will damage your eyes, face, and head, as well. That's why you need welding helmets.
Q3. How long do welding helmets last?
Ans. It depends on how the helmet is built. If the helmet is a regular one with no advanced technology involved, it may last about 7 years. On the other hand, if it is dependent on different sensors and all, once the sensors are faulty, the helmet is of no use anymore. It may even break down within 2 to 3 years.
Q4. Do I need a single fixed shade or variable shade lens?
Ans. For a fixed shade, the lens needs to be moved up and down to match the brightness of the arc when you are welding. It takes time for a new welder to get used to it.
For experienced welders, this is just a piece of cake. If you're new and having a hard time with the fixed shade, you can also get the variable shade lens, as well for ease of operation.
Q5. What lens shade should I look out for on my welding helmet?
Ans. This depends on the amperage you are using. If you are working on low amperage, it's good to start with a #8 shade. But if you are gradually increasing the amperage, you may need to increase the shade up to #13.
Q6. Does helmet weight matter?
Ans. Of course, it does. If you are wearing a heavy helmet, it will put a lot of pressure on your head and will make it quite tough on your neck. It will eventually make it difficult for you to work. So always choose a lightweight helmet for better comfort and convenience.
Q7. What is the best welding helmet?
Ans. It's not easy to put one helmet over the other when it comes to selecting the best one. In our review section, we have discussed some of the best welding helmets for your ease.
Q8. Are cheap welding helmets any good?
Ans. You must be very careful before buying a cheap helmet. It's often observed that cheap helmets don't provide enough protection and light filtering. Plus, the risk of UV and IR radiation exposure is also there.
Q9. How dark should my welding helmet be?
Ans. Depending on the brightness of the arc you have lit, you should select the darkness of the lens.
Q10. What is the lightest welding helmet?
Ans. Any helmet that comes within the weight of a pound or less should be the lightest helmet you can find.
Final Words
So that was all we had on the 10 best welding helmets that we sorted out for you. Go through the details of each of these helmets to find if these suit your needs. Don't forget to check out our buying guide for the best guidelines in selecting a welding helmet. It will surely land you on the right page.
Keep welding!