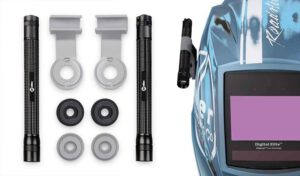 Do you find trouble with visibility while working with low-lit welding applications? You can locate your accurate welding area only if you have the best welding helmet light. Whether you use a traditional or auto-darkening helmet, a welding helmet light is an ideal choice to ensure proper visibility in any condition.
There is no way any other lighting can assist you with your welding visibility like a welding helmet light. Whenever you strike an arc, your visibility is completely ruined because of the arc's brightness. Your helmet can darken the shade of arc but it can not brighten the area of welding which leads to inaccurate welding. So, we are here with our top choices as welding helmet lights you can choose from.
Here is a quick look at the best facilities you will get from our enlisted welding helmet lights:
Best Welding Helmet Lights For Professional Welders in 2022
Here are the top 5 most reliable welding helmet lights and their features. Check them out below.
Highlighted features
Comes with LED white light to ensure accurate visibility in low-lit welding applications.
Perfect size fits for any surrounding conditions (about the size of a marker).
Adjustable light hoods with highly durable and fixed light beams.
More than 5+ hours run time with AAA batteries.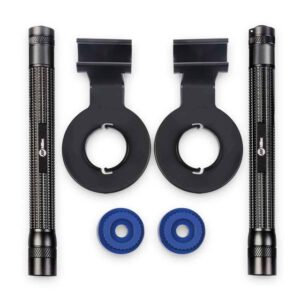 We have chosen the miller electric welding helmet light as our first choice. This welding helmet light offers the most premium lighting quality that fits almost all types of welding helmets. It is highly recommended for additional visibility even in low-lit applications. So, you can work in any lighting condition with miller electric welding helmet light.
Miller electric welding helmet comes with bright LED white lights for better visibility. Both helmet lights deliver 70 lumens lighting power(140 at total). This amount of lighting power is more than enough to brighten any welding surface accurately along with the surroundings. There is no better lighting option than two 70 lumens helmet flashlights to operate welding tasks in any condition.
The second most appreciated feature of miller electric welding helmets is its compact design. Even while attached to the helmet, this helmet light wouldn't interfere with any surrounding as it is small sized. Both flashlights are about the size of a marker that can fit through any surroundings. The light beams are fixed in their position but you can adjust the position of the light by raising or lowering the hoods.
Miller electric welding lights are the perfect welding helmet light in terms of durability and comfort. These helmet lights work with 2 AAA type batteries for each flashlight. It is admirable that these lights have a maximum runtime of more than 5 hours with these batteries. You won't feel any burden as these lights weigh around 64 grams on each side.
Highlighted features
Fits with almost all generations and models of headgears apart from competitor helmets.
Bright LED white lights for accurate visibility.
The lights are easily adjustable and as small as markers.
Can be used for a long time with a runtime of more than 5 hours.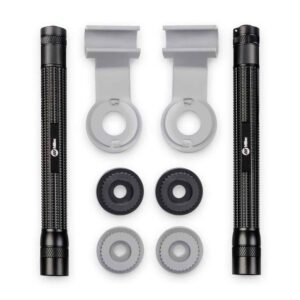 This is a different version of miller electric welding helmet light with the same name. Features of this welding helmet light are just like the previous one. This one is also highly reliable for accurate visibility in low-lit welding conditions. Both of these models were released with the same name & features on the same date but this one is a bit easy to install.
The very first thing you may want from a welding helmet light is good visibility. Miller electric welding helmet light can be the best choice for you as it comes with power white LED lights. Just like the previous model, this one also comes with two 70 lumens flashlights which means a total of 140 lumens lighting power.
As you are going to complete your welding tasks with many other surroundings around you, the welding helmet lights must be small and adjustable. Miller electric welding helmet lights are as small as the size of a marker. You can also adjust the lighting position by raising the lights hood in the upper or lower position.
Just like the first one, the second model of miller's welding helmet light also runs on 2 AAA batteries for each flashlight. They can run for more than 5 hours constantly with these batteries which makes them perfect for long-term welding use. This one also weighs around 64 grams on each side with batteries equipped. The difference between this model with the first one is that it is easier to install and it can be used for more generations of helmets than the previous one.
Highlighted features
Provides hands-free & bright lighting without lifting the hood.
140 lumens LED lighting all over the welding surface with only 3 AAA batteries.
Usable for low light conditions and arc welding tasks with sharp white lighting.
Magnificent battery life efficiency with 8 hours of continuous runtime.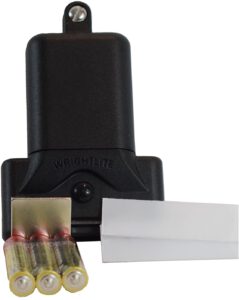 Welding LED flashlights are another best deal for you with some unique features and efficiency. Wrightlite has designed this light to fit on top of any welding helmet. It can brighten your visibility just like two-sided welding helmet lights and assist you with your welding tasks. It is known to be one of the best hand free lighting systems for welding helmets.
With WrightLite's welding helmet lights, you won't need to lift your hood to have proper visibility. As they are situated on top of helmets, they provide you the most enhanced visibility of the whole welding area. All four flashing points of this light spread widely so that you can get good visibility of everything on your welding surface. This makes it perfect light to use in low light conditions and arc weldings.
A unique feature that differs this welding helmet light from others is its magnetic attachment for ADF welding helmets. This low profile helmet light can magnetically attach itself with ADF (anti darkening filter) welding helmets. This magnet attachment is highly durable as it attaches the lights with the helmet very strongly without even a bit of misfit.
These LED flashlights can be used for long term welding tasks without any hesitation. WrightLite LED helmet lights ensure 8 hours of continuous bright lighting which is more than enough for any long term welding project. You would be mesmerized to know that such a long term lighting power is provided with only 3 AAA batteries.
Highlighted features
A personal work light at a very reasonable price.
Most efficient and lightweight welding helmet light.
Incredibly small-sized dual-LED Flexi-neck lighting system.
Provides 10 lumens LED lighting
Provides both ultra-bright white light and red light for different welding uses.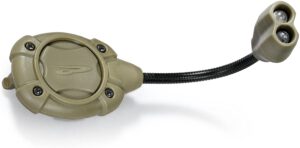 As we have enlisted the best welding helmet lights with the best facilities, here is the best choice for you if you have a tight budget. Princeton Tec Switch MPLS LED task light is an incredibly lightweight and easily adjustable light that can be attached to any type of helmet. If you are working on small welding tasks then you should use this low-priced light instead of buying other pricey and powerful lights.
Princeton tech switch MPLS LED task light provides incredible visibility with its dual LED lights. These lights are positioned in a Flexi-neck platform so that you have an even clear vision of your welding area. Both lights provide 10 lumens lighting power which is enough to ensure welding visibility if you are close enough to the welding area.
The very first specialty of this light is its lightweight and small-sized dimension. Its size is around 1 inch in all dimensions which makes it usable for any welding condition with complicated surroundings. So, you can forget the burden of banging your helmet lights with other obstacles. You won't even feel the burden of carrying anything as this light weighs only 0.1 pounds which makes it lighter than any other welding helmets with such versatile lightings.
Two LED lights of this helmet light provide different lighting which makes it usable for different tasks. 1 red light and 1 ultra-bright white light of Princeton LED task light make your welding tasks even more precise with both low-light visibility and arc welding visibility.
Highlighted features
Powerful 300 lumens bright LED lighting with multiple modes.
Easy to use controls and push buttons even with heavy gloves equipped.
Adjustable in any direction with a 360-degree rotating facility.
Can be used as both hands-free coverage and handheld lighting by easily detaching the mount.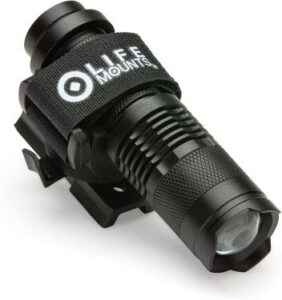 The last pick of our top 5 welding helmet lights is the life mounts LED helmet ARC rail light. This is also the most powerful welding helmet light on our list. It is a bit pricey but it is highly recommended for you if you are a professional welder. This ARC rail light comes with some of the most advanced features of helmet lights. However, it can only be attached with ARC rail of Ops-core, MICH, ACH & Fast helmets.
Life mounts LED tactical helmet ARC rail light is the best choice for you if you are working with heavy welding projects. This light is known as one of the most durable lights as it is drop-proof and weatherproof. This light is covered with durable HDPE and silicon rubber. Such a durable light can be used in projects of over 1000 feet.
This light uses 1 AA battery and provides 300 lumens LED lighting which is suitable for all types of projects and any conditions. With such astonishing bright lights, you can work in heavy welding sites with clear visibility even at night. The light can be rotated 360 degrees so you can adjust the light in any direction you need
This premium welding helmet light is shock and spray proof which is even more satisfying. You can operate its push-button On/Off switch easily with heavy gloves. However, you can use it for small tasks as well as it has three different lighting modes of high, low & strobe.
Facts To Consider While Choosing The Best Welding Helmet Light- Buying Guideline
Here are some major facts you need to keep in mind about choosing the ideal.
Brightness & Visibility
Visibility is the main thing you would need from your welding helmet light. For accurate cuttings, weldings, and many other applications, you would need proper lighting from your helmets hood. An ideal welding helmet light should have visibility of at least 100 lumens if it comes with one flashlight.  It should provide at least 140 lumens if it comes with two-sided flashlights. We would recommend you avoid choosing welding helmet lights with less than 100 lumens lighting as they won't provide proper visibility in low-lit welding tasks.
Size & Compatibility 
The size of a welding helmet light should never exceed half of the helmet's size. However, if your welding garage has lots of surroundings then you should choose lights within the length of a marker with compatibility. The lights should be short in size to avoid bumping with other surroundings.
Battery  & Run Time
If you are working on big welding projects then your welding helmet lights should work with heavy-duty AA batteries as they last for the longest time. Working on regular welding projects won't need lighting for more than 3-6 hours so you can use AAA battery used helmet lights for that task. A good welding helmet light must provide run time of at least 5 hours constantly.
Helmet Attachment & Adjustability
Before buying any light for your welding helmet, make sure that light can be attached to the certain helmet you use. All of these lights do not fit with all types of welding helmets. After checking if you can attach it or not, you should also check how you can adjust the light while working on your project. This would help you light your welding area comfortably and accurately.
Weight & Durability
An ideal welding helmet light doesn't weigh more than 0.1 kilograms. If your welding light is heavier than this limit then you will feel pressure on your head while using it. To avoid such discomfort, you should always prefer light-weighted welding helmet lights. These lights' durability can be understood by checking their built materials and how much pressure they can withstand. A drop-proof and weatherproof light is enough for any welding task.
FAQs About Welding Helmet Lights
1. What The Best Welding Helmet Light?
Ans: Though we have enlisted our top priorities of welding helmet lights, an individual top choice among them would be Miller electric welding helmet light ( No. 2 of our list) for its amusing low-lit visibility. Some other lights perform the same but this one fits with many generations of headgears.
2. How Bright Is 140 Lumens LED Lights?
Ans: Normally, 100 lumens are considered as bright. 140 lumens LED lights can give clear visibility in close range and medium visibility for at least 50 meters. They can give the best visibility of a small and certain area even in low-lit areas.
3. Are Compact & Adjustable Helmet Lights Durable?
Ans: Many people think that compact and adjustable welding helmet lights are not as durable as fixed lights which are completely wrong. Light beams of compact helmet lights are fixed to their position so they ensure enough durability just like other lights. Compact lights are adjusted or rotated with their hoods which are flexible but durable enough to withstand some major bumps.
4. What Is The Best Battery Type For Welding Helmet Lights?
Ans: Welding helmet lights mostly come with lithium-ion batteries or alkaline batteries. Among these two, alkaline batteries are better as they provide accurate brightness of the light for a certain time. AAA batteries are the ideal battery type for welding helmet lights.
Final Verdict
Finally, now you know everything about welding helmet lights. We have shown you the best welding helmet lights that suit almost all types of welding tasks at a very reasonable price. Revision your welding projects and understand which type of welding helmet light suits your task.
We would always suggest you to avoid sticking to your budget and buying cheap helmet lights as they would never help you with your precious welding projects. However, don't go for the extra facilities that you won't need if you want the right value for your money.
[amazon bestseller="Welding Helmet Light" items="3″ template="table"]