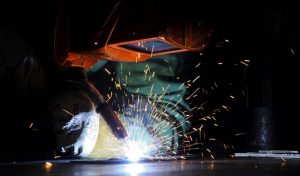 Being a welder, you need to apply your all focus on the welding. A whole list of welding tips and tricks can take your profession beyond the level. Who doesn't want to experience a safe and functional professional period? Well, people over the world are making money with MIG welding.
So, everyone wants to improve their welding performance. There are some secret tips and tricks to accelerate welding tasks and get the best of them. Since you're a welder and that's the reason you're here.
So, let's sit back tight and have eyes on our tips and tricks of welding.
How To Improve Welding? – Best Tips and Tricks
Do you want to take your welding to the next level? Our professional editors have come along with some handy welding tips and tricks for you. Just them and get the best of your welding professional life.
1. Take Safety Precautions
Welding is not a fun machine! It produces all those electric shocks happen during the operation. Else, the fumes, arc rays, and hot pants are not at all easy to handle. You always don't need to be a professional to deal with a terrible moment with welding. A happy and safest fact is that you can easily avoid hazardous accidents happening with you. But, how? That's completely easy and lies in your hand.
Do you take safety precautions during the time you weld? There would be 50/50 positive and negative replies out there. Because professional can carry the welding at the hardest and even in risky moments. So, they hardly use any safety precautions while they operate. But how much is that eligible for your safety? Well, any unwanted incident can occur if you don't stay loyal to your safety precautions.
Safety comes first in any machine operational task. So, know the safety precautions you need to follow.
You must wear an apron all over the body to avoid skin burning from infrared light rays or ultraviolet lights.
Never forget to have eyes-protection glasses. Because they won't only protect your eyes, they will help you to weld with full attention. Because eyes get a lot of blinking with the sparks of the fumes, and arc rays and also can be damaged somehow if you don't wear protection eye-glasses.
You should also wear helmets, shoes, and gloves that can protect you from flames.
And when you're picking safety precautions make sure they're not made from synthetic or cotton materials. Because synthetics materials catch to sparks easily and can make you injurious easily.
2. Check The Settings Properly
It's not so easy just the way you think like turning on and then going on! You've to know everything from settings to materials. Before you start your welding make sure you have the best flux core wire. And you also need to check the voltage setting.
If you're doing something heavy-duty task, you need to check everything from voltage to RPM. When you need to cut a very simple cutting task, you can go for a 110V MIG settings and the bigger tasks 220V MIG is mandatory.
3. Is The Equipment Running OKAY?
All the equipment play altogether plays an important role in welding in any welding machine. From wires to MIG gun everything should work properly. 
And also check out the power source. If you're running a 220V MIG, you must need a power source that can match the machine's power voltage.
You can avoid spattering by keeping the ground cable as close you can to the workspace. Remember to ground cable should be hooked up with the weldment. If you don't feel good working like it, then you must attach the ground with any bench or stand nearby. Because keeping the ground near to the arc cause overheating.
4. Keep Everything Clean
Cleanliness is the best mantra to lead everything successfully. If you're not even using the machine, keep it in the good state so that there is no debris attachment with it. Keeping the machine unused in the dirty environment decreases the effectivity of the welding machine. So, you have to keep the machine in a clean place.
Else, you need to clean the welding wire regularly and other consumable parts. You can apply compressed air to clean inner and liner parts.
5. Use The Right Shielded Gas
Every welder out there doesn't use the same kind of wire. If you don't know let me tell you, every different wire requires a different kinds of shielding gas. The most important is what gas your wire needs to operate. Some wires run only on Carbon-Di-Oxide or argon. And some run on the combination of these two gases. Well, most of the professionals out there prefer CO2 because it is cheaper, easy to find, and it welds perfectly on steel.
If you want to weld something thinner then CO2 operating wire is flexible. And concerning spatter, you need to combine 25% CO2 and 75% argon.
6. Keep The Machine Rest!
The machine can't run a whole time of the day. You need to give it a rest after a lot of tasks you've done. The best thing part is to give a rest to keep it cool once you've done 1-2-hour heavy-duty tasks.
7. Position The Wire Directed To The Leading Edge:
Controlling weld bead was not an easy thing until you know to keep the wire directed to the leading edge. Hence you will get the best control at the weld bead. And also, don't forget to use the smaller diameter size for the user-friendly task. 
The Last Words
There were some welding tips and tricks for beginners to try at home. Welding seems very hard at the starting while it may make you expert over time with a lot of practice. You can practice our given top 7 MIG welding tips and tricks for better performance in your professional or hobbyists' tasks.
If you want to share anything that helped to improve your welding performance and experience, please comment below!
[amazon bestseller="welder" items="3″ template="table"]