There's no point in overdoing things with industry-grade welding machines when it's a simple 110V MIG welder that can do the job. Yes, if you have one of the best 110V MIG welders at your side, you can take care of your DIY and household projects at a lower cost with lower power!
However, as the 110V machine is not that common, big brands are hardly interested in marketing them. That means it's pretty tough to pick one that can be your daily go-to welding machine for household projects!
That's why we have picked up some of the most useful and well-equipped 110V MIG welders just for you! Keep reading till the end to figure out what we have found out!
Interested? Let's jump in!
[amazon table="2507″]
Top 6 110V MIG Welders Reviews
It took us a whole day to select the smartest choices out there in the market. We went through multiple reviews and also took user feedback into consideration while putting the names on the list. Follow the reviews to find out what we have unearthed!
It's kind of hard to ditch Forney and make any list of some of the most powerful welders. No wonder we are kicking off the list of the best 110V MIG welders with the 140MP Multi-Process welder from Forney! It's a 3-in-1 machine with all the options for TIG, MIG, and Stick welding. Apart from its excellent performance, the welder is popular for its rugged construction.
What We Like
(+) 3-in-1 Device
If you don't want to spend a lot on three different welding machines, well, the Forney 140 MP is the go-to welder for you. It works as a MIG welder, a Stick welder, and a DC TIG welder at the same time. Changing the welding position is pretty simple. All you need to do is turn the respective switch to jump between welding methods. It's as simple as that.
(+)  Precise Control
It's worth mentioning that the device has a wire-feeding speed control system that allows you to pick the right voltage settings for your project. This way, you can set the precise voltage you need to achieve the desired output in no time. You can pick an amp output current ranging from 43 to 110A.
(+) All-Metal Case
It's not the inner performance that Forney 140 MP Multi-Process welder takes pride in! The outer shell of the device is pretty much nailing it, as well. It's an all-metal case that echoes durability and strength all the way.
Plus, it is wide and large enough to hold wire rolls of 2 and 10 pounds. It supports the assembly of a full-wire drive for better performance.
Keep In Mind
(-) Setting Up Needs Time
The setup process of the device is not easy. You may need to go through some of the online tutorials or ask for someone's help to get this thing going.
Made especially for DIYers and home users, the Super Deal Pro MIG 130 welder is just the one you need for your household welding works. It's pretty conveniently compact, lightweight, and it also comes with a comfortable handle to make it portable, as well.
With its variable speed control system, you can alter the current flow to pick the right amount of current to get the best result for your project.
What We Like
(+) Compact
The very first thing you will notice on this device is how compact and easy-to-handle the machine is. Weighing just 38 pounds, the welder can be easily carried around with you in a carrying bag. That's why it is quite suitable to use in-home or shop-based works to weld steel and mild steel items.
(+) Build Quality
Apart from the fact that the device is handy, it is also quite sturdy. The makers took their time out to make it as robust as possible. Made from high-quality PVC material, the device stands as a perfect example of a rugged welder to carry around. It is also delicately treated to allow it to be pretty much resistant to impact and blow.
(+) Variable Current Adjustment
The best part is, you can control the current flow of the machine using 4 different yet simple buttons. Select from Min/Max/1/2 button to choose the right amount of current supply for your project. The rotary knob instantly adjusts the wire feeding speed from 10 different levels, making it way more convenient to operate.
(+) Comfortable Grip
Its handle on the top is pretty useful to carry the device around from your home to shop and vice-versa. However, what's more interesting is the grip on the handle, which is pretty comfortable and feels soft on your hand.
Keep In Mind
(-) No User Manual
The device arrives with no user manual to get you started. So, there should be a lot of guesswork that beginner welders may find pretty annoying.
Another top-class 110V Welder is the Weldpro 200 Amp Inverter Welder. Similar to the Forney Easy Weld 140 MP welder, this one is also a multi-process welder. That means you can weld by TIG, MIG, and Stick welding methods with this device pretty conveniently. On top of that, this one comes with a very handy design to make it pretty easy to use in your home condition!
What We Like
(+) Dual Digital Display
Perhaps this one has got one of the brightest and easy-to-read displays in the market. The vivid dual display allows you to read and set the correct wire speed and amperage setting for your projects. You can precisely set the speed and current flow by noting the reading from the display within seconds. It makes your work extremely easy.
(+) Protection
Unlike most cheaper alternatives in the market, this 110v MIG welder is well-protected from high temperature and overloading. There's an indication option on the device that informs you of the potential harm so that you can take immediate action and protect the device from getting damaged.
(+) Handy
Not to mention, its 30-pound lightweight profile simply makes it one of the best choices you have in the market when it comes to handy and compact devices. It's pretty easy to carry and move around within different sites.
Keep In Mind
(-) Wire Runs Even After Finish
The wire will run for 5 to 10 seconds even after you have finished. So there will be some loss and wastage that you may need to consider.
Coming with a 2t/4t switch and a double digital display system, Lotos takes a special place on our list. It supports current industry-standard wire spools of both 4 inches and 8 inches.
This offers you a better and more comfortable welding experience. Unlike most other complicated devices, this one takes no more than 10 minutes to set up. You can get started right after unpacking it from the box.
What We Like
(+) Double Digital Display
Two crystal clear digital displays are placed on the right side of the device that allows you to get the precise reading you need. You can check the speed of the wire feeder and the alteration of the welding voltage on the displays while you are welding.
You can keep track of the ups and downs of the current flow along with the voltage and wire speed in a pretty neat and simple way. Thanks to the 2T and 4T switches that make it even easier.
(+) Works On Different Metal
The welder works equally well on steel, mild steel, aluminum, and other metal materials. So, it is a pretty good choice for both home and shop use. Whether you are going for a large scale welding work or a small scale, it offers similar and equal performance.
(+) Aluminum Wire Feeder
To add to the durability of the device, the welder includes an aluminum wire feeder. The high-quality feeder gives you the optimum stability you need for the best use and performance.
(+) Thermal Overload Protection
Safety is definitely something Lotos takes seriously. You can tell it from the safety protection they have incorporated here. It features effective thermal protection to safeguard the inner and outer parts of the machine.
Keep In Mind
(-) Feeding Issue
A few users complained the wire feeder has a tendency of sticking while feeding wire. You have to be careful and cautious while feeding the wire.
[amazon box="B07T5QSM13″ template="horizontal"]
Although DIY enthusiasts will feel like it's their dream come true, a professional and experienced welder won't feel alienated, either, when we talk about the Autool EWM308 portable welder.
This little pal can work on 110 input voltage to weld on multiple materials, including stainless steel. Connected with a useful welding gun, the device can work as no less than a full-fledged industry-grade welder. All of this comes in a weight of simply 4.5 pounds!
What We Like
(+) Truly Portable Design
The device comes with a dimension of 9.84 X 6.70 X 3.94 inches which makes it really small and portable. It has a strap attached to it that is used to carry it on your shoulder pretty conveniently. It won't put much pressure on your shoulder as it weighs just below 4.5 pounds.
It's one of the most compact devices we have reviewed till now, and it works brilliantly like any other welding machine in the market.
(+) IGBT Module Technology
Autotool EWM308 adopts the IGBT Module technology for smooth and uninterrupted heat distribution. To keep it neat, the device uses a fan that turns at a rate of 4100 turns/minute to keep it cool. That's how this powerful welder is prevented from getting overheated.
(+) Overheating Protection
Even if the device gets overheated, it will still be managed by the device pretty easily. It has an overheating protection system that automatically turns the machine off when it gets hotter. This saves the internal parts from getting damaged.
(+) Clean Display
To keep track of how the current is flowing and the ups and downs of voltage, there's a vivid display on top of the device. You can easily take a reading from the display in real-time.
Keep In Mind
(-) Not Suitable For Industrial Use
Although it can work pretty well for some of the commercial works on a small scale, for large-scale works, it won't be a good fit.
Our final 110v MIG welder is the Vivohome 130 Flux-cored 110v welder. Although this is not the lightest of devices we have reviewed, it's pretty easy to maintain, at least.
However, it comes with the top-class capacity of welding steel, mild steel, stainless steel, and other metal materials quite easily. With its impressive 10-speed control knob and 4 levels of flow settings, you can take control of the welding no matter what.
What We Like
(+)  10 Speed Control
There's a simple gas regulator knob that can be turned to pick the right speed for the wire feeding. It helps you select up to 10 different speed options to match your needs while you weld different types of metal items, including stainless steel.
(+) Built-in Storage
One interesting part of the welding machine is its built-in storage. It's something that we don't see in most devices out there. You can keep your welding essentials like a converter, spool gun, etc., in the storage by opening up the top lid, just like that.
(+)  Anti-Slip Pad
Keeping the welding machine steady on the ground is a challenging task. Not every welding machine is made to stay grounded, and you can see that if you are welding for a long time. Thanks to the anti-slip pad beneath, the Vivohome 130 MIG welder stays perfectly on the ground without slipping or sliding from its place.
Keep In Mind
(-) Extension Cable Issue
Some of the users complained that it struggles to work with a power cord extension cable which can be frustrating if you are trying to work further away from the machine.
What To Look For While Getting The Best 110V MIG Welder?
So, you are really up for the best 110V MIG Welders, right? Well, you can easily pick one from the list that we have made here in this article. However, you may need to be a bit careful before leaning towards a MIG welder, as there are some key factors that you need to concentrate on. Here're some of the key factors you shouldn't skip.
Flux Cored or Gas Cylindered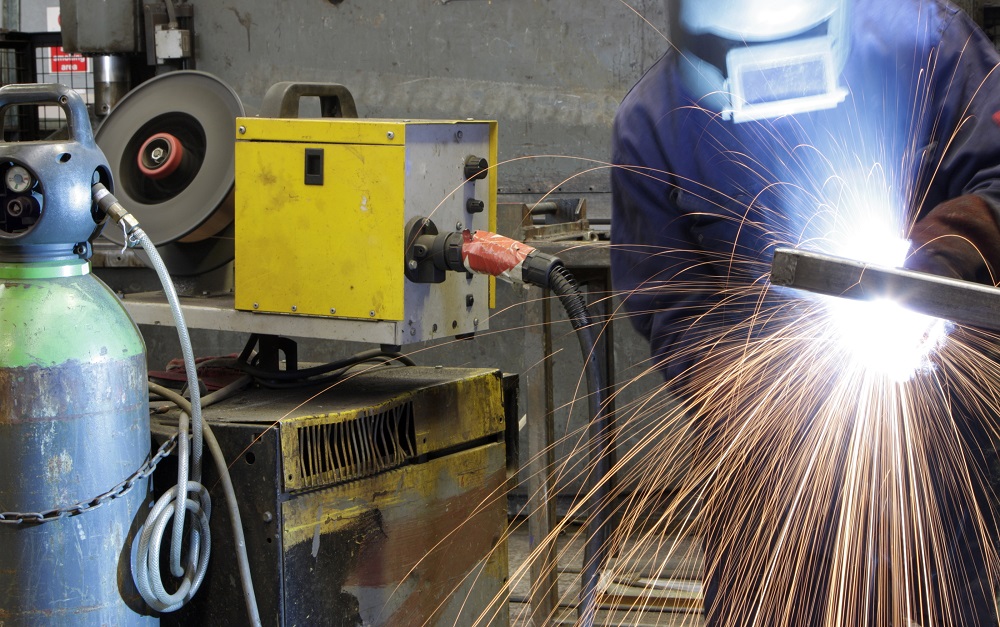 This is the very first decision you need to make when it comes to buying a MIG welder. The welder usually comes in two different variants – flux-cored and gas cylindered. Now, depending on your choice, you can pick either of the two as the performance of the welder won't vary as day and night.
However, having a gas cylinder version will translate that you need to carry a gas cylinder hooked up with the device, which may not be such a convenient idea for everyone. On the other hand, the flux-cored is a no-cylinder version of a MIG welder, but it produces slag that needs to be taken care of.
Input Voltage
Well, this is important. As you are looking for a 110V device, it definitely should come with an input voltage of 110 volts. The best part is, the 110V MIG welders are generally made for home users who can connect the device to the household power source.
So, it's a no-brainer that you need to make sure that the device is a 110V one. Side by side, try to ensure that the device can be easily connected to the household power options with extension cables, as well. Some of the MIG welders don't support extension cables.
Output Power
The output power is also crucial in picking up the best MIG welder. How much output amp you need will solely depend on the wire diameter and the thickness of the weld. A rule of thumb, in this case, is for every 0.001 inches of mild steel, you need to use one amp power.
So, if you are welding ⅛-inch mild steel, you need to use 125 amps of power (As the thickness is 0.125 inches). However, if you are welding aluminum, you need to increase the power by 25% and decrease the power by 10% if you are welding stainless steel.
Welding Thickness
As we have discussed the thickness, it's also vital to know if the welding machine can weld by the thickness you need. A well-equipped MIG welder can cut at least ⅛ inch thick, which should be the minimum you need to look for. The thicker materials it can cut, the better and more capable the device is. So, try to pick the one that is more versatile MIG Welder.
Duty Cycle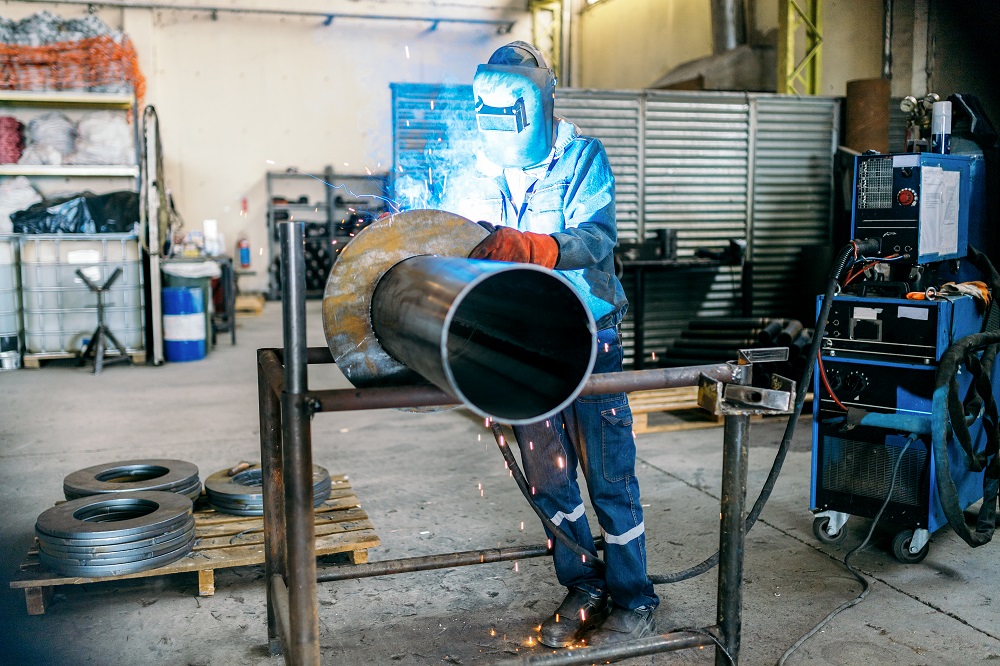 The duty cycle is quite important to consider. In short, a duty cycle refers to how long you can use the machine at a time. A 40% duty cycle means that for a 10-minute welding period, the device can run 4 minutes at a stretch, and then it needs to rest for 6 minutes after that. Then it will be ready to run again.
So, it's evident that the higher the duty cycle, the more working capacity you can get from the welding machine. Try to settle for the one that offers a higher duty cycle.
Portability
While size really doesn't matter, portability is something you can keep your eyes on. As you are focusing on using the machine at your home, it's better to go for something that's portable. You can go for the most portable choices in the market, like the Autotool EWM308 that will give you true portability.
However, if you are okay with some medium-sized machines, it's also fine. You just need to make sure that the device is compact and doesn't give you a headache while transporting it from one room to the other.
Safety
Some of the best 110V MIG welders in the market have premium safety features on their devices. You can't simply settle for something that fails miserably in this case. Make sure that the welding machine has an overheating and overloading protection system.
These protection options will keep the device from getting damaged when the machine gets overheated or overloaded with the current.
Spool Gun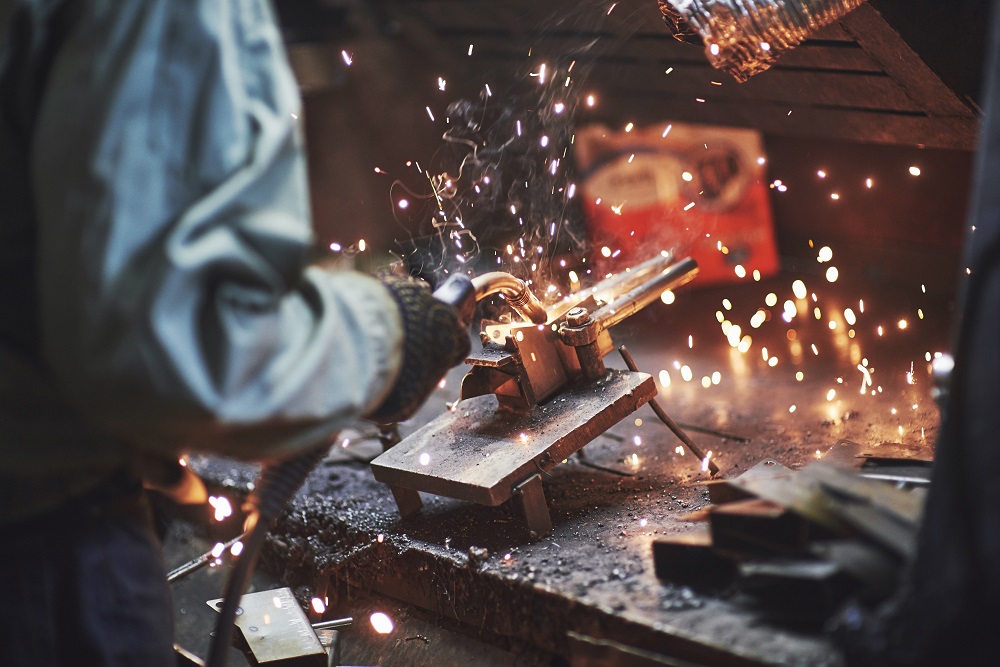 In case you are planning on welding on aluminum, it's better to use a spool gun. Aluminum is softer than steel, so it needs a spool gun for having a perfect weld. So, in this case, you need to choose the welding device that packs in a spool gun with it for a great quality weld for aluminum.
Easy To Use
This goes without saying that the machine should be user-friendly. Assuming that you are a household user and not a pro in the welding field, it's not worth it to challenge yourself with complex devices. Try to pick the one that has a clear display and a straightforward user interface.
Also Read: Best 220V MIG Welder Reviews – Latest Picks
Frequently Asked Questions
Q1. How Thick Can a Mig Welder Weld?
Ans. A good quality MIG welder can weld up to ¾ inch thickness. However, that also depends on the input voltage capacity.
Q2. Are 110 v Mig Welders Any Good?
Ans. Well, if you are not going to weld in a professional and industrial manner, a 110V MiG Welder should work just fine for the household and DIY works.
Q3. Which Welding Should I Start With?
Ans. Generally, for beginners, MIG welding is easier and more convenient than TIG and stick welding. So, if you are a beginner, it's better to start with MIG welding.
Q4. When Should I Use Flux-Cored Welding?
Ans. If you have never used a welding machine before, you can use a flux-cored version just because it will save you from the hassle of using a gas cylinder with it.
Q5. What Kind of Gas Is Used for Mig Welder?
Ans. MIG welder mostly uses the less expensive gas CO2 (Carbon Dioxide). It is the most reactive gas to be used in the solid form without any insert gas interruption. So, if you are concerned about the material costs, then you can stay relaxed!
Q6. Is MIG Welding Stronger?
Ans. MIG welders are always famous for their strong performance. They have 70,000 psi tensile strength. It is stronger than those steel you are going to weld.
Q7. Is The Mig Welding Easy to Operate?
Ans. Rather than TIG and STICK, MIG welding process is easier and user-friendly. It can be used on thin or thicker aluminum, steel, and other kinds of metals without any difficulty.
Q8. Which One Is Better – MIG or TIG?
Ans. The MIG welding process uses a feeding wire with continuous effectivity while the TIG uses long welding rods and feed them into the puddling weld gradually. So, MIG is more user-friendly while TIG is complicated in some welding situations.
Final Words
It's true that picking the best 110V MIG welders from the very few available options is a tough nut to crack. However, if you know what you are looking for in such a handy and home-use machine, you will definitely select the one that works perfectly fine for your projects.
If you are not in the mood to explore much, we would suggest you go with the Forney Easy Weld 140 MP Multi-Process Welder for its excellent features and 3-in-1 mastery. It's also pretty much on the less expensive side.
However, if you are still up to find out more, our buying guide is here to make it easier on you!
Happy welding!