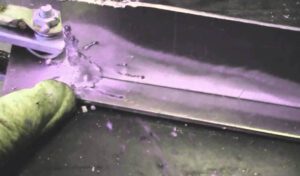 Welding aluminum is a very delicate task. If you don't know how to weld aluminum with a stick welder, you are going to get the easy steps to do it at home.
As welding is a very popular and successful professional in the many industrial places, there are many out there who need to know all the things about welding at home.
Comparing to the MIG and Tig welding, Stick is a comparatively easy, small, and uncommon aluminum welding process. It's not obvious that every welder will have a vast budget for welding aluminum.
What Is Stick Welding?
Stick welding is easy and productive for striking an arc. It creates an arc using electricity flow on the workpiece. There is a pressure created on the electrode and it melts to make a weld pool.
If you already used MIG and Tig, then you must have seen that there is a flux cover on the electrode that protects the weld pool from being polluted.
Advantages Of Stick Welding- Why Should I Try Stick Welder?
Why would any welder choose stick welding for aluminum over MIG and TIG? So, let's know some solid benefits which make Stick worthy beyond everything.
If you want the high-quality result within a less budget, nothing can beat stick welding. MIG is very popular from every perspective. Still, stick welding from the MIG performs So, you can get a budget MIG welder and get the flexibility in stick welding applications tasks.
Stick welder machines are portable. Though there are many MIGs and TIGs, which are portable, stick welding is extremely portable and brings the best flexibility in the welding performance.
It doesn't come with extra hassles like any additional wire feeder and gas cylinder.
You can easily handle it in outdoor situations. The other welders with a gas cylinder make it hard to weld in the windy atmosphere. But stick doesn't require any gas cylinder. So, it's easy to work with a stick in every condition.
Rather than TIG, it's easier to control and handle.
Though the welding pieces have rust or dust, you can stick weld it without any cleaning. But in MIG and TIG, you have to clean the object perfectly and make it ready for welding.
Disadvantages Of Stick Welding: Why Should I Avoid Stick Welder
Along with the good sides, everything comes with some cons too. So, stick welding also comes with some of them.
Do you buy aluminum electrodes? Well, if you buy then you know 1 pound of aluminum electrodes costs for $30. Still, you cannot get more than 5 lbs. in a packet in the market. Whatever the packaging is, the fact is that you will need to spend a lot of money on the electrodes. So, would you spend $100 bucks for repairing a junk piece?
If you are a MIG person, you need to acquire some additional skills to operate a stick. You need to be more careful while creating a certain amount of electrode because excessive of it can melt down the metal.
If you can't handle spatter and slag, then this isn't for you.
The performance of welding is indeed good quality but it doesn't provide high-quality performance like TIG.
Does Stick Require Safety Equipment? – Is It Risky?
Whatever welding tasks you're doing, you must have to take safety equipment. Before we get started, we want to clear the queries about safety measurement.
Without any safety consideration, you should never attempt to try any kind of welding applications tasks.
Any welding machine that you're going to deal with must have a manual script. You must go through the manual script very carefully.
You need to wear full-body protection for keeping your body safe from the fire, UV rays, and arcs. So, you must wear a fire retardant full-sleeved dress.
Best welding helmets and safety glasses can be your solid companion to protect your face and head. And you can't afford to use them.
Make sure the place is closed or air-tight. If the place has no air circulation then you must seek an airy place. Thus, the fumes won't make any fire and there will be fewer chances of accidents.
The Final Steps To Do Stick Aluminum Welding- Easy ways To Try At Home:
There are some basic things that you need before you start to weld aluminum at home.
The very first component that you must need is a Stick welder machine. So, make sure you must have whatever welding type that you're going to use. Stick is way too cheaper and affordable to use comparing to MIG, TIG, & Stick.
Most of the welder machines offer ground clamp in the box. If you don't find the ground clamp in the box, you must have to get it added.
There are many welders out there who know the real battle of cleaning the slag. You must clean the slag after you're done with welding. It's a very common issue to deal with welding tasks. So, what you can do is to have a set of slag removing tools. The set must include a slag chip, hammer, and a wire brush.
The electrode is another thing that is very important for a better welding performance. Depending on the metal, there are varieties of stick electrodes available in the market. If you are a beginner, you must start your stick welding with 6013.
Else, there E60 and E70 are the best choices for mild steel. And you can also pick from the most popular ones which are 6010, 6011, 6012, 6013, 7014, 7024, and 7018.
So, you must have the right electrode for making your stick welding project a successful one.
Getting Started:
Once you're done with your safety equipment and all the tools required for the welding, you can proceed to the stick welding.
Stick welding needs a pre-setup before you get to start with the real welding process. Check out whether the current setting is on AC/DC. And double-check everything is connected perfectly or not.
Now, when you see everything is set up, you can start to lay a weld. If you are a beginner, you can practice laying a weld on a scrap metal. But if you have enough confidence to lay the weld correctly, you can try to lay the weld on the welding metal.
While you see the whole electrode arrives in the electrode holder, you need to power on the welder. Now, place the tip of the electrode on the project metal and strike the arc. Make sure you're removing the electrode when it's done with striking a match. When you see the arc is created, just remove the electrode and adjust the metal.
When you're done with arc, you must make sure to move the electrode vertically to perform weld. You also should maintain a 15% and 30% vertical angle in the axis.
When the electrode is done to the joint, you can pull it back toward you. But never push the electrode to the joint again, else it will create slag and create a jam.
In this step, you have to clean all the slag using a wire brush and make the metal pieces look very clean and shiny.
Conclusion:
Don't forget to share with us your feedback. We tried our best to let you know how to weld aluminum with a stick welder.
To accomplish the perfect aluminum stick welding, you should be very careful. Aluminum is a delicate metal. And it requires the right settings adjustment and correct procedure to follow.
So, enjoy the stick welding at home without any professional help!
[amazon bestseller="aluminum stick welder" items="3″ template="table"]