You have to have at least 6 hands to easily use MIG, TIG, and stick welders at the same time. Unfortunately, as you are blessed with only two, having one of the best multi process welders is your only option. You can't continuously switch between different types of welders manually – it's a pretty rigorous and tiresome chore. 
Using a multi process welder will make it extremely easy for you to jump among welding types with just a simple click. But which one is the best out there? Well, here we are with a bunch of suggestions to make it easier for you. Keep up with us till the end to find out what we have in our pack! 
Let's hop in, shall we? 
What Is a Multi Process Welder?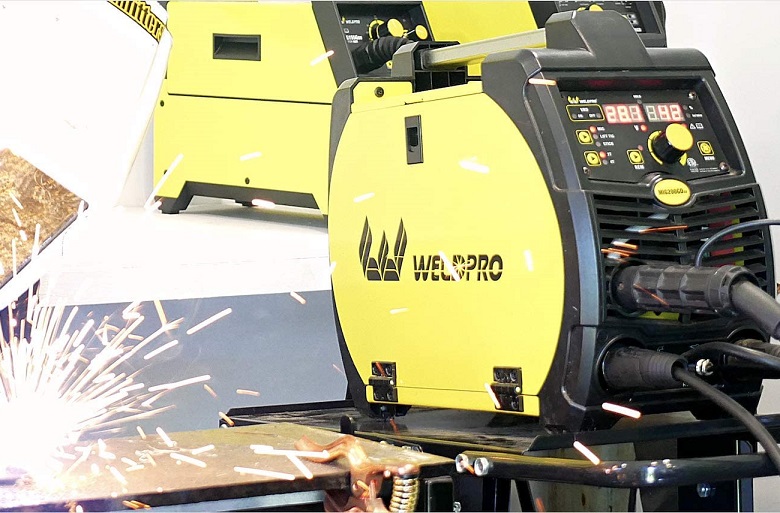 A multi process welder is also known as multi-purpose welder. The name says it all – it serves you for multiple purposes. As it's a welder, it can support you in welding in different formats that would require you to use multiple devices. 
Having a multi process welder will make it easy for you to carry on TIG welding, MIG welding, flux-core welding, and even stick welding. If you are up for a hike in the budget, you may even get a welder that supports plasma cutting, as well. 
The main purpose behind using a multi process welder is to be able to use one device that can perform the operation of multiple. All you need to do is click the alternating switch to jump to a different mode instantly. 
Generally, a multi process welder is used in cutting pipes, sheet metal, and other hard materials found in machinery and constructions. It greatly reduces your pressure on work and makes it absolutely easy to weld in diverse formats without any hassle. 
Running out of time? Well, if you don't have enough time to read the in-depth reviews we have gathered here, you can simply go through the quick comparison table we have put on here. 
| Image | Title | Editor's Rank | Price |
| --- | --- | --- | --- |
| Top | Weldpro 200 Amp Inverter Multi Process Welder | Editor's Pick | See Price |
| Top | LOTOS - 04-ZVGR-0O8D LTPDC2000D | Runner-up | See Price |
| Top | 2019 Everlast PowerMTS 211Si | Adjustable Arc Force Control and Burn Back Control | See Price |
| Top | Forney Easy Weld 140 MP Multi-Process Welder | Best Budget Welder | See Price |
| Top | 2020 Everlast PowerPro 164Si | Great for a Beginner | See Price |
| Top | AmicoPower MTS-165 Combo Welder | Automatic compensation for voltage fluctuation | See Price |
Top 7 Best Multi Process Welders Reviews 
Trust us; we dug really deep to make sure we unearth the best options for you. Picking up 7 machines out of hundreds is a pretty challenging job, and we hope we successfully did pull it off! So, here you go! Find out what we have come up with! 
Let's kick off with the Weldpro 200 Amp welder. Although this one is popularly known as a 3-in-1 welder, it performs beyond 3 welding types. You get the benefit of MIG, true TIG, stick, and flux-core welding – all at the same time with this smart device. Not to forget, using the additional spool gun, you can also use to weld aluminum, as well. 
Speaking of going beyond capacity, this all-rounder welder comes with an IGBT inverter technology. This technique makes sure that the device can deliver high power even if it has a lightweight profile. With only 30-lbs weight, the welder can offer 220V of output and up to 200A of input in MIG welding. 
To make the most out of this machine, it features a digital dual-display that is pretty easy to read. Using the display and the navigation panel, you can conveniently set the wire speed and the amperage and save the setting. Once again, when you are repeating the welding process, simply choose the saved setting to repeat the process accordingly. 
The best part is, the device can save itself from overloading and overheating. Thanks to its VRD high-temp and overloading protection system, it will automatically get turned off once the device is heated up badly. 
Highlighted Features
The device can weld in MIG, TIG, Stick, and flux-core welding process

It comes with a dual digital display for easy navigation

Features a VRD high-temp and overloading protection system 

Comes with an IGBT inverter technology for ensuring better output 

With an optional spool gun, it can weld aluminum materials 
The Lotos LTPDC200D is quite a performer when it comes to a multi process welder. It has both the TIG and stick welding option, and guess what, it is has a plasma cutter output, as well! With 10 to 50Amp output, you can use this welder for a smooth plasma cutting experience along with stick and TIG welding. 
This unique performer allows you to have a maximum cutting thickness of half inches which pretty much stands out from most common welders out there. Coupled with that, the maximum severance thickness offered by the device is ¾ inch, which is obviously a decent measurement. The best part is, the welder can easily cut through paint, rust, and rough surfaces like a knife in the butter. 
You don't have to tear apart your hair in guessing how to install this device. Lucky for you, the machine comes almost assembled and ready-to-use. The pre-installed quarter-inch type D plug and the air filter controller help you to attach the device to the air compressor in a minute. It uses the stand coupler on the compressor to swiftly connect the machine to it. It won't take more than a minute to set it up. 
Finally, the machine runs on a dual-voltage/dual-frequency setup. You can run the device directly with 220V 50/60 Hz of power, or you can choose 110V 50/60 Hz using a pigtail. Again, you can use the household power source to run it if you choose to use a pigtail. 
Highlighted Features
A 3-in-1 device that can weld in TIG, stick, and plasma cutting method

Maximum cutting thickness measures about a half-inch 

It comes with a dual voltage/dual frequency option for both 220V and 110V choice

Comes almost pre-installed for easy set up within 1 minute 

Non-touch pilot ARC allows efficient cutting without touching the surface 
Go fully digital with the 2019 Everlast PowerMTS 211Si multi process welder. If you are up for a digital device, then this one should be on your top list. When it comes to the diverse welding process, this one truly stands out of the crowd.
Even though the machine comes with a digital inverter system, the design doesn't perform any less differently than the traditional devices. What's more in the pack is that it can take your welding works one step further. It introduces synergic capacity for MIG welding to make sure you are getting the best welding experience possible. 
Not to mention, this one comes with TIG and Stick welding options, too! Being a digital device, you may face a hard time getting used to the panel layout of it. Don't worry; it's just going to be a matter of time. The backlit display will clearly show all the readings you need. 
In the case of stick welding, you get some greater advantage with this device. You can easily control the Arc force according to your will. This allows you to take complete control over the stick welding performance to make a huge difference. 
Highlighted Features
It comes with a digital DC CC/CV multi process inverter design 

The synergic capacity of the machine offers instant set up

Lightweight profile allows it to be extremely portable and easy to carry

It comes with a customizable Arc to control stick welding even better

A true 3-in-1 multi process welder with TIG, Stick, and MIG welding capacity 
Forney has been a well-known brand in the field of welder for years. The 140 MP multi process welder is a prime example that screams the reason why. This 3-in-1 multi-purpose welder is a knock-off for most of the average welders out there.
To start it off, the infinite voltage and wire-freed speed control make it pretty easy for you to dial the perfect weld ever. You get to make the most out of this welder at any voltage level suitable. No matter what type of welding you are doing, be it TIG, MIG, or even stick welding, this rugged device has got your back. 
Speaking of a rugged device, the Easy Weld 140 M is a classic in this case. The machine comes in an all-metal case that makes sure it lasts for a long time. It can pretty much easily withstand any blow and pressure while using in workstations. 
As for the size, Forney did make a great decision to make it big. It's big enough to carry and handle a couple to 10 pounds of rolls of wire. That's going to serve as a great backup if you are planning for a long welding session. 
Highlighted Features
3-in-1 welding machine can weld MIG, TIG, and Stick welding

It comes with infinite voltage and wire feed speed controlling technique

Made from a rugged all-metal case for sturdiness 

It features a 3 position switch that switches between welding options 

The machine comes with a full metal wire assembly 
Did you like the 2019 version of Everlast PowerMTS? Well, guess what? 2020 is going to impress you even better. The 164Si is a portable MIG and TIG welder that comes with a plasma cutter facility. It's quite impressive to see that just by clicking a simple switch, you can turn on the plasma cutting mode, just like that.
Even with this extra load of plasma cutting on the board, we did expect it to be a bit heavy, but surprisingly it didn't exceed any limit. Although 60 pounds may still sound a bit high, it doesn't feel that way when you carry it around. 
Among a number of perks this device brings in, the dual-voltage capacity is one of the most useful ones. Having a voltage capacity of both 120V and 240V places you in an extremely comfortable position of portability. You can use it in an industrial and commercial zone, just like you can set it up in household areas. It will work equally efficiently in both environment and power connections. 
One thing to remember, if you want to use the plasma cutter option, you need to have an unceasing supply of compressed air. The air compressors that you can find in the shops and workstations may work fine, but you need to ensure the flow. 
Highlighted Features
The device can weld in MIG, TIG, and plasma cutting welding modes

It supports a dual-voltage connection of both 120V and 240V

The extra voltage option allows cutting a wider range of materials 

It comes with all the necessary accessories to start right after unpacking 

For a plasma cutter, it comes with a portable, lightweight profile 
[amazon box="B00UAL7LA6″ template="horizontal"]
This one is for those DIY enthusiasts who are looking for a device for their projects yet don't want to compromise with quality. The Forney 322 is among those very few options that deliver maximum performance in a budgeted range. 
It's a truly 4-in-1 multi-purpose welder that allows you to weld in 4 different welding ways. You can carry on MIG, TIG, flux-core, and stick welding with this machine. As a hobbyist, you don't need to reach the bottom of your pocket to get a device that provides all these four types of welding services in one machine. 
Apart from that, the device can house a range of electrode types. This works perfectly for any project that needs diverse welding works. You can work with 3/32-inch to even 1/8-inch electrodes on this device. From the narrowest of welding to the widest – whatever is your need, Forney 322 is the device you need to have on your side. 
Okay, professionals may raise their eyebrows at the 140amp power, but trust us, this does get the most common jobs done. As it can be connected to household power sources, it works pretty much fine in DIY works and other household repair jobs. So, yeah, it's definitely worth a shot!  
Highlighted Features
The device can weld in TIG, MIG, Stick, and Flux-core welding 

140amp of output makes it a perfect choice for household use

It can house a range of electrode types from 3/32 inch to 1/8 inch

The package comes with a useful flowmeter and hose 

Lightweight profile makes it easy to carry around 
Finally, we have one of the best multi process welders on our list – the AmicoPower MTS-165. It's already named by the producers as a combo welding machine, and they haven't done any injustice here. The device is capable of welding in MIG, TIG, and Stick welding methods at an equal level of performance. 
Switching between the methods and modes, you can weld up to a quarter-inch of aluminum, mild steel, weld steel, alloy, copper, and even stainless steel and cast iron. Thanks to its capacity to work with aluminum and solid wires, you can wire it with diverse materials for multiple purposes. 
Hats off to its synergic control setting that allows it to adjust the output of this device. You can easily alter the output based on the thickness of the material you are welding. Also, the polarity can be changed depending on the type of wires being used. So, you are getting a lot of versatility here, for sure. 
As for the safety, the device does take care of it pretty seriously. It comes with protection options from a number of hazards these devices usually face. Such as voltage fluctuation, over current supply, overloading, overheating, etc. Trust us, the machine has got it all covered.

Highlighted Features
A true combo device that can weld in MIG, TIG, Stick, and Flux-core welding

It can weld aluminum, stainless steel, and cast iron with its different welding capacity

Comes with advanced IGBT technology for more control over the welding

It uses a high-quality machine for wire feeding that ensures smooth wire feeding

Perfect built-in overloading and overheating protection 
Best Multi Process Welders Buying Guide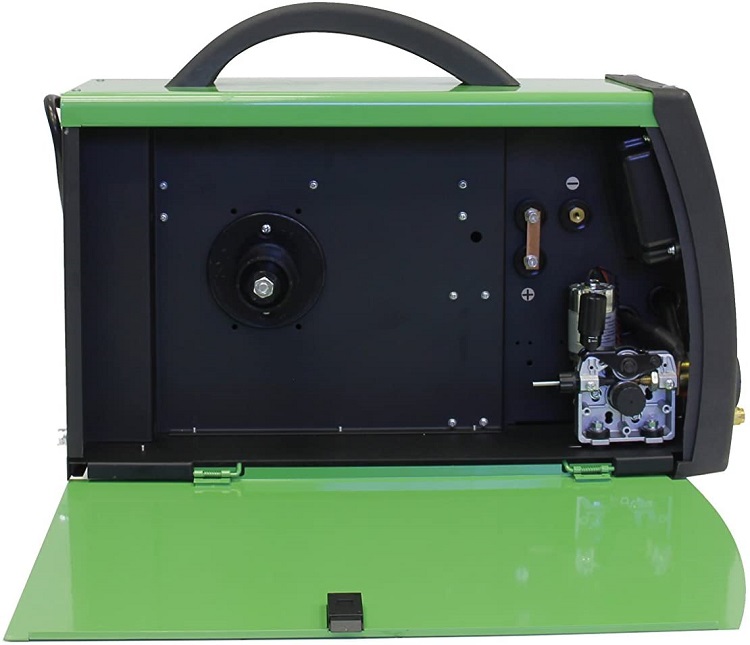 Finding some of the best multi-process welders is never an easy task. At least, we didn't find it quite amusing. It's tough, and we did try our best to locate the most viable options for you. But if you are planning on settling down for one from the list or you are up for exploring more, keep the following ideas in your mind. 
Weld Type Preference 
First thing's first. What exactly are you planning to do with the welder? Is it MIG welding you do all the time? Or is it TIG or stick welding is your daily routine? Whatever the case is, try to focus on the primary welding you do. For example, if MIG welding is your type, then go for a MIG welder that has a fair level of TIG welding capacity. 
Weight Vs. Performance 
Although weight and performance don't have many things in common, you may want to balance these two as much as you can. Being a heavy performer doesn't always have to mean that the device should be a bulky one. It will hurt the portability. So, make sure you get the best performer at the lightest possible weight. 
Dimension and Size
Plan before you buy. Make sure you keep in mind that you need to place the device somewhere. If you are getting something that doesn't fit the area you are planning to put it in, it's going to be a pain in the neck, for sure. So map the dimension and size before you make a move. 
Know The Materials 
It's crucial that you need to know the materials you are going to weld in. Is it thick sheet metal or aluminum you are planning on welding? Again, what's the thickness you need to weld on? Depending on that, you have to select the type of welding machine. For instance, a 3/8-inch steel sheet will be easily welded by a MIG welder. But anything higher may require a TIG welder. So, that's how you draw the line. 
Power Requirement 
Where are you working? Is it your garage? A workshop? Or is it your backyard you are planning to set your station in? Make up your mind at first because that depends on the power output you should get. If you are planning on a home environment, you may want to settle for a 120V output machine. If that's not the case and you are up for the workshop area, then 240V will just fit perfectly. 
Welding Aluminum
General welders don't weld on aluminum. So, if welding aluminum in your plan, don't just go for a random welder. Try out a MIG welder that comes with a TIG welding capacity for aluminum. It will easily cut through aluminum like a knife in the butter. 

Build Quality
The sturdier the build-quality of the machine, the better it is for it to keep supporting you. Plus, you will need to move around with the device in different rough conditions. Only a rugged construction can withstand a diverse environment. So, keep your eyes on the construction. 
Overload Protection
Due to overloading, the device may sometimes get damaged and ruined. Overheating is also a regular occurrence in welding devices. It's best if you can get one machine that comes with overloading and overheating protection. It will save the device from any possible damage.
Display
The degree of flawless welding depends on how accurately you have set the settings on the machine. Guesswork is something you can't depend on in this case. You have to make sure you are putting the right and correct numbers on the machine when it comes to volts and amperage. So a great display (possibly an LCD one) will be of great help in this case.
User-Friendliness
Although it's not something that professionals would be worried about, it's still is a burning issue for beginners. Try to stick to the welder that seems more user-friendly than other options. Go for the easiest one out there if it meets other criteria.
Plasma Cutting 
Although the plasma cutting option is hardly seen in multi process welding devices, it's not something rare. A number of well-established brands have introduced plasma cutting as a fifth option in multi process welders. So if you are up for spending a few bucks more, you can always go for a machine that comes with a plasma cutting option. 
Ampere Range
Don't underestimate the amperage range of the device when you are choosing a welder. If the device can't handle the amperage you need for your project, it is absolutely worthless. Try to find one that can offer you maximum output with the amperage unit it comes with. This will allow it to cope up with the most challenging tasks you put forward. Any machine with an ampere of 150 to 230 will be suitable for different types of materials. 
Benefits of Using Multi-Process Welding Machines
If you use your fingers to count the benefits of a multi-process welder, it will outrun your fingers. But for the time being, let's find out some of the most common benefits of using a multi-purpose welder. 
The first and foremost benefit of a multi-purpose welder is its multi-purpose nature. You can do a lot more with just one device. 

It doesn't take much room for our workshop. Usually, it comes with a very lightweight profile and compact dimension.

Buying a multi process welder will save you from spending a lot on different welders.

The devices are highly portable and can be used anywhere.
Limitations of Using Multi-Process Welding Machines
Like every other mechanical device, a multi process welder also has some issues that need to be dealt with if you are planning on getting one. Here are some of the 'not so interesting' things about a multi process welder. 
As it's an all-in-one device, it's a classic example of 'jack of all trades, master of none'. So, yes, you will notice some lacking in performance compared to individual machines. 

Once the machine gets faulty, you lose all the welding options at once. 
How to Use a Multi Process Welder?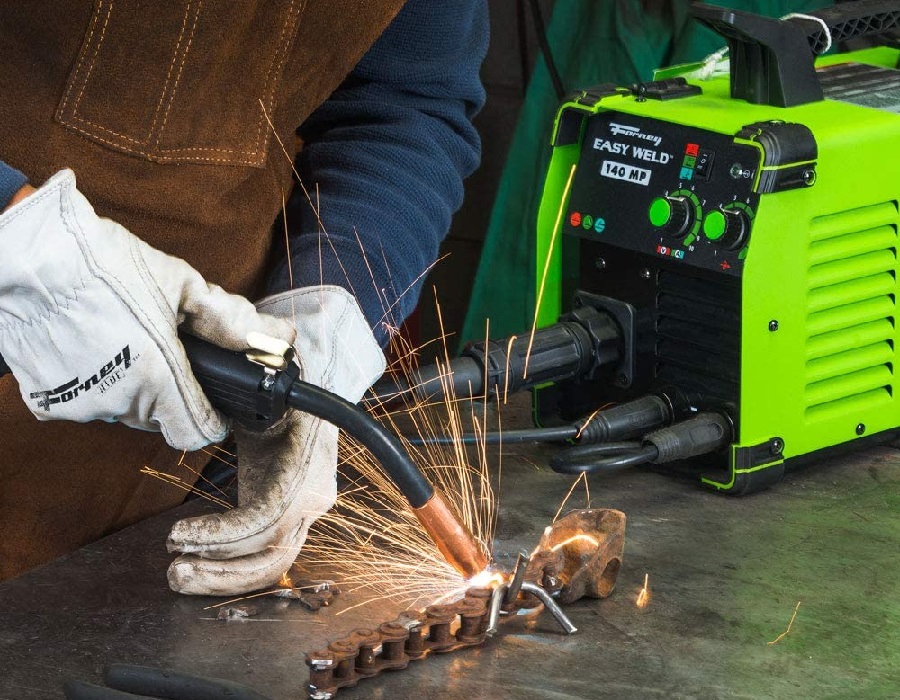 Believe it or not, welding is actually an art. You can't just simply light the arc and get it done in a flimsy manner. Here is a quick guide on how to use a multi process welder. It's not detailed, but it's helpful. 
Step 1: Decide on the welding type you are going to do. Is it MIG, TIG, or Stick welding? First, decide on it.

Step 2: Now, gather up the required devices and accessories for this. Make sure you are getting the best multi process welders for this purpose. 
Step 3: Wear safety goggles, hand gloves, and boots. 
Step 4: Don't just depend on the excellence of the welder. Clean off the rust and other dirt on the surface of the sheet you are going to weld. 
Step 5: Now that you are ready, you have to use the multi process welder carefully. Position yourself in a comfortable manner, and don't move frequently. Use both hands to hold the machine for maximum output. Check the tip of the welder if it's clean with a few free welding on air. Once checked, you can start welding. 
Safety Tips
Welding is and has been one of the most dangerous tasks ever done by human beings. It's quite risky and obvious that you may lose your eyesight if the debris from the sheet swings directly to your eyeballs. Again, it may burn your skin if it comes in direct contact. 
So before you start welding, do the following things. 
Keep a safe distance from the material and ark. 
Don't put your hand around the ark 
Frequently Asked Questions 
Q1. What is a multi-process welder?
Ans. A multi process welder is a device that can weld in multiple welding formats. Such as MIG welding, TIG welding, stick welding, Flux-core welding, and even plasma cutting welding. It's an all-in-one welding machine. 
Q2. Are multi process welders worth the investment?
Ans. Yes, multi process welders do provide a lot of benefits. We have mentioned some of the most common benefits in this article before. It works a one-stop solution for diverse welding options. So, if you are about to buy a multi-process welder, it is definitely worth the money. 
Q3. What are the benefits of portable multi process welder?
Ans. As you can understand from the nature of a portable machine, it is moveable. You can carry a portable multi process welder with you at any place without any hassle. This provides a lot of benefits as you may need to weld in a certain place where you may not be able to settle a regular welder. 
Q4. What additional features to look for in a multi process welder?
Ans. Apart from the power and capacity of the device, you can always look for a digital display and plasma cutting option as additional features. These will prove to be handy in different cases. 
Q5. What is the best price range for a multi process welder?
Ans. It's like a roller coaster ride when you go through the price of welders. You can have welders from as low as $200 to as high as $1500. Beginners can settle down with anything between $250 to $350. 
Q6. Which weld type is the strongest?
Ans. Among different welding options, TIG welding is the strongest weld type. 
Q7. Can I plug a welder into a regular power source?
Ans. If the voltage capacity of the welder says 120V, then you can easily connect it to the household power sources. 
Q8. What is the hardest metal to weld?
Ans. Aluminum is the hardest metal to weld. It comes with some complex chemical properties that give a welding device a hard time cutting through. 
Final Words 
It really gets easy to weld on different types of metals when you have the best multi process welders on your side. Taking up one welder and dropping another is nothing but an age-old way of welding between diverse sheet types. As you can get a multi-purpose welder, there's no wonder you can reduce the time you need to finish up a project. 
Although a multi process welder does come with its baggage, it's definitely worth it when you are going through multiple works at the same time. If you are up for one already, do consider the recommendations we have made here. Again, if you are ready for more options, keep our buying guide handy, as it won't let you pick the useless one!