When you don't even touch a coffee-cup that's 170-degree F hot, what about dealing with something that burns at thousand-degree? Yes, we are talking welding here, and the first thought that comes to our mind is the best welding gloves. It's not burning hands that we are concerned about; it's about losing your limbs forever. 
If you are approaching a flame that burns at about 1000 degrees F, you don't mess around with normal gloves. You have to make sure you are using specially-made gloves that can combat this high temperature and keep your hands safe and sound. So, where do you start?

To make it easy for you, we have listed down 10 most useful gloves for welding in this piece. Stay tuned till the end and find out what we have in the pack! 
Best Welding Gloves 
It wasn't quite a piece of cake to pile up 10 gloves extracting out of hundreds. Still, we did manage to gather up the best options for you. Follow the following reviews for more! 
We start it off with Rapicca 16-inch welding gloves which scream durability and strength. It comes with a double-reinforced kevlar padding on the palms, fingers, elbow, and back of the gloves for ultimate protection from heat. Speaking of heat, this masterpiece can protect you from heat up to 932-degree F pretty easily. 
These brilliantly designed gloves are crafted with 4 different layers. The outermost layer is made from double-layer Kevlar padding; the immediate one is made from laminating air-isolated aluminum foil and cotton. The inner one is made from cent percent soft cotton lining for extra comfort. 
It's not your hands that the gloves protect only. With its 16-inch long size coupled with a 7.5-inch sleeve, the gloves save your forearms from sparks and debris, as well. Apart from that, the gloves are made from 1.5mm thick natural cowhide leather that comes as a heat-resistant material by default. Moreover, this leather can also resist puncture, cut, and sticky oil for the most comfortable use. 
Highlighted Features
16-inch long gloves with a 7.5-inch sleeve protect the entire hand and forearm

Double-layered kevlar padding on different points for extra security 

It can endure a maximum temperature of 932-degree F

The construction comes with 4 different layers for added security 

Crafted with natural cowhide leather with heat-resistant feature
Another champ in the house is the Kim Yuan leather gloves. Made from fully cow-split leather, you can tell from its design that it comes with a baggage of ruggedness. The high-quality cow leather is 1.2mm thick, which makes it a pretty strong resistance against heat. To be specific, the gloves can withstand temperatures up to 662-degree F. 
The best part is, the gloves have an inner cotton line that has two purposes. One, it gives you a soft, cushioned feeling, Second, it absorbs the sweat from your hands. To add more, the gloves have denim cuffs to ensure it's tougher than any other regular gloves out there. Again, the threading used in the gloves is Kevlar, which means you are safe against high-heat! 
As for the palm of the gloves, you are guaranteed to have the softness you deserve. It is adorned with a cushion to give you a comfortable and soft feeling. This also makes sure you don't get scratch or cut when you are working with sharp or heavy objects.
Highlighted Features
The gloves are made from top-quality cow-leather for the best durability 

Its 1.2mm thickness gives proper protection from impacts and cuts

The gloves can endure temperature up to 662-degree F 

It uses Kevlar threading for extra durability and protection 

Cushioned inner padding for a comfortable hold 
To hunt down the best welding gloves, we picked up the Lincoln Electric Welding Gloves. Before you look into the specs, you may get impressed simply by looking at the design of this piece. The black-red combo looks exceptionally crazy on your hands! As for the build quality, the gloves are made from high-grade leather to ensure top-class resistance from heat. 
Plus, it has a soft cotton liner, as well, to protect your hand from high temperature. It's like having a comfortable softness inside with a rugged exterior. The design goes like this – there's a top-grade leather exterior, a kevlar threading, a number of stress points, and a liner interior. All these give you the best possible protection for any welding job. 
Apart from that, the straight thumb design allows the fingers to set free. Yes, you can easily move the fingers and feel pretty comfortable, as well, with these gloves on. Again, the inner cuff of these gloves is completely lined with twill cotton. What this does is that absorbs sweat to keep your hands dry all the time. 
Highlighted Features
The gloves are made from high-grade leather and soft cotton liner 

It comes with a three-layer design to withstand heat 

A straight thumb design provides extra comfort for the fingers

The interior cuff is lined with twill cotton for sweat absorption

Each seam is reinforced for durability and tear-less user experience 
Protect your hands with the top-class welding leather gloves from NKTM. This blue-brown combo suits your hands well both in measurement and design. It's made from full cow split leather from the back up to the cuff. The leather is extremely heat-resistant to make sure you are not burning your hands in any way. 
Moreover, the leather on the palm and fingers are made double layered to provide extra security. Plus, it makes it more comfortable to hold and touch with the gloves. Again, the reinforced palm will save you from scratch or cut when you are managing sharp of heavy objects. Another mastery that has been done inside is the installation of the cotton liner. 
As the cotton liner and canvas cuff are there, the gloves can resist more heat and absorb more sweat than many other gloves out there. It will keep your hands dry and provide extra comfort from inside. As to make it easy to operate easily, the thumb area is designed with a reinforced wing. 
Highlighted Features
The gloves are made from full cow split heavy-duty leather

Its palm and fingers have double-layered leather  

The entire body of the gloves is stitched with durable stitching for safety 

It comes with a cotton liner inside for heat resistance and sweat absorption

The gloves come with a reinforced wing thumb design for better flexibility 
Another masterpiece from Apexsafe is the Forge Welding Gloves. It's made from cow shoulder split leather with a 1.2mm thickness. The leather is quite popular for heat-resistant, and with 1.2mm thickness, it can take that feature one step further. Not to mention, the palm area has soft fleece and air-isolated aluminum foil lining for the best protection. 
With all those excellent heat-resisting profiles, the gloves can protect you from heat up to 662-degree F. As for the fitting; the gloves come in a universal size to fit your hand without an issue. Moreover, the inner part of the gloves is made from jean cotton fabric that works like magic when you put it on. It gives you a soft feeling and absorbs sweat. 
Having a 16-inch long design has its own perks. It will protect your hands from finger-top till the forearm. That means you are not only safe from heavy-heat but also protected from flames and debris coming out from the workstation. 
Highlighted Features
The gloves are crafted from 1.2mm thick cow split leather

Jean cotton fabric lining inside for soft feeling

Cotton layer on the inner side for sweat absorption 

16-inch long design for ultimate protection up to forearms 

It can withstand a temperature of 662-degree F, max. 
Remember Rapica 16-inch gloves? Loved it? Well, you will like this one even more! As this one can withstand the same magnitude of the temperature of 932-degree F! That, too, with a distinct black and white design. This one is crafted from premium cow leather for maximum protection for your hands. 
Made with a 16-inch length and a 7.5-inch sleeve, you are safe and sound from any type of accident. It protects your hands up to your forearms from splinters and debris. Again, the heat-resistant Kevlar thread also provides extra protection for your hands! 
Apart from that, the wing thumb design allows your fingers to move with amazing flexibility ensuring proper safety. Plus, there is a number of reinforcement in different areas like fingers, wrist, palm, and the back to keep your key-stress points safe and protected. 
Highlighted Features 
Gloves made from durable cow leather for optimum protection

Heat resistance capacity is 932-degree F, max 

Kevlar threading protection for your hands in extreme temperature

16-inch long gloves and 7.5-inch sleeve for maximum protection

Wing thumb for better durability and flexibility of fingers 
We keep our quest for the best welding gloves by having ToolMotive 16-inch welding gloves on board. The gloves come in quite tough material like fully natural cowhide leather. Plus, the leather is 1.2mm thick that works amazingly against heat. In numbers, the resistance is about 932-degree F which is more than enough to protect you from welding heat. 
Again, these gloves have 100% cotton insulation lining that gives you a soft feeling on the inner side of the gloves. In addition, the lining is coupled with heat-resistant aluminum for further protection from high-temperature. If you are going for the BBQ design of this model, you can get foam-padded specially designed fingers for better maneuvering. 
As for the size of it, this one is a classic. It measures about 16 inches in length and can cover your forearms, as well. That means you not only can save your hands from the flame and heat but also your forest up to the ankle. That's what we call – total security. 
Highlighted Features
Gloves are made from natural cowhide leather 

The thickness of the leather is 1.2mm for maximum protection

It can withstand heat up to 932-degree F

Insulated with 100% cotton lining for a soft feeling

Covers up to the ankle of your hands for proper safety 
WZQH has been in the market for quite a long time with some of the best welding equipment out there. The 16-inch superior welding gloves are one of those top-quality gears from their house. Made from genuine cowhide split leather, you can trust the wearables with your protection from flame. 
Moreover, the gloves have 100% insulated cotton lining that provides a soft feeling for your hands. As for the threading, these are also quite flame-retardant in nature. That means you can resist the heat up to 932-degree F. Apart from that, the interior of the gloves is made soft and breathable so that your hands can feel at ease and be dry.
As for the stitching on it, this is simply one of the best. With reinforced double leather stitching, you can expect zero wear from the day you put it on till years to come. It won't fall off pretty easily as it will hug your hands. However, you won't sweat a lot, nor will you be allergic to it. 
Highlighted Features
Gloves made from genuine cowhide split leather 

1.2mm thick leather provides optimum protection from heat up to 932-degree F

Puncture, wear, cut, and oil resistant profile 

16-inch gloves extend up to the forearm for ultimate protection

Sweat absorbent inner cotton liner for a dry feeling 
Another champ in the house is the Handing Workshop Welding gloves. It boasts top-quality split cow leather to make it quite durable and resistant to heat and impact. To be specific, this 1.2mm thick leather can withstand heat up to 662-degree F. This is because the materials of the leather are selected from specific parts of the cow skin. 
Coming with durability and ruggedness, the gloves are also pretty much flexible. You can move your fingers at ease and won't feel any fatigue whatsoever. In addition to that, the outer side of the gloves is completely puncture-resistant. So, use it with any sharp object without any hassle. 
The best part is, the gloves come with an inner cotton lining that is pretty resistant to heat and at the same time absorbs sweat from your hand. This keeps your hand dry for a long time and protects you from any itching or weird feeling. Plus, it offers a bit of friction, as well, to keep it from falling off. 
Highlighted Features
Made from cow-split leather that is heat-resistant

Inner cotton layer for sweat absorption 

Heat resistance can pile up to 662-degree F

Flexible finger and palm option for smooth movement

Anti-skid and wear-resistant profile for using with any object 
And finally, we wrap our reviews up with the Foowoo Cowhide 16-inch leather gloves. As the name suggests, the gloves are made from durable cowhide leather. And most importantly, the leather is 1.35mm thick, which makes it even better than the most commonly found leather specimens out there. 
With a 100% soft cotton lining inside, the gloves offer optimum comfort and protection at the same time. You can resist heat up to 662-degree F with this thing put on your hands. Moreover, as the gloves are crafted with triple layer formation, you get a thickness of 4mm in total, which is massive. 
The stitching on it is actually a masterpiece, to be honest. With fire retardant thread stitching option, you can resist both heat and cold with the gloves. Again, the inner cotton layer makes sure that your sweat is well absorbed by the gloves to keep your hands dry. 
Highlighted Features
Gloves made from natural cowhide leather for durability 

Heat can be resisted at the highest temperature of 662-degree F

Three-layer crafting design to ensure the maximum thickness

Sweat-absorbent and breathable inner design for comfort 

The length of the gloves can reach up to forearms for the most protection 
What To Look for While Buying The Best Welding Gloves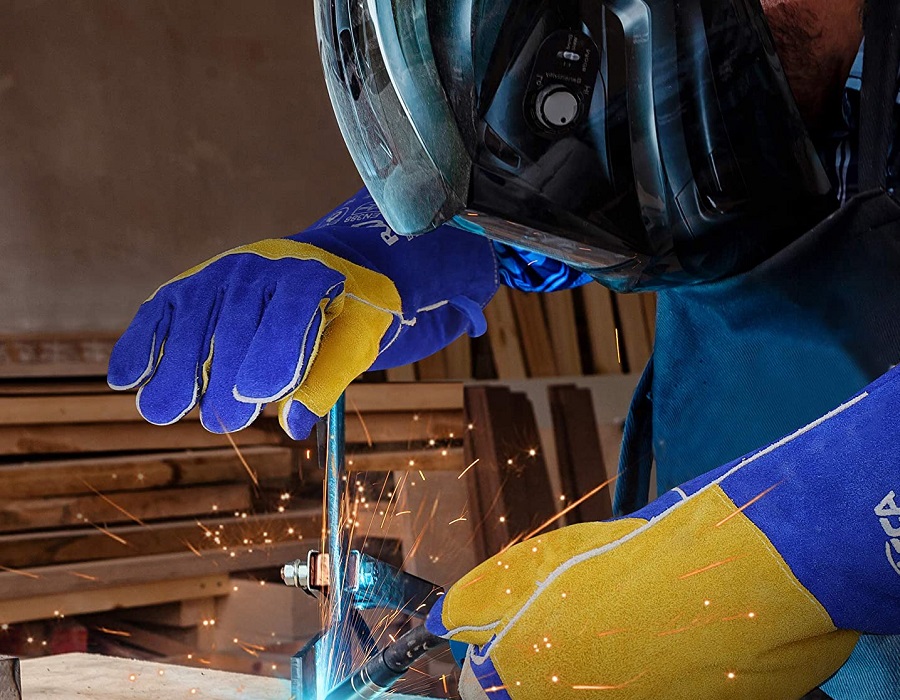 So, you are well-prepared to go for the best welding gloves in the market, right? Well, before you hop in, keep the following facts in mind to make sure you end up getting the most useful one for you! 
Welding Type
First thing's first, you have to find out if you're getting the gloves for right type of welding. Is it Stick, MIG, or TIG welding you do most of the time? Make up your mind what type of welding you do and get your gloves accordingly. Gloves are made for different types of welding, and you can tell it from their brand name. 
Material
Then comes the material. For most cases, it's cowhide leather that is trusted. There's a reason behind it; the cowhide leather does serve the purpose of heat resistance by default. Most common cowhide leathers come with a 1.2mm thickness which makes it a prime choice for making heat-resistant gloves. 
Heat-Resistance
While most common gloves come with more or less 500-degree F of heat-resistance, you shouldn't settle down for anything less than 600-degree. If possible, try getting one that protects up to 900-degree F for maximum protection. 
Stitching
As for stitching, you can't simply compromise with Kevlar stitching. This is because this type of stitching is quite heat-resistant and comes as stronger than cotton stitching. It will work better in repelling sparks and flames around your hands and won't fall apart after burning. It also adds to the durability of the gloves, as well. 

Lining
You can expect different types of lining for the gloves. But it's the cotton lining that will offer you better dexterity than the woolen one. Plus, it will offer better heat-resistance, as well. 
Length 
Selecting the length of the gloves is a bit tricky. If you are going for the 12 to 14-inch size, it's going to get tough for you to cover your forearms. It's better if you get a 16-inch one that comes with a 7.5 opening. This will cover up to your ankle for protection against debris and sparks. 
Scratch And Tear Resistant
Again, it's going to be a great choice if you can manage one that is scratch and tear-resistant. Most high heat-resistant gloves are tear-resistant, by default. So, that's a hint you can follow. 
Frequently Asked Questions 
Q1. How long do welding gloves last?
Ans. It all depends on how many times the gloves are exposed to heat and flame. Again, the intensity is also a driving force. That being said, typically, a pair of welding gloves can last up to 8 weeks in optimum condition. 
Q2. What's the difference between MIG and TIG welding gloves?
Ans. Basically, the difference is in padding. As MIG welding needs more heat endurance, the padding on MIG welding gloves is thicker and more on the dominant hand. As for the TIG welding gloves, the padding is thinner and is designed to allow the hands to be more mobile for precise works. 
Q3. What kind of gloves are needed for Stick welding?
Ans. Stick welding needs more dexterity than MIG welding. So, you may need to have more flexible welding gloves for Stick welding. 
Q4. What type of leather are used in welding gloves?
Ans. The most commonly used leather types used in welding gloves are cowhide, goatskin, elkskin, deerskin, and pigskin. 
Final Words 
You can't put your limbs at risk when you are welding with a flame that is incredibly hot. You have a very little option to use anything other than the best welding gloves, no matter what type of welding you are doing – TIG, MIG, Stick, etc.
We hope our selections and reviews today have helped you find out the most useful choices you can make. If you are still in a mode to explore more, don't forget to go through our buying guide once again! 
Have safe welding!