I remember my father working at a welding shop, and he always had filthy headgear sheltering his skull. The question that bothered me the most was how that helmet protected something as sensitive as the eyes from the job's hazards. It's just beyond my comprehension.
But then, technological innovations began to take control. Soon we had these advanced premium-quality headgears at our disposal. It was as if God has finally answered the cries of many workers that suffered tremendous discomfort.
And that's what brings the 3M SPEEDGLAS welding helmet into being. These protective helmets brought about a new era in terms of reliability and comfort. Bear in mind, once you opt for these welding headgears, there is no going back.
Best 3M Speedglas Welding Helmet
Regarding these options, with an efficient initial investment, you get a lifetime warranty when it comes to protection. Trust in us; we will not forget to mention all the invaluable features and information, which drew you towards this comprehensive review.
So, let's make haste and rush to the juicy part.
Before we began, let's get one thing straight, safety is never an issue with this model. We guarantee you will not have one percent less protection than your expectation.
For all welders, acquiring a clear view while doing the task holds the most importance. We do not assume you like having blurred vision in a job that focuses on the details. So, in the case of this option, the ergonomic technology of side windows attached to the headgear enhances the field of vision.
Perhaps, it's not wrong to say that this product allows adjustments like no other models. In fact, while fiddling with the welding helmet, we keenly observed three distinct sensitivity modes that make it the ideal option for multi-purposes.
If anything, starting from Metal Inert Gas (MIG) welding to Tungsten Inert Gas (TIG) welding, the helmet covers all welding processes, including manual metal arc welding. For what it's worth, the product also incorporates an adjustment for the time-intensive grinding task, which enables optimal welded results.
Moreover, the auto-darkening filter attribute is the silver lining to your cloud. In simple terms, without this feature, how else do you expect to protect your eyes from the bright light of welding? As it happens, this particular headgear allows you to alter the shade level from eight to thirteen.
With an exceptional visible area of 2.8-inch by 4.2-inch, your task of welding becomes a little less tedious and a little more effortless. Concerning comfort, the extra padding on the pressure points allows your head to rest securely.
On top of that, the headgear weighs around two pounds. As a result, it is no longer a hassle to wear a welding helmet all day long. Usability is not a concern at all, since all the adjustment is within reach of your hand. The headgear also includes a torch to work in the dark.
Pros
Multi-purpose helmet with sensitivity controls
Consists of side windows
Provides a vision of 2.8 by 4.2 inches
User-friendly functionality
Lightweight and comfortable
Cons
Lens gets cloudy due to respiration
Not a proper fit for all
In a world of welding, the workers are susceptible to safety hazards, including eye damage. It is an undeniable fact that most of us operate despite the security risk. However, you can always turn to this helmet for ultimate protection.
Among all other things, the degree of comfort provided by this model is probably unimaginable. The welding helmet encompasses exhaust vents that get rid of your exhaled breath without fogging the lens.
Even more so, this highly adjustable option ensures stability and suitability as you put on the headgear. You can now throw your worries of a loose and saggy helmet. With appropriate covering on the stress points, you will experience leisure and coziness during the welding procedure.
Besides, as soon as you strike the arc, the auto-darkening feature stipulates the adjustable element and regulates the shade according to the welding circumstance. The process is automatic due to the inclusion of three sensors. Fundamentally, the visual range is 1.8-inch by 3.7-inch.
More significantly, the dark shades that you can select from are 5, 8, 9, and 13, while the light tone is three. Subsequently, the side windows provide a wide peripheral vision to keep track through the corner of your eyes during the fabrication process.
Like the previously mentioned product, this option also exhibits versatility regarding the welding forms, which includes MIG, TIG, and shielded metal arc welding. The helmet automatically turns off when not in use to save battery life.
You are prone to lethal radiation when it comes to these welding types, and this headgear takes care of all complications, including protecting your eyes from light fluctuations. The ADF encourages avoiding torch usage, which improves efficiency. But the model left a torch placement opportunity if you need it.
Pros
Comprises a wide range of ADF
Side windows amplify peripheral vision
Viewable area is 1.8 by 3.7 inches
No compromise in comfort
Activates sensors as the arc strikes
Cons
Filter screen is small
A little bit hefty
Who here loves the Tron-like helmets from the sci-fi movies? We can guarantee all professional welders with high-quality stylish-looking headgear if it makes any difference.
In general, we look for more reliability while looking for new welding helmets, and that's what the manufacturer delivers. Unlike the previous options, this model offers a visual range that is suitable in all aspects.
Simply put, the field of vision, which is 2.1 by 4.2 inches, is not too extensive or too narrow, just the right amount.
Consequently, the side windows are a blessing in disguise, which provides a shade level of five. By increasing the line of sight, you can boost productivity and help avoid a sudden mishap. Most importantly, the ADF element is a saving grace in light of the welding's fluctuating brightness conundrum.
On the other hand, the UV rays and IR combined with flares during welding are common phenomena that require plenty of precautions to maintain. Not only does this helmet reflects the toxic radiation and sparks away from you, but it also balances perfectly over the head.
Unlike conventional headgears, this welding helmet prevents additional pressure on the sensitive areas of your cranium. Therefore, fatigue and strain are out of the question with respect to this option.
Predominantly, the load distribution is precise because of the alterable crown straps. Moreover, the swivel in the helmet's framework gives you the liberty to adjust it for an accurate fit. Above all, the three smooth and exemplary sensitivity control results in all types of paragon welds.
For the record, the item's weight is only 1.37 pounds, which definitely adds to the lightweight factor. Primarily, the screen filter offers maximum clarity without any distortion. In addition, for more satisfaction, you can adjust the helmet in nine positions to reduce stress from the neck.
Pros
1-inch by 4.2-inch of field vision
Auto-darkening filter reduces eye fatigue and damage
Allows adjustment during fitting
Fends off sparks and radiation
Aids in attaining flawless welds
Cons
A little on the heavier side for few users
Flimsy adjustment system
3m Speedglas Welding Helmet Buying Guide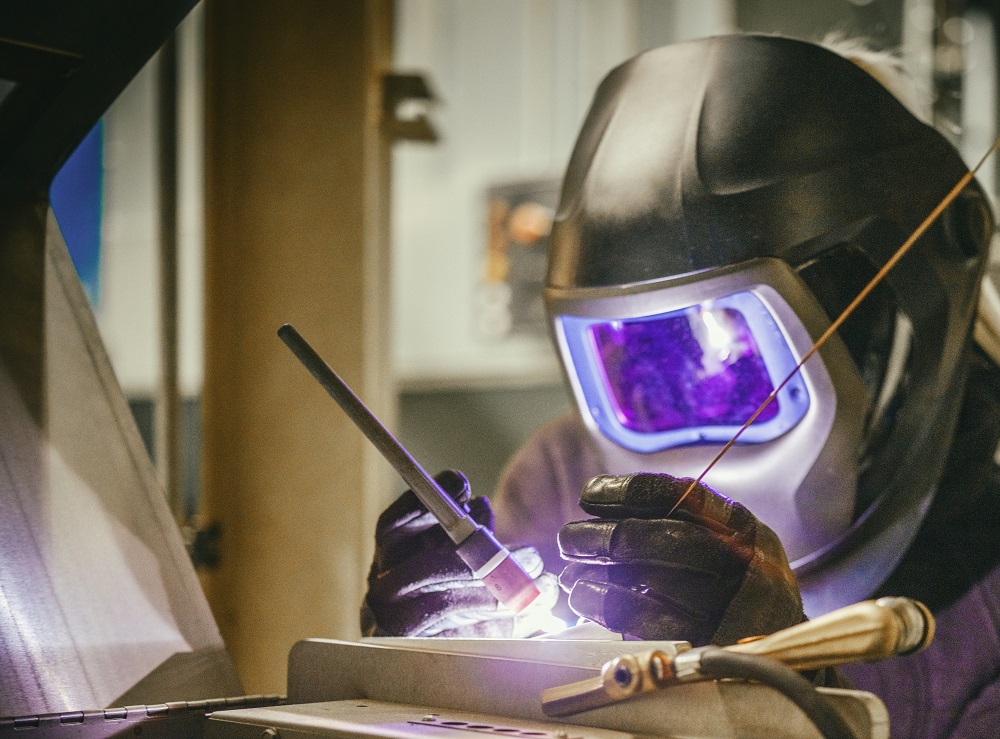 We know that it's quite hard to choose from the options you have read so far about. If anything, the attributes are endless and praiseworthy.
However, the selection approach's simplification is only possible through adequate data on the most suitable features according to your work environment. So, let's indulge a little in the details before finalizing the decision.
Ergonomic Design
Who knew, such minor inventions could ameliorate the entire work experience. For a professional, it is not unusual to see workers enduring the harsh disadvantages of welding. Ultimately, it falls up to you to protect that pretty face of yours.
In particular, the headgear adjustment feature that ensures a better fit for welders was an absolute requirement. Certainly, we do not want our helmets to fall when the welding fireworks are at full-frontal action.
Even more significant is the incorporation of side windows. As a consequence, you can anticipate abrupt incidents through your enhanced peripheral vision. All the other models without this remarkable aspect are unpurchaseable, in our opinion.
Auto-Darkening Filter
The ADF is a technological advancement that satiates the safety motive of workers without a doubt. This feature eliminates the strenuous task of lifting the helmet once you are done with one weld. If clarity and visibility are within the helmet, then what's the point of getting rid of the headgear?
In point of fact, the built-in sensors activate the ADF as soon as the arc is struck. Hence, depending on your welding type and method, this feature will adjust the shade level accordingly.
Furthermore, light variation is a widespread issue when it comes to welding. However, this specific factor takes care of the rapid changes in brightness without putting any strain on your eyes. Detecting the power change and altering from dark to light or light to dark is a feature to die for.
Field of Vision
In the case of the viewing area, the larger it is, the better. Some of you may have no trouble working with a smaller vision hood since all the aforementioned models enable you to focus on the welding center.
Nevertheless, an extensive visual range with side windows provides optimal protection and ensures zero error during execution.
Frequently Asked Questions
How dark should I keep my headgear during work?
We suggest you keep the shade level from 10 to 13 since that's the optimal range, which curbs bright light's adverse effects. Remember, the higher the number of shades, the darker it is.
Are cheap welding helmets any good?
Well, they are good. But cheap welding helmets require you to follow a series of strict rules to get the proper safety measures.
Why is my welding helmet hazy and cloudy?
Almost all the time, you work in areas where there is no limitation to the dust and debris. Therefore, it is recommended to clean the helmet regularly for a clear and obstruction-free view.
Do you recommend welding without a helmet?
Absolutely not; it is a life-saving suggestion to steer clear of welding without a helmet. You are vulnerable to severe burns and permanent eye damage if you do not use welding headgear.
Can you weld with shade five glasses?
It is adequate for those not indulging in large-scale jobs. However, if it's TIG or MIG welding, then you need to darken the shade for more protection.
Final Words
Many of you still ponder whether to purchase the 3M SPEEDGLAS welding helmet at the end of the day. You may not contemplate the lack of information on these headgears and how much protection they offer.
So, after figuring out all the necessary details, what are you dwelling on? Go ahead and purchase this essential equipment.