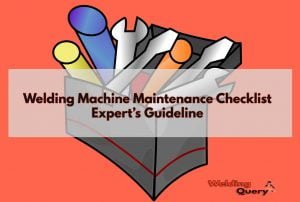 Welding machine maintenance checklist is a very important factor for both novice and professional. It is the most important and effective steps to properly maintain your welding equipment. The welding machine is worth a pretty big amount of your wallet.
Taking care of your welder machine is really worthy of time and effort. It's not a big deal or doesn't make you so much hard work to care a little sometime for your welder.
A very smart step you can take for welder machine is to check out the welder's part. You will be amazed to know that only frequent check out on the welder's equipment can offer you longevity and higher performance.
Read: Hobart Handler 210mvp Mig Welder Review
Welding Machine Maintenance Checklist- Applicable for Beginners And Professional Users
As we know welding machines are used to join metal pieces all together. In a simple way, we can say welding two pieces into one single piece is the welder's activity.
 There are varieties of welder machine vary in power, size, manufacture, weight, output capacities, and dimensions. So many parts are together joined to manufacture a welder.
Every different part of a welder machine has its own activity depending on the welding functionality.
Go Through The Specifications
There are hardly any tools which don't come with specifications. If you want the perfect welder for you then you must have acknowledged it. The best way to know about a welder is to go through its specifications.
Every welder needs a duty cycle which keeps you away from pushing the welding when its power or ability to go beyond a 10-minute period.
So, select a welder which won't cross the power for project requirements. In a nutshell, buy the right welder for your projects.
Be Alert About The Power Source And Current Line
If we talk about the welding safety checklist then the first thing came to our mind is the possibility of electrical shock. An incident of electrical shock can appear at any time. Actually, standing on a dry rubber mat or wood dry boards is always recommended by experts for the safety of operators.
To keep you safe from any kind of power shock, make sure to follow below-described details.
After every six months, you need to disconnect the power to the unit. Using a vacuum machine blow out the dirt from the inside of the machine. (Heavy and regular users must need to clean once or twice a month)
You have to get servicing for your guns /torches from professionals to keep them in a well-state order. Never try to use guns/torches with fuel. They are manufactured to run with only gases. You can only use shielding gas for pressure for the welding processing. And you should take extra care for MIG gun liners and clean them after every use.
Wire feeders need some extra care too. The welder needs to inspect the electrode wire drive rolls in the wire feeders. Whenever you find the drive rolls are dirty then try to clean with a wire brush. Sometimes, the drive rolls become deform and replace them with a new one. You should frequently change, clean, or adjust the wire feeder whenever it is shut off. Moreover, you need to check out the inlet and outlet guides and frequently check out if they are detached from the wire wear.
You should use electrode holders when they are fully insulated. And you can avoid protruding screws.
Before you start operation, make sure the terminals and exposed parts of electrical should indulge with insulating covers.
To ensure full safety, you need to use insulated lock-type connectors – for joining welding cable length.
It is better if you buy some safety devices like interlocks and circuit breakers. You need to shut off all the power sources and remove the fuse to stop current flowing through the welder. So that there won't be any additional chance when the welder is being turned on accidentally. You can also disconnect all cables from the welding power source.
Keep checking cables frequently for saving your welder from damaged. A damaged cable can make your welder cracked, damaged, and weary.
Replace Parts:
You have to change the nozzles on the welding torches to make sure the longevity of the welding machine. You always have to remember that there are some certain parts which need frequent replacement. The fact is one damage part can damage other parts. So, replacing one damage part instantly when it is required can keep safe other parts from being damaged.
Regular Cleaning
There are some parts in a welder which need to be greased sometimes. We all know a motor based tool requires lubricant to run faster and smoother. So, apply grease or lubricate to keep parts running active always like new.
Make A Schedule
You can make a fixed schedule for your welding machine maintenance checklist. It is very necessary to keep eyes on your welding parts. But, you fail sometimes to do a regular checkup. It is the best step if you keep some minutes of your weekend to check out all the parts and make sure if they are running smoothly or not.
Schedule For Routine Maintenance Of Engine
There are some welders which don't run on the engine. On the contrary, there are many which run on the engine and requires extra maintenance. Now, we will share some extra engine driven welding safety checklist. So, the engine will run properly even it is aged for 5 years+.
You may check out the maintenance schedule recommended by our expert supervision. But, you can modify the company's guideline also.
| | |
| --- | --- |
| 8 hours | Make sure to check the fluid levels Wipe up oil Check the air filter |
| 50 hours | Get a servicing of the air filter element You need to clean and tighten the weld joints |
| 100 hours | Must change the oil Clean battery and cooling system Tighten the wire of the battery You should also change the oil filter |
| 200 hours | Change or replace the fuel filter Must check valve clearance |
| 250 hours | Clean the spark arrestor as it burns sometimes for longer work activity |
| 500 hours | Replace cables Clean all the injectors |
| 1000 hours | Do a heavy servicing if possible Vacuum inside properly |
Last Words
You can run your welder machine runs for years and years just following proper maintenance and safety.  So, our Welding Machine Maintenance Checklist can help you in all the way to ensure the longevity and powerful performance of the welding work.
The best is to follow the specifications come with the manufacturer. A good welder machine can run for decades with the proper maintenance. So, you should refer to follow the specific manufacturer.
[amazon bestseller="Welding Machine" items="3″ template="table"]
Do You Need Mig Welder? Which Voltage, 110v OR 220v! check These review Below: