You are all geared up with your welding jacket and helmet, but when you are finished welding, you find your hair is burning like hay! Well, that's because you are not wearing the best welding caps on your head! Yep, although the cap doesn't look any different than a regular one, it comes with a lot of potentials to protect your scalp and hair from flame and spark. 
Different brands come with numerous types of welding caps; of course, not all will suit you the best. That's why we have tried to figure out the most useful caps available in the market, just for you! So, fasten your seatbelts to find out what we have gathered in this piece! 
Image
Title
Editor's Rank
Price

Top

Top

Top

Welder Nation 8 Panel Welding Cap
Best Overall
See Price

Top

Top

Top

Lincoln Electric KH823L Black Large Flame-Resistant Welding Beanie
Best Welding Beanie Cap
See Price

Top

Top

Top

Lincoln Electric Welding Beanie Large K2994-L
Best Budget Welding Cap
See Price

Top

Top

Top

Lincoln Electric Welding Cap K3203-ALL
Best for Comfort and Durability
See Price

Top

Top

Top

REVCO - BC5W-BK Armor Cotton Welding Cap
Editor's Pick
See Price

Top

Top

Top

Comeaux Caps Reversible Welding Cap Solid grey Size 7 3/4
Best for Accurate Size
See Price

Top

Top

Top

Black Stallion AH1630-GS FR Cotton Welding Cap
Best for Hidden Bill Extension
See Price
Top 7 Welding Caps Reviews 
When all the caps look the same, it's pretty hard to distinguish the better ones from the good ones. But we took the challenge and finally listed down the top 7 welding caps that are worth your money! 
We kick off our reviews with the Welder Nation 8 Panel cap. The build quality of the cap is pretty impressive and reliable. That's because the 10 oz cotton canvas used in the cap is popularly known for its heavy-duty withstanding capacity. No matter how challenging the environment is, the cotton build-up will keep your head cool and comfortable. 
This very material is used in jackets and coveralls, so you get the idea of how tough it is. Again, the innovative 8 Panel pattern inside makes the inner fitting a really comfortable one. Speaking of the interior, it has a cotton lining to make sure you are getting the best fit for your head. Thanks to its 10 different size options, you can always find one for yourself. 
The crown of the cap is 7.5-inch deep, meaning you can easily cover up your head up to your forehead. Plus, the exterior is also crafted from duck canvas to give it a rounded and hard feeling. Available in 8 different colors, you can select the color that matches your personality. Above all, it is totally flame-resistant and safe for your welding works. 
Features
Crafted from superior 10 oz cotton canvas 

The interior is designed with a comfortable cotton liner 

It comes with an innovative 8-panel pattern 

The crown is 7.5 inches deep 

Available in 10 sizes and 8 colors 
Up next, we have the Lincoln Electric KH823L Welding Cap. From top to bottom, this one is comfortable gear to wear. Made from breathable high-quality cotton, you can feel the softness and weightless fitting on your head immediately after you put it on. And yes, the cotton is just a 9-ounce one to shrink the weight to a lower profile. 
Again, the cotton material is flame-resistant. That means you can wear it along with your welding helmet to keep your head and hair safe from flame and spark. It will protect from exterior damage without compromising the comfort on the inside. That's why it comes with cushions placed inside the hat to keep it soft on your scalp. 
The cap comes with a standard size of 7 to 7-⅜, which means nearly anyone can wear it on. It doesn't have any front or back extension, which kind of saves space, as well. Most importantly, if it gets dirty overusing for a long time, you can simply wash it in the washing machine. It supports such machine-wash and doesn't get damaged in any way! 
Features 
Made from 9-oz superior comfortable cotton 

Cotton is flame resistant for excellent protection

Size ranges from 7 to 7-⅜ 

Machine washable cap is easy to clean 

A separate layer of cushion inside for extra comfort
If you were to stick to one brand for welding caps, it should be Lincoln, for sure. Take the K2994-L, for example. It is crafted with 9-Oz FR black&Red cotton that comes with a fire-resistant profile. On top of that, the cotton is ASTM D6413 compliant, as well. So, if you are concerned with safety, it's the easiest grab for you. 
Again, the fabric used in this piece has an anti-static and anti-mildew coating, as well. These two coatings ensure that the fabric provides better protection for a long time, compared to most other counterparts in the market. Plus, the inside of the cap has an unlined design that makes it easy for the air to flow in and out of it. So, it gets really breathable inside to prevent sweating and heat up. 
On top of that, the cap comes with a reinforced multi-layer stitching pattern. That gives better durability for both the interior and exterior of the cap. Again, you can easily wash the cap in the washing machine without any issue of damage. You don't need to compromise safety to avail comfort and cleanliness, that's for sure. 
Features 
Crafted with 9 Oz FR flame-resistant cotton 

Cotton is compliant with ASTM D6413 standard 

Multi-layered reinforced stitching for better durability 

Machine washable construction makes it easy to wash 

Available in both large and X-Large size for most users 
Lincoln has taken their brand value to a higher level with the K3203-All welding cap. With a true-American design, the cotton-made cap is a wise choice if you're looking for comfort with safety. That's because the cap is crafted with soft and high-thread cotton that ensures proper comfort along with flame-resistance. 
Speaking of comfort, the cap comes with a unique system to retain it. The stitching on this cap is flat-stitched and pressed down. That means it won't pop up and hurt your forehead when you are wearing it – ensuring 'never experienced' comfort for you. Plus, the 100% cotton construction comes with meshed formation to allow airflow in and out of the fabric. 
Moreover, the meshed wall inside the cap is designed to suck the sweat from your head to keep it dry all the time. One more thing that this design does is keep your hair stay as it is. That means it won't pull out your hair once you take it off after use. As for the fitting, there is a soft cushioned elastic band on it that can be stretched to fit any head size. 
Features 
It is made from soft and high-thread-count cotton

Soft athletic mesh inside can absorb moisture 

Flat stitch on the inside to prevent discomfort 

100% cotton allows airflow in and out for breathability 

Soft elastic thread for fitting different head size 
If simple yet effective had a face, it would surely be the Revco BC5W-BK Welding Cap. Why do you ask? Well, with the simple black design with no adjustment option, you can pretty much see it's a straightforward cap. However, even though you can't adjust the cap, that doesn't mean it won't fit you. Surprisingly, it's a 'one size fits all' cap that can be used by anyone with any head size. 
As for the construction material, there's even more surprise to come. It's crafted from BSX Armor cotton, which is pretty well suited for the type of work you do. The cap is very well-resistant against flame and spark, so using it while you weld will surely save your hair and head. 
Again, the double-layered protection of cotton takes security one step further. You can rest assured that the head won't pierce through the cap's exterior and harm your scalp. Rather, the soft inner cotton-cushion will keep your head cool for a long time. Plus, the most interesting fact is, it's a welding cap, a beanie, and a doo-rag – all in one! 
Features 
Crafted from heavy-duty BSX armor cotton 

The cotton comes with a double-layered protection 

It comes with a 'one size fits all' design 

The cap comes with a 3-in-1 design – cap, doo-rag, and beanie 
Another champ in the house is the Comeaux Welding Cap. What's most interesting about this cap is its solid, one-color design. The solid grey color is unlike any of the peer caps in the market. This one-color design makes it a very suitable cap for both welding and off-welding wear. You can easily put it on for different purposes, even if you are not welding. 
Made from 100% cotton, the cap comes with solid construction. The cotton is flame and spark-resistant, making it quite safe for you to weld while wearing it. Plus, the inner lining of the inner portion of the cap is quite soft and of high-quality. This means your scalp is not going to heat-up even if you are wearing the cap for a long time. 
The cap is available in size 7-¾, which makes it pretty suitable for most users. Again, the crown is designed with a medium depth so that it can cover your and neck to safeguard these parts from sparks. And speaking of safety, most importantly, the caps are checked twice before these are released from the factory before reaching the stores. 
Features 
Made from 100% solid cotton for flame-resistance 

The caps are available in flexible 7 ¾ size 

It covers the neck and ear for better safety 

The innerwear comes with 6 panels 

It comes with one single color to stand out from the crowd 
We wrap it up with our final choice for the best welding caps – the Black Stallion AH1630-GS. This one is a true-stand-out from the most choices in its field. Made from both 6 oz and 7 oz FR cotton and stretch knit, you can easily tell how durable and secured the construction of this one would be. And rightfully so, the cap is synonymous with durability and safety. 
The best part is, the cap has a hidden flap inside that extends a bit from the original size. This is there to protect your neck from the spark when you are welding. No matter what size you are, you can easily find one for your head! That's because the cap is available in small, medium, and large sizes. 
Although the cap is made from single-layer flame-resistant cotton, it can still be washed fairly easily. You can even wash it in your washing machine if you want. As per the manufacturer's message, you can wash it 50 times without compromising its protection. 
Features 
It is crafted with  7 oz FR cotton for comfort 

The cotton comes with a single layer and flame-resistant capacity

The strength knit is also made from 6 oz FR cotton

Available in three different sizes for most users 

Machine washable up to 50 times without any damage 
How To Choose the Best Welding Cap?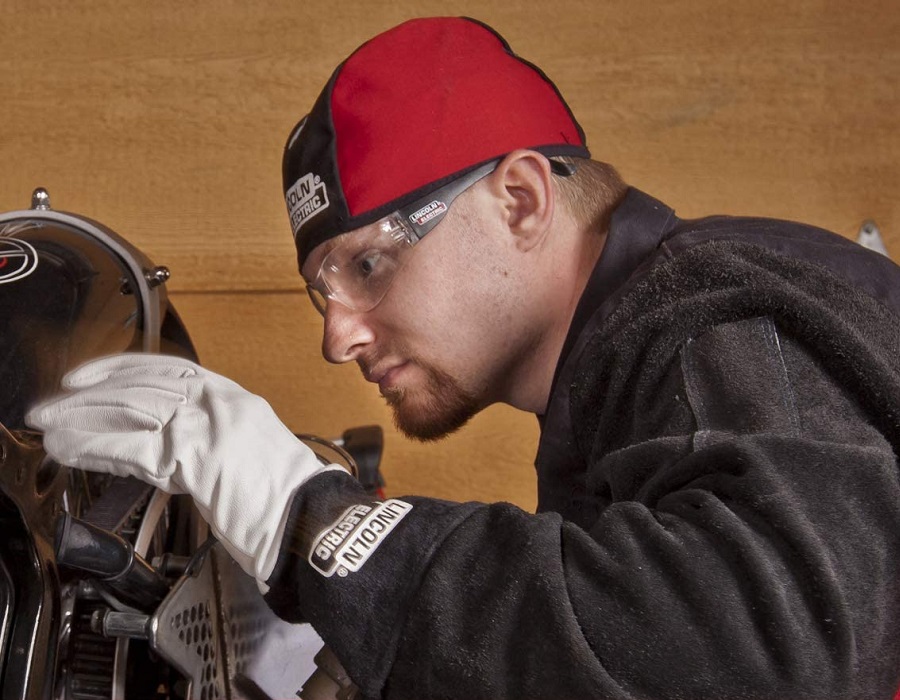 Trust us; it's not quite easy to skim through hundreds of options and settle down for a few for the best welding caps. However, if you know what and how to look for when you are going for the best one, it's not that much of a hard nut to crack. So, here's our definitive guide to get the best welding cap! 
Choose the Type 
Before you are going to get a cap, make sure you know what type of cap you are looking for. Welding caps come in different formats – beanie cap, doo rag one, skull, baseball, etc. Not everybody is comfortable with every other type. So, choose your type before you search. 
Choose Your Size
It's evident that you need to fit the cap in your head. If it's loose or quite tight, it's not of any use for you. So, make sure you are looking for the right size from your favorite options. Again, some of the caps come with adjustment options, and some are just universal. Choose the type wisely, as well. 
Select The Perfect Material 
What matters the most when you are wearing a welding cap is the degree of safety the cap provides. So, you need to make sure that the material of the cap should at least be flame-resistant to some extent. In this case, heavy-duty cotton or polyester should be the material you are looking for. However, cotton is pretty much breathable and comfortable, as well. So, it's better to stick to 9 oz or 6 oz high-quality cotton material. 
Number of Panel 
A rule of thumb is, the more the panel, the better fitting you can expect from the cap. A good quality welding cap will have more than 5 panels, for sure. It will give you the most accurate fitting you need. So make sure that the cap comes with a number of panels, no less than 5. 
Sweat Prevention 
The inner part of the cap needs to be made from soft cotton that can absorb sweat. Apart from being soft and breathable, it should be able to suck the sweat out of your scalp. It will keep your head dry and put less pressure and heat on your head. 
Extended Coverage 
Some of the caps come with an extension flap that can cover a wider area of your neck and most of your ear. This is something you can easily pay your bucks for. It will protect your ear and neck to some extent. 
Lightweight 
If you are putting huge pressure on your head while you are welding, it's going to backfire, for sure. That's why make sure that the cap comes with a lightweight profile. It will go easy on your scalp and make it really comfortable for you. 
Frequently Asked Questions 
Q1. What fabric is used for welding caps?
Ans. The most widely used fabric for welding caps is cotton. This is because cotton is soft, quite breathable, and absorbs heat and sweat pretty well. 
Q2. How do you wear a welding cap?
Ans. There's no one, single way to wear a welding cap. You can wear it with the flap in your front to protect your eyes and forehead. Plus, it can also protect your ears. Again, you can also wear it with a flap on your back to protect your neck.
Q3. Why do welders wear white caps?
Ans. This is pretty interesting. White caps are more reflective of heat and light than darker caps. So obviously, a white welding cap will trap and attract less heat while you are welding. That's why welders prefer wearing white or light-colored caps.
Q4. How do you make welding caps?
Ans. To make welding caps, you need to have at least ¼ yards of high-quality fabric made of cotton. You will have a pattern to stick to and need to follow it precisely. Simply cut the pattern with scissors and stitch with reinforced double-threads to give it the strength it needs. Sew the front first and the back later. And finally, trim out the excess from the threads.
Q5. What size welding cap do I need?
Ans. This depends on the head size of the user. Not everybody can wear the same size unless the cap comes with a 'one size fits all' design. So, according to the scalp size, you will need to find the cap that fits you.
Q6. How do you clean a welding cap?
Ans. Most welding caps are not that well-optimized to be washed. However, some of the high-quality caps do support cleaning and machine-washing. If you have one from such a category, you can easily wash it in your washing machine.
Final Words 
If you think you are safe and secured with the welding helmet on and don't need the best welding caps, you are not getting it right. A welding helmet will protect your face and a small part of your neck from the flame, while the welding cap will save your scalp and head from getting burnt. It's equally important to safeguard your face and your head.
We hope our reviews here today will give you a brief idea of what options you have and how to locate the best possible choices. You can follow our buying guide to find the best suiting one for you.
Wishing you all the very best of luck!