It goes without saying that the places you might have to work in might not have a power outlet nearby. And even though getting power extension cords are that expensive, a workplace that is full of wires is a place where accidents are most likely going to occur.
Just like most of the available power tools, the market has to offer a cordless version of the angle grinders as well. And with the best cordless angle grinder, you will not feel like you are missing out on any of the factors. From power to other features, it will have them all.
Another problem that most of the users face for the corded ones is the portability factor. Well, that is solved with the cordless version as well.
| Image | Title | Price |
| --- | --- | --- |
| | Dewalt DCG412B 20V MAX grinder | See price |
| | Ryobi ZRP421 ONE Plus 18VAngle Grinder (Bare Tool) | See price |
| | Makita XAG20Z 18VAngle Grinder | See price |
| | Bosch GWS18V-45 Angle Grinder (Bare Tool) | See price |
| | Skil 20V 4-1/2 Inch Angle Grinder | See price |
Best Cordless Angle Grinders
It would not be possible for you to test each and every model that the tool shop has on the shelves. Well, we did the testing for you. And through our extensive testing and comparing, we have managed to narrow down the number of options for you.
You might already know about the brand Dewalt. In fact, there is a high chance that you might already have a tool that is from them. And they are in the market competing for the best cordless grinder by offering this model.
Let us first talk about the power that the tool packs. It comes boasting an 8000 rpm motor. That high-power motor will make this one capable of carrying out most of the grinding and cutting tasks. You will not feel like you are using a tool that lacks the power to complete the application that you are doing.
Aside from the high-power motor that it packs, there will be no need to go through any hassles for taking the wheel out of this one. It features a tool-free mechanism that will enable you to change the wheel without requiring any sort of tools. And the quick-change release mechanism is easy to activate as well.
Even the guard adjustment mechanism for the tool is tool-free. You should be capable of adjusting the positions without any issues at all. Also, there is a 2-finger  trigger switch with a locking mechanism. That will make it easier for you to power the tool. It will make the overall operation safer as well.
Other than the trigger switch, there is a two-position handle on the side. That handle is going to offer you a higher level of control. You would also be able to hold the tool with a maximum level of comfort, which will make it easier for you to work for a prolonged amount of time.
Pros
Packs an 8000 rpm motor
Wheel changing mechanism is tool-free
Has a tool-free guard adjustment mechanism
Features a two-finger trigger switch
There is a two-position handle
Cons
Battery tends to overheat too frequently
Some of the packages might ship without a wheel
Another manufacturer that is quite popular for offering reliable and well-performing tools in the market is Ryobi. And this cordless grinder that they are offering is among the best sellers.
Like some of the other cordless versions that are on the market, this one also packs a highly powerful motor. The motor is capable of making the wheel rotate with a higher amount of power and speed. For being both speedy and powerful, you would be able to quickly finish off most of the cutting and grinding tasks.
Apart from the powerful motor that it packs, the overall build quality of the tool is top-notch. The materials that the manufacturer has opted for are all high in quality. Because of having such a build quality, you can expect this one to last for a prolonged amount of time without showing any sort of issues.
Other than feature a high build quality, this one comes with a large handle. The handle has an ergonomic shape, which will offer you a higher amount of comfort when you are holding it. And for the large size, you should get a higher level of control over each of the movements that you will make.
The box that will ship to you will have all of the relevant accessories. Starting from the tool to the wheel disk, you will find all of them inside. However, you need to purchase the battery separately. But the good thing is, it is compatible with the ONE Plus lineup batteries. So if you have any of them, you can use them for this one.
Pros
Sports a relatively powerful motor
Can make the wheel rotate reasonably fast
Exceptionally durable
Handle is ergonomic
Comes with all of the accessories
Cons
Discharge rate is too high
Does not have that much of a praiseworthy runtime
When it comes to an angle grinder, the brake is as important as the tool's motor. And Makita knew that exactly well when they were bringing out this one in the market.
Unlike the other tools that other brands offer, this one has an electric brake. That braking mechanism is powerful enough to make the wheel stop in just 2 seconds. It might even take less than 2 seconds for most of the scenarios. So you will not have to worry about damaging the workpiece that much if anything goes wrong.
Aside from the electric brake, this tool packs active feedback-sensing technology. That technology makes this one safer than most of the other grinders that are in the market. It will turn the motor off if it senses anything is wrong with the rotation of the wheel. The chances of accidents occurring will be pretty low.
It even has an automatic speed-changing technology that will automatically adjust the motor's speed and torque. For that technology, you should get the optimum amount of performance in each of the tasks you will carry out using this. Also, the variable speed controller will offer you total control over the RPM.
Besides that, the motor that it comes with is brushless. Because of not having any carbon brushes, you can expect them to have a longer lifespan. It should also be able to run for a long amount of time without overheating that much. And it will also increase the overall efficiency of the motor.
Pros
Sports an electric brake
Features active feedback-sensing technology
Can automatically adjust the speed and the torque
Comes with a highly efficient brushless motor
Overheat resistant
Cons
Power of the motor is not that praiseworthy
Does not ship with a case
Among all of the models that are in the market, the grinders that come with a proper handle are the ones that are easy to control. And a perfect example of a unit such as that would be this one that is from Bosch.
First of all, this one comes sporting a two-position handle on the side. The handle does a proper job in controlling the vibration during operation. Also, the handle has a rubber coating on the exterior that will make sure that you get a proper grip over it. You should have proper control over each of the movements that you will make.
On that note, the rubber coating on the handle will also provide you a superior level of comfort. The chances of you facing discomfort and fatigue when operating this for a prolonged amount of time will be pretty slim. It also has a tool-less quick-change mechanism, which will make it effortless for you to change wheels.
You will also find that it has a burst-resistant wheel guard. That will protect you when any accidents occur. Also, there is restart protection, which will protect the internal components when there are issues during the startup. And, the tool is optimized for providing you a higher level of precision. You can get accurate cuts.
In terms of power, it packs a 10000 RPM motor that will offer you the ability to work with most of the grinding tasks. And for the compact and lightweight footprint that it has, carrying it around will not be an issue for you. The components that it packs are also high in quality, making the tool long-lasting.
Pros
Features a two-position handle
Handle is comfortable to hold onto
Offers a higher level of control
Sports a quick-change tool-free wheel changing mechanism
Utilizes a 10000 RPM motor
Cons
Operational noise is relatively high
Some of the units might have a defective shroud
Having to purchase the battery separately can be a bit of a hassle. Well, you will not have to go through that if you get this package that is being offered by Skil.
This angle grinder comes bundled with an industry-leading battery. The lithium battery is about two times larger in capacity than the other battery packs in the market. Because of having such a large capacity, you can expect the tool to have about 25 percent longer run time. You can carry out large-scale projects at ease.
Aside from the battery pack that it includes, the handle of this one is quite innovative as well. Instead of the two-positional ones that different brands are utilizing, this one uses a three-position handle. You will have the ability to choose the position that you are most comfortable with. And it is pretty ergonomic too.
Other than the handle that it comes with, you are going to find it has a dual-functioning switch. The switch has a locking mechanism, which will prevent accidental startups. As a result, the chances of internals getting damaged because of anything going wrong will be pretty low. You can expect a prolonged lifespan.
The wheel mechanism that it features is highly versatile. You can use it to cut, polish, sand, and sharpen objects. And it can work with different types of materials. Starting from tiles to metals, you would be able to work with all of them. Also, the control that the handle is capable of providing is considerably high.
Pros
Utilizes a high capacity battery
Has a 25 percent longer run time in comparison
Exceptionally versatile
Features a three-position handle
Comes with a dual function lock switch
Cons
Battery life degrades over time
Some of the units might ship with a dead battery
Benefits of Cordless Angle Grinders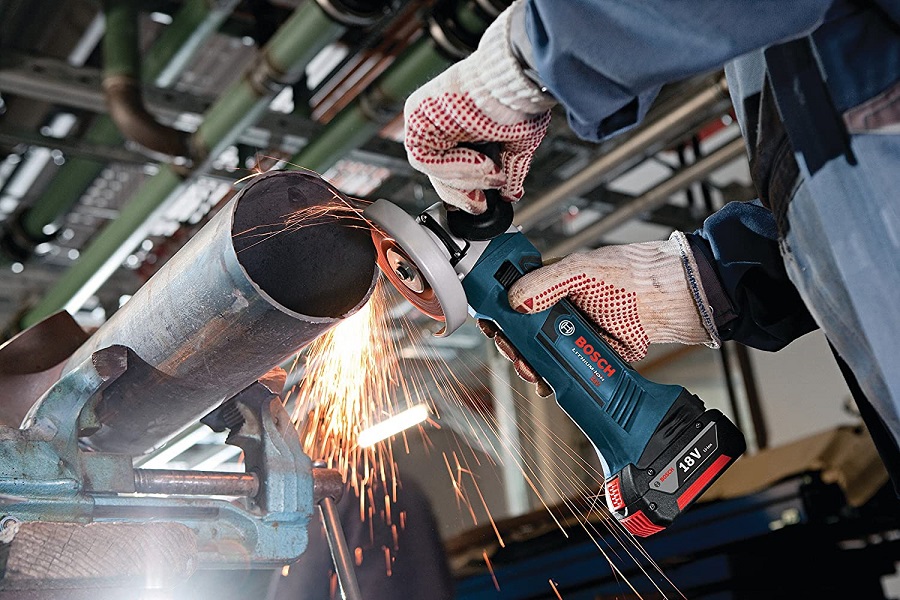 You would not pick something up if the benefits that it offers are not that compelling, would you? Well, we have the same thinking as you. That being said, before you have a look at the reviews, we would like you to have an idea about the main benefits that you will enjoy by picking one of these up. They are as stated:
Reach
The major advantage that you will have by purchasing one of these is the reach. You will find that you can access most of the areas that were probably off the limits when you had a corded version. Working on small and tight spaces will not be an issue for you if you have this version of the tool.
Portability
Aside from the reach that these will offer, you will find that these are easier to carry as well. These achieve that capability for not having the wire, which can make it hard to store the tool inside a small and tight space. Alongside that, this version of the tool is comparatively lighter than the wired version.
Both of the factors add up to making this one highly portable.
Wire-Free Workspace
As we have mentioned above, loosely placed wires can cause accidents. You will have a higher possibility of tripping over when you are walking on top of the area. However, with the cordless version, there will be no need to worry about this factor.
What to Look for Before Buying?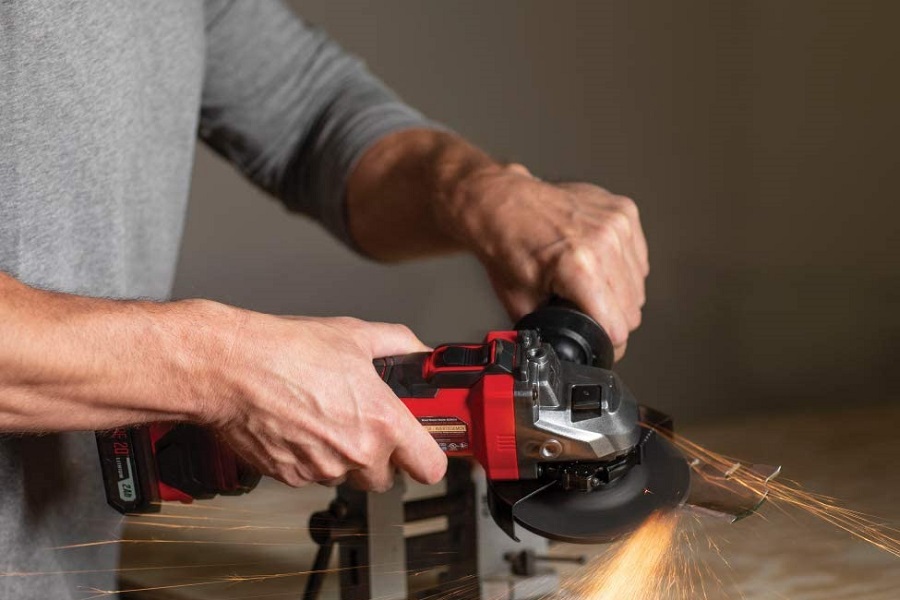 Without keeping the important factors in your mind, it would be quite impossible for you to get something that is well-performing and highly reliable. By keeping them in mind, you would have the ability to scrutinize the devices properly. That being said, the vital factors that we are basically talking about here is as follows:
Motor
The motor is the brains of these devices. It will dictate how capable one of these is. For that reason, the first thing that you need to consider is the motor. Usually, there are two types of motor. One of them is the regular version that has carbon brushes inside. And the other type is the one that does not contain any brushes.
Among the two, the one that we would recommend you to consider is the brushless ones. Those will be highly efficient. And because of the higher level of efficiency, the chances of them overheating will be considerably low. You can carry out large-scale projects without having to worry about damaging the motor inside.
On the other hand, the regular motors are not really that far off. There are highly efficient ones available. And if you were to choose the brushed motors, we would suggest you to pick up the brand that has utilized an efficient brushed motor.
Handle
One of the important factors of these is the handle. The handle is where you are going to basically set your hands on to hold the device. Considering that, you would want it to be comfortable. The ergonomic ones are the ones that we would recommend in this case. You can work with them for a prolonged amount of time.
Aside from that, you should check whether the position of the handle is adjustable or not. If you happen to pick up the ones with a fixed handle, it will be pretty hard for you to maneuver the device from different angles. And if you are locked in one angle, what is the point of having an angled grinder in the first place?
Disc Changing Mechanism
Another thing that you must put proper emphasis on is the disc-changing mechanism. Make sure that the one that you are picking allows you to quickly change the disc. Also, ensure that the mechanism is tool-free because operating the mechanisms that require a tool can be a bit of a hassle.
The Battery
Aside from all of the other factors, the battery is something that will have a huge difference from one unit to another. Some of them will be compatible with large capacity batteries, while some will have an average capacity battery. And in this case, the higher the capacity, the higher the run time.
Considering that, we would suggest you opt for the ones that bundle with a large-capacity battery. With that, you can carry out relatively large-scale projects without having to charge the battery multiple times.
Speed
Another thing that will differ for each of the models is the grinding speed. This will primarily depend on the motor. The ones with powerful motors are the ones that will have a comparatively higher rate. And with the ones with higher speed, you would be capable of finishing your grinding and polishing tasks quickly.
Alongside that, do make sure that there is some sort of speed adjustment mechanism, or else you will be stuck with a single speed. And working with different tasks with a fixed rate of the disc is quite impossible. Also, do ensure that the mechanism is tool-free.
Safety Mechanisms
The last thing that you should consider when you are in the market for one of these is the safety mechanisms. For this, the first thing that you need to check whether there is a locking mechanism on the trigger. Also, do make sure that the disc has some sort of guard, or else you can have serious injuries if anything goes wrong.
Frequently Asked Questions
1. Are cordless angled grinders less powerful than corded ones?
When it comes to power, the corded ones will take the lead. However, you will find many cordless versions that will have up-to-par power when compared with some of the corded ones. Those will utilize a powerful motor. Also, they would be powered using a high voltage battery.
2. Does the brushless motor perform better than the brushed ones?
Yes, the brushless motor is better in some of the criteria. Firstly, they are highly efficient. Because of having no carbon brushes inside, the heat generated by them is considerably low. Also, as the heat generation amount is considerably low, the efficiency will be comparatively high. So, they are relatively better.
3. Are cordless angled grinders worth it?
Considering that the cordless version is highly portable and they offer you better reach to places that the corded versions do not offer access to, we would say that they are 100 percent worth it. However, do make sure that you pick a highly capable one, or else you might not be able to complete most of the grinding tasks.
4. How much runtime can I expect from a cordless angle grinder?
The runtime is something that will depend on the battery capacity. And the battery capacity differs from one to another. Some will have a higher capacity battery, while others might come with a low capacity battery. In general, you can expect to get about 20 minutes of runtime from
However, the ones that have a higher capacity battery can last longer than that.
5. What is the soft-start technology that most of the angle grinders use?
The soft-start technology reduces the power output in the first few seconds. And it gradually increases the power over time. For that reason, you should have proper control over the device when you power it on. This technology will prevent the tool from starting up with a higher level of recoil.
Final Words
A Cordless version of any power tool is always a great addition to your tool cupboard. However, for this case, if you settle for anything other than the best cordless angle grinder, it would be quite impossible for you to get all of the benefits that these can offer.
And we are hopeful that we could make it easier for you to choose exactly one of those.
Meta: