If you were to pick one single power tool to do a lot of cutting jobs of diverse nature, you probably have only one option – the angle grinder. From cutting to grinding, buffing, sharpening, and cleaning – you get all support from one versatile device. No matter what material you are working with, be it metal, concrete, wood, brick, tile – this machine is a jack of all trade.
But how to find the best one for your project? Well, let us handle that for you, shall we? We have made a list of 8 best angle grinders that you can pick right away for your projects right now. Make sure you read till the end to get an in-depth idea of the most versatile devices you can get.
The 8 Best Angle Grinders Reviews
With so many giants in the play, there's hardly any chance of sorting one of the best angle grinders. But considering power, durability, and performance, we made a list of 8 promising angle grinders that you can trust blindfolded. Here's what we have found.

We kick off with the Dewalt grinder DWE402. Being a veteran in power tool production, Dewalt doesn't disappoint with the 11 Amp corded machine. This powerful device can deliver a maximum of 11000 rotations per minute that smoothens your grinding works – either metal or plastic.
The tool measures about 1 foot in length, and the wheel is exactly 4 and a half inches in diameter. This compact design with 6 pounds of weight makes it a pretty ergonomic device to hold in your hands. Furthermore, the grinder offers the best power to weight ratio of 1.8 HP to make sure you're dealing with a powerful device.
Never compromise with safety when you have the Dewalt DWE402 with you. Take full advantage of the one-touch guard that promotes a 360-degree rotation for the guard with just a single tap. Plus, the brushes come with the Auto-Off system that makes the brush stop moving as soon as you need to replace them.
Another perk of using it is its safety lock. It's a brilliant feature of the tool that actively prevents any accidental start-up so that you don't hurt yourself. As for removing and replacing the wheels, you have a simple and easy Quick-Change option that omits the need for using any tool.
Highlighted Features
Powerful 11 Amp AC motor delivers 11000 RPM
Built-in dust ejection and collection system
Large bevel gear promotes a lengthy lifetime
Tool-free quick wheel changing option
Oversized brush for lengthy longevity
When lightweight comfort meets fabulous performance – grinding tools like Bosch 1375A happens! Weighing just above three and a half pounds, this 10-inch device is a wonder when you are at work! Although the motor comes with an average of 6-amp power, the 11000 RPM capacity will do justice to your metal and concrete cutting project, for sure!
Its ergonomic design gives a ton of advantages to taking full control over your work. Thanks to its 2-position side handles, you can correctly position the grinding wheel against the metal or concrete piece. It doesn't matter if you are left or right-handed; you can switch the handle on both sides of the device.
That's not where the surprise ends. The device introduces an intelligent service minder brush option that safeguards the tool from damage. It simply switches the machine off whenever it needs repair or maintenance. It provides safety to the device, the metal you're grinding, and to you, as well.
Apart from that, the spindle measures from 5/8 inches to 11 inches, allowing multiple sorts of accessories to attach to it. But don't worry if it being too much versatile as the entire grinder is epoxy coated. It protects the device from any type of abrasive debris that it may encounter while working with countless accessories and materials.
Highlighted Features
Lightweight device weighs just 3.75 pounds
Sealing mechanism to prevent debris from entering inside
Epoxy coated device for protection from abrasive debris
6 amp powered machine can deliver 11000 RPM
2-position helping handle to have a natural position in cutting
Untangle yourself with the powerful cordless Milwaukee 2780-20 M18 grinder. It runs with a couple of M18 batteries that run quite a long time for quick DIY projects and repair works. So if you are working in a place where power connection is scarce, this one will be a lifesaver.
Hat's off to its brushless motor that delivers tremendous power with 10 times more longevity than regular motors. This powerful motor lets the wheel rotate at a rate of 8500 RPM to provide an optimum grinding experience for you. There's no need to concentrate on the power switching buttons as the device features a paddle-switch.
You can simply click the paddle-switch forward or backward to run the machine and keep focused on your work. As for regulating the power it delivers, the smart sidebar is there. All you need to do is apply the force you want on the bar, and the machine will act accordingly.
The best part of the 2780-20 M18is the wheel's versatility. It can fit both 5-inch and 4-1/2-inch wheels. That means you can attach a wide range of accessories to the machine simply by switching the wheels!
Highlighted Features
Heavy-duty, powerful brushless motor offers 10 times more lifetime
Rapid brake system can stop the grinder in 3 seconds
100% tool-free accessories and wheel changing system
Comfortable padded grip for convenient control while holding the device
Cordless device offers up to 8500 rotations per minute
Another champ in the house is the Metabo HPT G12SR4. This Green-Black genius is a powerful tool to work with if precise grinding is what you are looking for. With the 6.3 Amp motor inside, the device is loaded with power to deliver 120V output. No matter what you are grinding – either a metal or concrete, it's going to be a smooth ride for you.
Holding the device in your hand will feel like you're in total control. Apart from being a 4-pound lightweight device, the G12SR4 has a comfortable grip on it. This makes it far easier to hold it and get your job done.
To add to the convenience, there's a removable handle, as well. It can be attached to either of the two sides for left and right-handed users.
It's great to have 5 different grinding wheels coming with the package. You can replace the wheels as per your needs. Speaking of replacement, you can use the spindle lock on this device to change the discs and accessories on it. All you need to do is simply click on the lock to allow you to change the parts. No more tools are needed.
Highlighted Features
Powerful 6.2 Amp motor with maximum 980W output
Detachable handle for maximum control
Smaller grip for fatigue-free holding
Comes with 5 different wheels packed
A Quick-off feature for an immediate stop in case of emergency
Take your grinding skill to the next level with the Makita XAG04Z cordless angle grinder. With the updated automatic speed altering technique, things just got smarter. This system allows you to regulate the speed and torque while you are running the machine. It doesn't need to stop; the device itself will match the needful!
If that's what surprised you, take a look at the active feedback sensing technology in it. This technique immediately switches the motor off if you force the rotation to come to a standstill. It will sense that the device needs to stop and will halt it right there. Intelligence at its best!
As for the motor we are talking about, it's a modern-day brushless one. It gets rid of carbon brushes so that the motor runs in a cooler way that enhances the lifetime of the machine. That also includes the boost in battery performance, as well!
The best part is, it allows a soft-start for the device. You get a little vibration when the device kicks off, but it won't make it slip off your hand or loosen the grip. This strong grip is seconded by the soft rubberized grip that covers the handle. It provides maximum comfort and fatigue-free control when you are operating the device.
Highlighted Features
Powerful motor with 8500 RPM rate
Automatic speed regulation technology
Brushless motor eliminated carbon brushes for cooling
LED gauge for battery level indication
Rubberized soft grip for comfortable holding
Another battery-powered genius on our list is the Porter-Cable PCC761B grinder. It runs on a 20V battery that lets you operate the device for a long time at a stretch. Pretty conveniently, you can change and attach the battery at the very end of the device without opening it up in any way.
Loaded with such power, the grinder wheel can rotate at an impressive speed of 8500 RPM. This massive power can grind through metal, concrete, and other hard objects without any struggle. Thanks to its cast-metal gear housing, the device is exceptionally a heavy-duty one. With this gear housing, it can easily channel heat out of the device.
Apart from that, this device is one of the safest machines you can find. It comes with a tool-free guard that protects your hands from getting in touch with the wheel. You can easily change the wheel or reposition it without using any tool.
Having a contoured molded handle means optimum comfort while holding the device. Plus, when it's accompanied by a 3-position handle, it gets way more enjoyable and convenient to use such a tool. No matter which one your dominant hand is, you can easily position the removable handle to make sure you are having the best grip on the grinder.
Highlighted Features
Heavy-duty motor offers up to 8500 RPM
Molded and soft rubber grip for comfortable holding
Spindle lock allows quick wheel changes without a tool
Safety guard can be repositioned to safeguard hands
Comes with cast-metal gear housing for maximum toughness
When it comes to power tools, it's hard to ignore Back Decker! Introducing – the BDEG400 angle grinder from Black Decker with a 6-Amp powerful motor delivering 10000 rotations per minute. You can get any grinding job done with this champ with the precision you need!
Even though it's not quite a heavy one, it does come with rugged construction. You can count on the metal gear case that ensures the durability and long-lasting performance of this device. To add to that, it exhibits a low-profile ergonomic design that suits quite well in your hands while you are operating it.
It gets way easier with the 3-position removable handle in place. You can simply attach the handle to the right, left, or even over the device, as well. Depending on what and where you are grinding, you may easily switch the position of it to get a good grip and control over the machine.
With a spindle that comes in a variety of sizes, from 5/8-inch to 11-inch, you can attach any accessories you want to it. Still, no matter what you are using with it, you can always turn the device off with a simple push of a one-touch release button. This rapid switch off button is a lifesaver in case of an emergency.
Highlighted Features
Strong metal gear case for optimum durability
Multi-position side handle for better control
Spindle lock for tool-free accessory changing
6 Amp powerful motor provides 10000 RPM
Intelligent one-touch rapid switch off option
We bring down the curtain with the Makita angle grinder 9557PBX1. This one is one of the most powerful angle grinders from Makita with 7.5 Amp of the motor inside. The best part of this motor is that it can be triggered with both AC and DC connection! So go corded and cordless, whichever you need for your project!
It comes with an interesting labyrinth design that makes it hard for dust and dirt, or other debris to enter the inner parts of the machine. It kind of seals the outer body of the device and gets rid of such tiny debris to safeguard the motor and other vital parts inside. As a result, you can expect a longer life for this machine, for sure!
As for the operation, there's nothing more to say when you have rotatable gear housing in town! This rotatable housing allows you to tilt the grinding wheel up to 90-degrees to get a straight cut inside any metal or concrete material.
And the best part is, even though it delivers ample power, it won't get dangerously hot because of its thicker coil wires inside. The coils are wound quite tightly so that the heat is reduced to a certain level, saving the device from internal hazards.
Highlighted Features
Heavy-duty 7.5 Amp motor with both AC and DC support
Complex maze-like construction to protect from dust and debris
Tool-free wheel-guard adjustment option
Thick and tight coil wind to reduce excessive heat from the machine
Rotatable gear housing allows 90-degree wheel position
Things to Consider When Buying Angle Grinder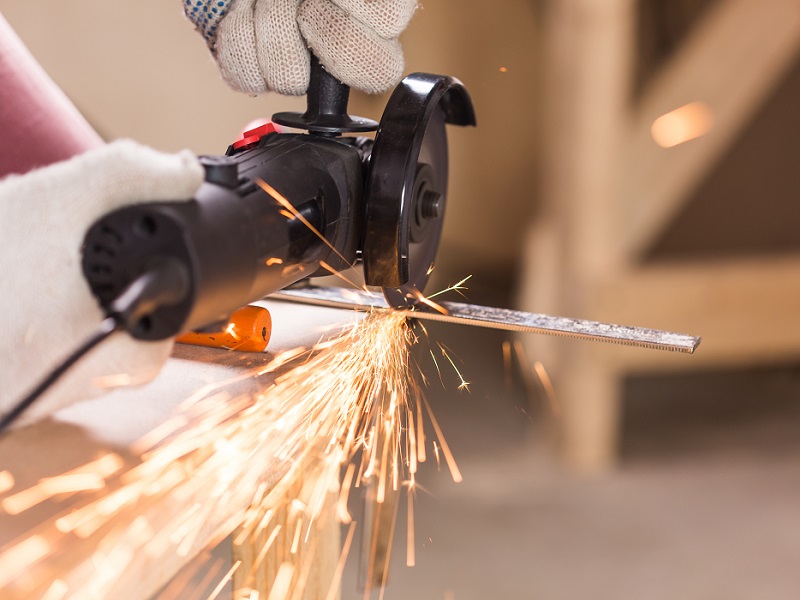 So, you are up for the best angle grinders, huh? Before you grab one for yourself from our list, make sure you are checking the following facts!
Powerful Motor
While checking the motor, ensure two things. One, the motor should be both AC and DC powered so that you can go cordless if needed. Two, the power of the motor should be at least 6 Amps to deliver maximum support.
Rotation Per Minute
The higher the RPM, the better the device will perform. With lower RPM, you can't expect the device to cut or sharpen in a precise and satisfactory way. Choose a machine that offers at least 8500 RPM.
Lightweight Machine
You can't keep up with the pressure the machine will produce if the device is heavy. Trying to hold on to a heavy device is like pushing a hill. It will cause fatigue on your hands, as well. So try to stick to a lightweight device, if possible.
Removable Handle
A detachable handle can ease up your work in multiple folds. Depending on your dominant hand, you can position the handle to a suitable place on the device and get maximum control over the machine.
Rapid Stop Option
At times, things can go wrong. You must be prepared for the worse. When you need an emergency stop, the rapid stop option of the grinder will be the icing on the cake. So don't miss this.
Soft Grip
The softer the grip, the more comfortable you will be with the grinder. So try the machines that come with a soft rubbery grip for the most convenient operation.
FAQs on Angle Grinders
Q1. How can I remove an angle grinder disc?
Ans. You can remove an angle grinder disc in both tool-free and tooled way. The easiest way to do it is the tool-free way. Simply switch the device off and click the spindle lock and loosen the disc. Then remove it from its place.
Q2. Shall we use angle grinders as a polisher?
Ans. Being a versatile machine, an angle grinder can sometimes polish the metal surface of a material you are grinding. But for the best result, you should use a buffing pad.
Q3. What protection measure to take when using an angle grinder?
Ans. You need to take general precautions like wearing safety goggles, safety gloves, and, if possible, safety shoes, as well.
Q4. What kind of tasks can I use an angle grinder for?
Ans. Angle grinding machines are versatile tools that are used for diverse cutting and grinding works like cutting pipes, metal, tile, removing grout, and many other things.
Q5. How do you change the blade on an angle grinder?
Ans. To change the blade, you need to turn off the machine first and then click the spindle lock. This will loosen the wheel to allow the blade to be removed from its place.
Q6. Can an angle grinder be used as a sander & grinder?
Ans. Using the flap discs, you can use an angle grinder as a sander, as well. When you install the overlapping flaps outside the grinder, the sanding process becomes quite easier.
Q7. Can angle grinders cut wood?
Ans. Yes, technically, you can use an angle grinder to cut wood, but that will bring some risks, as well. When you use a grinder for metal cutting, it throws away particles like debris. But if you are cutting wood with it, it will shoot wood chips that will definitely injure you.
Q8. Are angle grinder discs interchangeable?
Ans. Yes, it's quite easy and simple to change the discs. But it's recommended to change the discs when the discs become about two-thirds of their original size.
Q9. How many amps do I need in an angle grinder?
Ans. For an entry-level angle grinder, an amperage of 6 to 7 will be a good choice.
Q10. Who makes the best angle grinder?
Ans.  There are a lot of brands that produce angle grinders – Dewalt, Makita, Metabo, Black Decker, etc. No brand is any better than the other.
Q11. What is the best size angle grinder?
Ans. The best size for an angle grinder will be from 8 to 12 inches in length. It will grip well in your hand and can be used pretty accurately.
Q12. Is Metabo better than Dewalt?
Ans. Both Metabo and Dewalt have a proud history of producing top-quality power tools. So there's no way one brand can be placed over the other.
Final Words
So that was all we had with the 8 best angle grinders we have unearthed for you. With all those unparalleled features and optimum power, these machines should make it easy for you to choose one for your next project!
Take your time, go through our buying guide, and pick one for you! If you can keep your priorities straight, you will end up selecting the most suitable one, without a doubt!