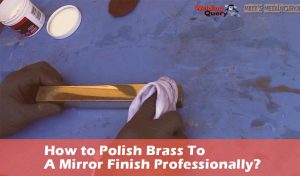 It's not an easy task to polish brass or copper materials to a mirror finish. Many of us don't know how to polish brass to a mirror finish. But, following the right methods, you can do it easily without going to a professional.
Brass looks discolor in terms of time and gets damaged. Suppose you have many brass materials, but they have lost their glace. So, you want that lost glace back to your brass pieces. The biggest question is how to do that actually?
Some of us frequently have to deal with metal parts. So, they can end up giving you a failure project.
That's why I'm going to tell you the effective secret way to make the brass components shine like new.
Follow These Steps To Make The Brass Ready For The Polishing
Brass materials get scratches and dents while you use them roughly. I've tried several methods but fall for the most effective process to get rid of the scratches.
Things That You Need
Clean water
Soap (Acid-free)
Soft cotton cloth
Stay with me throughout the whole content and apply the polishing process to your brass tools. This is going to serve you the brighter and newer brass look.
* First of all, I washed my brass tool using water. If there is any dirt, it will be washed away. You can wash the material with soap and water too. But I prefer only plain water. If there is acid in the soap, the brass can become more damaged.  However, if you are very sure the soap that you're going to use, have no acid, then you can use it for washing.
* Once you've washed the brass component, make sure you're wiping it with soft cloth material. So, the brass is ready for the polishing.
* Take a scotch pad which must be new or clean. Keep the brass on a flat surface, and you can start scrubbing with a scotch pad. Remember to rub in one direction as rubbing in both directions can create scratches on one side while removing scratches from one side.
* Don't be so instigated to rub the scotch pad too much on the brass. The scotch pad is able to remove thousands of inch brass easily. So, if you do too much rubbing, it will waste your brass anyway.
* Now the brass is ready for the final processing!
Follow These Solid Professional Ways To Polish Brass
Before we get started, make sure you have these materials near your hand.
600 / 1000 / 1500 / or 2000 grit wet/dry sandpaper.
Alloy polish.
Keep these grit soak into the water for 1 hour before you get started. Now, let's get to the remaining process.
* You can start with 600 grit sandpaper. You must keep in your mind that the heavier damage requires the lower grit. So, we are taking 600 grit to handle heavier surface damage. If you choose higher grit, then you have to go through more work. And make sure the grit that you are choosing for polishing should be soaked and well-lubricated.
* When you are done with 600 grit, move to 1000. This is going to provide the more finishing look to your brass. Just use the finger to give pressure on the brass while you're using 1000 grit.
* You can move to 1500 when you are done sanding with 1000. In this stage, the sandpaper must be lubricated.
* Now, you can move to 2000 grit sandpaper. This is the final stage to get a higher level of brightness in the brass. If you want more clarity you can do one more step with 3000 grit sandpaper. But I'm always satisfied after 2000 sanding.
Home Remedies To Remove Scratches From Brass
There are some effective home remedies that you can follow to make your brass tools looks like new. Let's have a look at them.
Use Tomato Ketchup:
Apply a thin layer of ketchup on the brass and rub it gently for 2-3 minutes. Then you can gently rinse it off with water and wipe with the dry cotton cloth.
Vinegar:
Vinegar is always available in anyone's home. You can pour vinegar into a bowl and soak the brass into it for 10 minutes. Then wash it off with clean water and buff dry.
Otherwise, you can make a paste using flour, 1 tsp salt and a ½ cup of vinegar. Apply this texture on the brass and leave for 10 minutes. Then rinse it off with water and wipe using a dry soft cloth.
Lemon Juice:
You can squeeze out a lemon and use salt with it. You can soak a sponge into the mixture and rub the sponge on the brass for 5 minutes. After washing it off with clean water, you will be pretty amazed by seeing the result.
Last Words
Here, we are done for today! How was our method to polish brass to a mirror finish? Follow our process thoroughly and don't forget to share your experience with us. If you know any other way which is more way better than this, don't forget to share with us in our comment section below.
[amazon bestseller="brass polish" items="3″ template="table"]