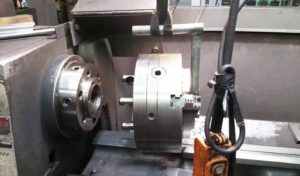 It has been a common issue for metal lathe chuck users to remove a locking chuck from the spindle. Here we will provide you with the simple method of how to remove lathe chuck from a lathe spindle.
Even professionals sometimes have trouble unlocking or removing a lathe chuck at times.
A lathe chuck is a remarkable clamp that you will use for holding spindle, cylinder, or radius objects. It is also utilized for interlocking the objects firmly.
The lathe machine will cut and reshape wooden or iron objects. By revolving the work-object inside it.
For a lathe machine, chuck is operating for clamping down the rotating objects. So, the shaping procedure of the wood or metal will stay perfect.
Since some find it difficult to remove lathe chuck. We will show you the straightforward ways of how to remove lathe chuck.
Easy Steps to Remove Lathe Chuck – Proper Instructions
There are several individual types of lathe chuck. Therefore, the four general kinds of lathe chucks are:
Four jaws independent steel chuck
Six or three-jaw scroll universal chuck
Four jaw combination chuck
Jacob drills adjustable chuck
Now, we will guide you with simple steps for unlocking any type of lathe chuck. Without damaging the chuck or work-piece.
You can just unfasten the screws from the chuck and loosen it. Thereby, this simple standard method is appropriate for both small chucks and big chucks.
On the lathe chuck's bolts, you will find three symbols altogether. You will see a parallel line and two V marks.
You can use these marks and tell them apart whether the chuck is fastened or not. Just the
position of the screws on notch gets different when it is in lock state or when it's not set up. So, you have to identify it.
When the bolt sideline is perfectly between the two V marks and the straight line. That means it is properly attached.
Now, loosen the screws or bolts. Then keep rotating the bolts at the counter-clockwise direction. Up until the notch is positioning in parallel with the straight line.
After that, you can separate the lathe chuck from off the lathe. Well, chucks are a bit weighty and you might find it hard to carry or drop it while removing it.
You can use a wooden board for the chuck. So, it can save the chuck from falling down or for the chuck to lean into it.
Now that you have placed it properly or safely. Make use of the brass hammer to unfasten the screws or bolts then pull it out from the lathe.
Remove Lathe Chuck from Lathe – Without Using a Hammer
However, while using a hammer, some may use too much force. Thus, the chuck gets damaged. But you do not get all tense up at all.
For removing the chuck from lathe you can also do it without any hammers. Here are the step by step instructions.
To remove a chuck without a hammer. You can get a strap wrench tool. Which is ready-made and you can buy it from any workshop.
It is a strap wrench, that is a weighty textile supported rubber stash. That assures to operate the chuck properly.
When you put on a force on the tool, the stash will clasp on the chuck firmly. Then it operates the length and gives a large quantity of potential force. For that, the pressure put in for removing chuck increases.
Therefore, unlocking a firmly mounted lathe chuck. You have to enclose the strap wrench machine on the chuck properly.
Then, put pressure on the wrench tool or perhaps give a little push. Thus, you can pull out the chuck off the lathe.
Further, before using the lathe chuck, read the manufacturing instructions guide. Which is very helpful for other purposes as well.
Conclusion:
So, now you know how to remove lathe chuck!
Removing a lathe chuck is not a very complex task. Even if you are a newbie, you do it with ease.
All you have to do is be careful and gentle. However, you cannot put force on it if you are being way too gentle.
Enough of the unlock work, be cautious while you are putting force. Also, while sticking the chuck open to unlock.
Moreover, be careful not to break down the lathe chuck. Be safe and provide the necessary precautions for productive work.
[amazon bestseller="lathe chuck" items="3″ template="table"]