It goes without saying that safety should be your number one priority when you are carrying out any sort of intensive work, especially when you are welding. On that note, aside from all of the other safety equipment, most of the users skimp on the boots.
Trust us, you do not want to be one of those users. Without being fully prepared for carrying out any labor-intensive job, you will be just asking for serious injuries. And regular shoes are not going to cut it because those do not even come close to the level of protection that the best metatarsal boots can offer.
With one of these on your leg, you can have the maximum amount of protection while not lacking out comfort and support.
Title
Thorogood Men's GEN-flex2 Series - 6" Cap Toe, Composite Safety Toe Boot
Dr. Martens, Men's Ironbridge Met Guard Heavy Industry Boots
Timberland PRO Men's Excave External Met Guard Work Boot
Carhartt Men's 6" Energy Black Waterproof Composite Toe CME6351 Industrial Boot
Timberland PRO Men's 40000 MetGuard 6" Steel-Toe Boot
Iron Age Men's Ground Breaker IA5016 Work Boot
Editor's Rank
Exceptional Stability and Durability
Resist Heat, Oil and Slippage
Offers Electrical Protection
Best Metatarsal Boots Review
It would not be possible for you to go into a shop and try each of the models that they have on the display. Well, worry not because we have done all of the testing and research for you.
Size is something that is not the same for each of the users. Well, Thorogood knew that exactly well. That is why they are offering plenty of size options for this unit.
To start with, this one comes in fourteen different size options. Starting from 7 to 15, you will find all of them for this one. Each of the sizes even has a wide version, which is ideal for the feet that are typically wide in the middle.
There are two color options available as well. It comes in black and brown. Both of them have a professional look to them. And as the exterior is fully of leather, the outlooks will surely be pleasing to the eye. Also, the leather is not synthetic.
Aside from the leather, the outer area has a GEN-flex2 outsole. That sole will make this one achieve a higher amount of flexibility. You should be able to move each of the areas of your feet without facing any obstructions.
The toe region has a composite layer. That layer will offer you the protection that you would require when you are inside a heavy-duty worksite. Also, the footbed is of single-density polyurethane. And the footbed is removable. It also has Eva Cushion Flex Insole.
Pros
There Are fourteen different size options available
Each of the sizes is available in two versions
Comes in two colors
Exterior is of real leather
Features composite layer on the toe region
Cons
Lining on the top is not attached that securely
Does not have any water resisting capability
Heavy-duty worksites require boots that have a superior build quality. And one example of a unit such as that would be this one that Dr. Matens is offering.
Like some of the other shoes that are in the market, this one comes few different sizes. Depending on the size of your feet, you can choose any from 7 to 14. And the best part is that all of them are true to size. That means the fit should be perfect.
It even comes in two different colors. One is black, and the other one is brown. Both of the options have yellow accents on the bottom. That yellow accent boosts the overall looks. Also, as these are of leather, they would look good on your feet.
Aside from the color options, these have a high water resisting capability. There will be no need to worry about the leather getting worn down just because the work environment is a bit moisture-rich. It also has an additional insulation layer on the top.
The toe region has a steel cap. That region is going to offer you more than an adequate amount of protection that you would need for working in a heavy-duty worksite. The toe cap is pretty durable as well.
Pros
Black and brown color options are available
Has a yellow accent on the bottom
Features a durable steel toe cap
Capable of resisting water
Boasts an insulation layer on the top
Cons
There is no wide version available for the sizes
OEM insole might be a little tight for some users
Timberland PRO Men's Excave External Met Guard Work Boot
Steel-toe leather work boot with padded collar featuring lace-up front with Met Guard overlay for impact protection
Breathable mesh lining with moisture control
Oil-, heat-, and slip-resistant outsole with Ladder Lock radius for traction
Are you looking for something that screams "professional"? Want something that looks sleek but offers more than enough protection? Well, what you are probably looking for is this one that is from Timberland.
Before we talk about the outlooks, let us talk about the lining that it has on the outside. It features a breathable mesh lining. That makes this one achieve moisture control capabilities by letting the air pass through the top.
Other than that, the look that it focuses on is minimalism. It does not have any tacky ribbing on the top. Instead, it opts for something that looks more professional. And the leather on the exterior makes this one achieve a sleek look.
Aside from the outlooks, the outsole that it comes along with is heat, slip, and oil-resistant. It even has a ladder lock radius. That locking mechanism will increase the overall traction substantially. You can easily tread on most of the surfaces.
The toe region of this one has a steel cap. Also, the collar region has a good amount of padding. Those two will offer a superior amount of protection. And the Met Guard overlay that it integrates will increase the overall impact protection capability of the unit. Also, the sole inside is synthetic.
Pros
Has a breathable mesh lining on the exterior
Exterior can resist heat, oil, and slippage
Features a ladder lock radius
Boasts a steel toe cap
Comes with Met Guard overlay
Cons
Stitching on the toe is not that high in quality
Some users might find the Met Guard a bit uncomfortable
While there are plenty of boots in the market that are capable of resisting water, there are not that many that can offer electrical protection. Well, this one from Carhartt is one of those few.
Let us first talk about the feature that makes this one stand out the most. It has secondary protection on the upper layer. That protection can save from incidental contacts with electric circuits that are up to 18 thousand volts.
Like some of the other units, this one also has a waterproof exterior. The membrane on the top can resist water exceptionally well. It will keep your feet dry on stormy and rainy days. Moisture will not be able to find its way in.
Even though the outer layer is waterproof, it breathable as well. It will prevent your feet from sweating too much by promoting airflow. And for the circulation of the air, the temperature inside will stay adequate in all possible scenarios.
The footbed that is inside is quite advanced. It is not the regular one that you will find in the regular boots. This footbed has the capability of reducing slippage properly. And the grip that it offers is 30 percent higher than the regular ones. It also can prevent fatigue and keep you comfortable for a prolonged amount of time.
Pros
Capable of offering electrical protection
Upper layer is resistant to water
Breathable and promotes airflow inside
Features an advanced footbed
Offers about 30 percent more grip in comparison
Cons
Some of the sizes might be too narrow for some feet
A bit on the heavier side
Timberland PRO Men's 40000 MetGuard 6" Steel-Toe Boot
Ankle-high boot with EverGuard waterproof leather upper featuring Goodyear welt construction with Kevlar thread
Lace front with waterproof MetGuard flap
Comfort-inspired closed-cell PU footbed with durable cushioning
Most of the offerings that are from Timberland are worth recommending. They feature proper construction and capable of offering the right amount of protection. And this boot is among one of them.
Unlike some of the other units that are in the market, this one utilizes Kevlar for offering protection. The Kevlar is high in quality. And the protection is further enhanced for the Goodyear welt that it features. It meets the ASTM safety standards. You can expect your feet to stay in one piece.
Design-wise, it implements an ankle-high boot design. The heel measures about 1.5 inches in height. And the exterior is of real leather. Because of utilizing real leather, this one achieves a sleek outlook that is not really that common.
Aside from the design, this one boasts a waterproof construction. Even the lace on the front is waterproof. And the rubber outsole that is on the exterior is capable of resisting oil, dirt, and abrasion. It does a proper job of resisting slippage as well.
Alongside that, it has a steel toe cap. That will offer a proper amount of protection for the toe region. Also, the closed-cell footbed that it bundles along with can offer a high level of comfort. The cushioning that it utilizes is highly durable as well.
Pros
Utilizes Kevlar that is high in quality
Cushioning inside is fairly durable
Features an ankle-high design
Capable of resisting water, oil, and abrasion
Packs closed-cell footbed
Cons
Lacing system is a bit finicky
Has a reasonably thick Met Guard
One of the factors that most of the brands are going to skimp on is the stitching. However, the case is no the same with the offerings from Iron Age. And this boot can illustrate that perfectly.
As we have mentioned above, this one features Aramid stitching. This type of stitching is well-known for being long-lasting. As a result, the unit achieves a considerably higher level of durability. It will not fail on you in the worksites.
Aside from the stitching, this one comes with a lace-up system on the back. That system is going to ensure that you have a secure fit on your feet. The lining is also breathable. So the temperature of the inside is going to remain comfortable.
Even the footbed that it comes along with is removable. You can either roll with or without it. This EVA footbed will provide a higher level of cushioning, which will eventually increase the overall support. Each of the steps will be within your control.
Moreover, the heel is spongy. For having a spongy characteristic, this one will provide you a considerably higher level of comfort. Also, it would be capable of properly absorb the shocks. The rubber outsole can resist slippage and heat as well.
Pros
Packs Aramid stitching
Has a high level of durability and lasts for a long amount of time
Heel is spongy and offers a higher level of comfort
Features a lace-up system
Comes with a removable EVA footbed
Cons
Protection on the toe area is not that reasonably high
A bit heavy in weight
You might be tired of seeing boots from Timberland in this recommendation section. But we can not really help it because most of their offerings are so good that it would be wrong if we do not recommend them to you.
Let us first talk about the design of the unit. This one features an ankle-high design that raises up the back part a little bit. Also, the outer exterior is full of real leather. And the orange accents that it has on the body make it stand out a bit.
Aside from the outlooks, the textile panels on the body feature anatomical Met Guard. They are molded right into the body, which will enhance the overall protection. Working on a heavy-duty worksite will be a bit safer with these on your feet.
The cement construction that this one integrates will lower down the break-in time. And it will increase the overall flexibility. Because of how flexible this one is, your feet should not feel any obstruction during movements.
Other than that, the anti-fatigue technology that it packs will reduce the amount of shock felt by the user. The conical geometry of the polyurethane midsole will enhance the efficiency of returning the energy. Also, the metallic plate that this one has can resist punctures reasonably well.
Pros
Sports orange undertones on the body
Textile panels sport anatomical Met Guard
Features a cement construction
Break-in time is considerably short
Packs anti-fatigue technology
Cons
Met Guards are not that durable
Offers an underwhelming amount of comfort
Traction is another one of the things that most of the brands are not going to emphasize that much. But that is not really the case for this boot that is being offered by KEEN.
First of all, this one has non-marking rubber outsoles on the outside. Those are responsible for the higher level of traction that it offers. Also, the outsole is highly resistant to oil and slippage. You should have full control over each of the steps that you will make with these on your feet.
This one has a steel toe cap on the front. And the best part is that the left and the right shoe have an asymmetrical design, which will provide you a roomier toe box. The fit that you will obtain from this should be unobtrusive.
Aside from that, the exterior is capable of resisting water as well. It has a membrane that keeps the air away but lets the air in. The liner lets the vapor out without letting any of the water getting inside.
It also has an internal Met Guard that is highly flexible. The Met Guard is exceptionally lightweight as well. For being both flexible and lightweight, you can expect to get a superior amount of comfort when you have these on your feet.
Pros
Has non-marking rubber outsoles on the outside
Offers a high level of traction
Can resist slippage and oils
Steel toe cap has an asymmetrical design
Can resist water but is breathable
Cons
Might be a bit narrow for some feets
A bit on the clunkier side
KEEN Utility Men's Mt Vernon 6" Steel Toe Waterproof Work Boot
KEEN FOR COMFORT: Left and right asymmetrical safety toe, uniquely anatomically correct steel, aluminum, and composite toe designs...
SAFETY FIRST: Includes a direct-attach PU midsole and a removable, metatomical dual-density EVA footbed for long-lasting comfort
KEEP DRY: Features KEEN.Dry proprietary waterproof, breathable membrane that lets vapor out without letting water in
Offering a roomy toe box is something that most of the brands are not going to consider. However, KEEN had factored that in when they were manufacturing this one for the market.
To begin with, it comes with an asymmetrical toe cap. The left and the right one has anatomically correct steel, composite, and aluminum design. Those will offer you the highest amount of protection in the toe region.
Aside from the toe region, this one has a guard on the body area that will make it achieve a reasonably high impact resistance capability. Also, it comes with Kevlar thread that will protect it from sparks, heat, and abrasion.
Other than that, the anatomical design that the toe box features will make this one offer a reasonably roomy toe box. The toe box is roomier than most of the other options that are out there. So the comfort level will be pretty high as well. It is highly resistant to slippage as well.
Apart from that, the exterior has a membrane that will keep your feet dry. It can resist water and block off the moisture from getting inside. And for the breathable nature, it can regulate the temperature of the inside properly. It will let the vapor out without letting the water getting inside.
Pros
Has a roomy toe area
Toe area features a unique anatomical design
Keeps the vapor away from the inside
Blocks the water from getting in
Offers a good amount of protection from impacts
Cons
Build quality is not that praiseworthy
Some of the units might ship with a defective eyelet
Being able to properly absorb the shock is quite important for one of these to become recommendation-worthy. Well, a perfect example of a unit being capable of that would be this one that is from Timberland.
First of all, the unit features anti-fatigue technology. This technology will make sure that you do not feel any sort of fatigue on any part of your feet when you are walking with these on. The amount of energy return is reasonably high as well.
Other than that, this one packs a polyurethane footbed. That material is well-known for absorbing shock, and the same thing can be seen in this case as well. You can expect to enjoy a superior amount of comfort when you are wearing this.
Aside from the footbed, the toe box is of composite material. That, combined with the metatarsal guard that it boasts, you should get the maximum amount of support and protection when you are in harsh environments.
There is an advanced heel locking system that will make sure that you have a secure fit. The lacing system will offer you the ability to personalize the fit according to your preference. And the breathable mesh that it features on the top will do a proper job in controlling the odor and the temperature inside.
Pros
Features anti-fatigue technology
Packs polyurethane footbed
Highly capable of absorbing the shock
Toe box is of composite material
Offers a personalized fit
Cons
Fit on the ankle might be too tight for some
Makes too much noise on some of the surfaces
How Metatarsal Boots Differ from Other Types of Boots?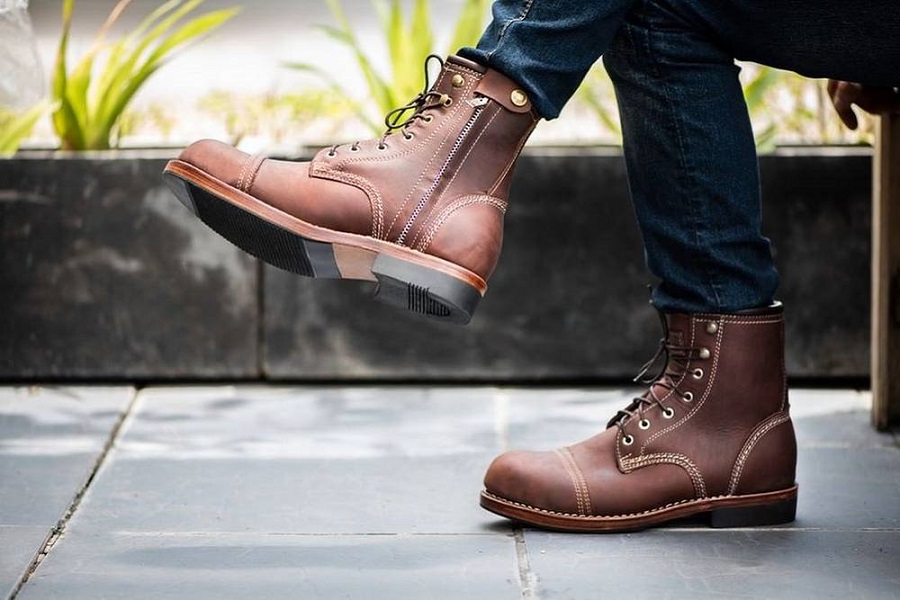 "So, what is all the fuss about these shoes?", you might be asking yourself this at the moment. Well, outlooks-wise, you will find plenty of models in the market that will look exactly like what an average Metatarsal boot might look like. However, even though the looks might be the same, they will have a lot of differences.
On that note, there are different types of these out there. We will offer you a brief idea about each of them and let you know what makes these different from the other types of boots.
Internal Guard
These are the ones that have regular boot-like outlooks on the exterior. All of the good stuff is on the inside. The padding on the inside is way higher than the regular ones, and that is why they can offer a good amount of protection to the feet.
External Guard
This type looks more like a work boot than a regular one. The padding is on the outside, and the amount of padding is usually higher than the internal ones. For that reason, the amount of protection this one can offer is generally higher as well.
Composite
Instead of using paddings, these utilize real Kevlar. Some will even utilize plastic or carbon fiber. They are generally thicker, and the silhouette is also reasonably thick. And these do not tend to transfer cold or heat within the internal.
Aluminum
Unlike the other types, this one is going to fully rely on aluminum. For that reason, the level of protection will also be reasonably high. However, the weight remains considerably low as aluminum is a very lightweight metal.
TPU
Some of the models that different brands are offering in the market will utilize thermo polyurethane. These are highly resistant to abrasion and chemicals. They are lighter in weight as well.
What Makes a Good Metatarsal Boot?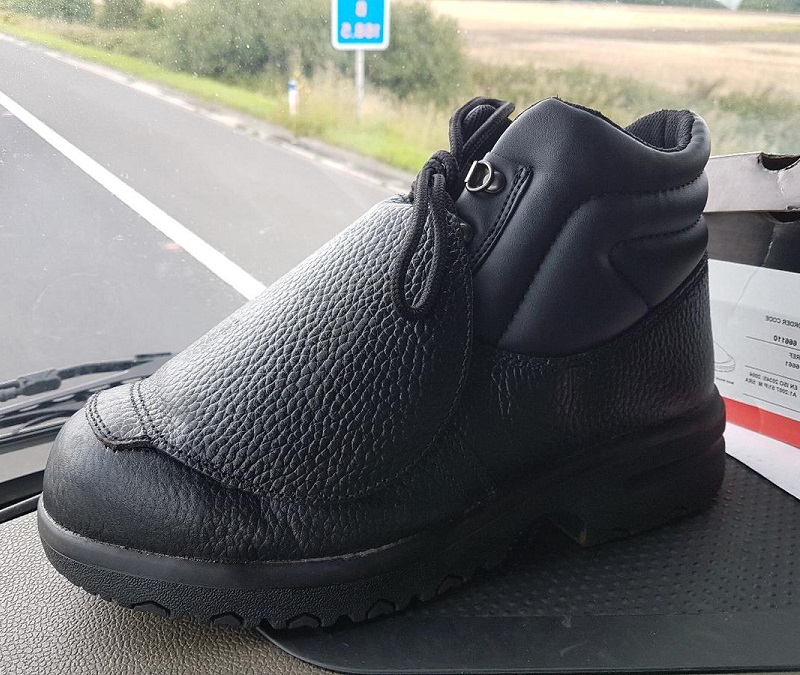 You might be curious about the things that we had considered when we were choosing the models for you. Well, you should actually have proper knowledge about them because by keeping them in your mind, the chances of you getting something worth the money will be substantially high. And the factors are:
Size
The first thing that you have to consider before you make any purchase is the size. Make sure that the one that you are getting is your exact size. If you happen to get something small, it will have a tight fit. On the other hand, if you happen to buy something that is a bit large, the comfort level will degrade substantially.
For that reason, you should check your size and get a model that comes in your size. Most of the models will also be available in two different versions. One would be standard while the other one is wide. The wide versions are there for the people that have wider toe areas. You should choose that if your toe is a bit wider.
Build Quality
One of the most important factors that you must consider when you are choosing one of these is the build quality. As these are work boots, the build quality will be generally higher than the regular ones. But if it is not that high, the chances of it not being able to withstand work environments will be considerably high.
And considering the fact that you are basically going to wear these in harsh environments, you would want to get something that has a substantially high build quality. That being said, for the build quality, the primary thing that you should check is the quality of the materials. Check the leather, the lacing, and other parts.
If all of the materials utilized for the overall construction are reasonably high in quality, it will have a considerably high build quality. On the other hand, if the materials are at an average range in terms of quality, the quality will be average or below average.
Outlooks
The outlook is something that would be a personal preference. Some of the users might like the professional look that most of the models have, while some of the users might want something that looks more like a regular boot. Nevertheless, we would recommend you to check out the professional-looking ones first.
Those will have a sleek outlook that will surely go well with your work environment. And you can also wear them when you are not going to work as well.
Comfort
Another important thing that you must consider when you are in the market for one of these is comfort. And comfort is something that is going to vary from one to another. While some will feel like clouds, some will feel like stepping into bricks. It will highly depend on the amount of padding and cushioning that is inside.
For this factor, you should factor in whether the area of the insole is properly cushioned or not. The higher the amount of cushioning, the less the chances of fatigue occurring. As a result, you would be able to keep your feet inside and walk without facing any sort of discomfort.
Aside from the insole, you need to check the collar area. The units with a higher amount of padding in this region will eliminate the chances of blisters occurring. And the area around your heel and the upper ankle will be properly cushioned, which means the chances of you feeling discomfort will be pretty low.
External or Internal Protection
In general, these boots are basically two types. One will utilize proper materials to provide protection from the exterior, while the other one will pack those materials inside. The choice between these two will depend on the type of work that you generally do.
If you do a lot of climbing, you should stay away from the external ones. With those, the chances of you tipping over will be considerably high. On the other hand, if you work in a place where you work with heavy objects that has a chance of falling on your feet, you need to pick the external ones.
Waterproofing
One of the factors that most of the brands will skimp on is the waterproofing ability of the shoe. However, this is pretty important. As these are working boots, you are most likely to tread on an environment with too much moisture content. And you would not want the water and liquid to get inside, do you?
For that reason, you should consider if the one that you are picking has a waterproof mesh on the exterior or not. Without that, these will not have the ability to block the water from coming inside. And if they do manage to get inside, the walking experience that you are going to get will not be that comfortable.
Breathability
Aside from the waterproofing capability, you need to make sure that the upper surface is breathable. The ones that do come with a breathable mesh have the ability to let the air circulate through. And as the air is going to circulate through the inside, the temperature inside will stay regulated.
Because the temperature inside will be in check, the chances of you sweating too much will be exceptionally low. Also, these will let the vapor from the inside get out. For that reason, your feet inside will most likely stay dry.
Other Features
Apart from all of the other features, some of the shoes will have some extra capabilities. Starting from being capable of resisting abrasion, dust, and slippage, some will be capable of offering them all. Those are the ones that you would want to pick if you mainly plan to tread on the harsh and tough environment.
Traction
The last thing you have to consider when you are in the market for one of these is traction. This will basically depend on the footbed and the lower region. Make sure that the one you are planning to purchase offers you a greater amount of traction. Without that, you will not have proper control over your movement.
Frequently Asked Questions
1. Are Metatarsal boots capable of offering protection from electricity?
Yes, you will find some of the models that will have the ability to offer you protection from electricity. Some of the units can save you from incidental contacts of electric circuits up to 18 thousand volts. Those are the ones that you would want to pick if you are working in an environment with too many electrical hazards.
2. What are Metatarsal boots are actually for?
Working boots are something that is for a different niche of people. And Metatarsal ones are generally the higher end of working boots. These have a proper amount of protection on the external or the internal side. And the protection that it can provide will save you from the accidents that can occur in your workplace.
3. Can I wear a Metatarsal boot on a regular basis?
If you are talking about wearing it regularly, you can. These generally have a higher build quality than regular boots. As a result, the durability of these remains considerably high. So, these should be able to resist wear and tear exceptionally well. In short, you can wear these regularly without any worries at all.
4. Are Metatarsal boots comfortable?
You might not believe this, but some of the Metatarsal shoes are more comfortable than regular shoes. Those have a higher amount of padding inside. Also, the cushioning that they pack is considerably high. For both of the factors, the comfort level that those can offer is generally high.
However, there are some that will not be able to offer you an adequate amount of comfort.
5. Where can I wear a Metatarsal boot?
Almost everywhere. Many of these shoes have a sleek and modern design that will enable you to wear them anywhere you want. On the other hand, the ones that do have a bland design, you can also wear them outside of your work environment, but that would be entirely up to you.
Final Words
As we have stated multiple times, safety is not something you would want to skimp on one bit. To get the proper protection in your feet, you should not settle for anything other than a good metatarsal boot. That being said, we assure you that all of the models that we have picked are nothing but the best metatarsal boots.