If you thought getting the best cheap plasma cutter means compromising with quality, you are dead wrong. You don't need to break your bank to get a decent working plasma cutter. As these machines offer better smoothness and precision while cutting metal items, welders prefer plasma cutters over other variants nowadays.
That's why we have penned down a number of plasma cutters that you can get without spending a fortune. After a rigorous check-up, we have successfully picked up 6 to find out the best budget plasma cutter. So, if you are looking for a plasma cutter lately but are tight on budget, you better fasten your seatbelt!
Image
Title
Editor's Rank
Price

Top

Top

Top

SUPER DEAL DC Inverter Plasma Cutter Cutting Machine
Best Overall
See Price

Top

Top

Top

PrimeWeld 50A Air Inverter Plasma Cutter
Runner-up
See Price

Top

Top

Top

Forney Easy Weld 251 20 P Plasma Cutter
Best for Drag Flashlight Technology
See Price

Top

Top

Top

Lotos LTP5000D 50Amp Non-Touch Pilot Arc Plasma Cutter
Editor's Choice
See Price

Top

Top

Top

PrimeWeld 3-in-1 50 Amp Plasma Cutter
Best for Energy Efficiency
See Price

Top

Top

Top

SUNGOLDPOWER 50A Air Plasma Cutter
Best IGBT Machine
See Price
Top 6 Best Budget Plasma Cutters
Although you can't simply count the number of variants available in the market, not all are worth your notice. So, we made sure we are selecting the ones that are considerably affordable and, at the same time, perfect for any welding works. So, here's what we found.
Our top pick is the Super Deal DC Plasma Cutter which comes as a surprising 60% duty cycle. What's the benefit of such a higher duty cycle? Well, it allows you to consume less power than devices with a lower duty cycle. Plus, it also offers higher speed, higher temperature, and of course, higher energy plasma draught.
All these excellent benefits come in a sturdy package of heavy-duty iron. The solid and top-class metallic construction promises strength that can be relied on for a long time. Again, apart from the obvious strength, the device also has a range of inner protection from different accidents. Such as, it can prevent overheating, over-voltage, under-voltage, and lack of compressed air pretty effectively.
With the maximum 50-Amp input current in place, you can pick between 2.5 to 5 seconds for uninterrupted airflow via the torch right after you're done cutting. As for starting the device, it has a pilot arc-striking system that makes it pretty easy to start. Once you get the machine going, you can easily cut materials that are electrically conductive. Such as aluminum, copper, stainless steel, brass, etc., that are half-inch thick.
The best part is, the machine delivers the performance without making an annoying sound. As for keeping track of what you are doing, there is a clear digital LCD screen. Once you are done, you can easily carry the device around with a convenient handle on the top.
Highlighted Features
It comes with a 60% useful duty cycle
A superior digital LCD screen
Noiseless smooth operation
Protection for unusual heat and voltage
Compact design with a handle
Constructed from heavy-duty iron
Who said plasma cutter should only be used in industrial projects? You can easily handle one in your garage and household chores when you have such a device. If you are looking for such a device, the PrimeWeld 50A plasma cutter should be the one that you need to look out for. This 50-Amp inverted comes with both 110V and 220V output to match everyone's needs.
To be specific, you can use it with household power output and industrial power output alike. As for cutting sheets, you can cut thickness up to half-inch. However, in severe cases, you can cut up to ¾-inch, as well. So, no matter what's your purpose – industrial or home-based DIY projects – this one is a perfect suit, for sure.
Now, when it comes to cutting metals, you are in luck. With the PrimeWeld 50-Amp welder, you can cut stainless steel, alloy steel, copper, mild steel, and most importantly, aluminum. In addition, you can also cut different metal sheets of the same thickness as the mentioned metals.
As for portability, this one is an excellent choice. There's a very convenient handle on the top of the device to hold it, move it, and carry it around. Being lightweight in build quality, picking it up and running from a project to another is quite a simple task. In addition, it requires less maintenance and less oiling to keep it going. So, yes, this is one of the most convenient and easy-to-handle plasma cutting devices.
Highlighted Features
A 50-Amp plasma cutter can cut up to 1/2 -inch thickness
Lightweight device comes with a carrying handle
Can cut mild steel to aluminum and stainless steel
110-220V output for both industrial and household use
Low maintenance and oil required to operate
When it comes to welders, you can't ignore Forney, can you? Well, the Easy Weld 251 plasma cutter from Forney is a reason why you can't look over it! This green plasma cutter comes with all the performance you would expect from a superior plasma cutter. The best part is, it offers brilliant Drag touch technology.
So, what this technology does, is makes it easy to drag the welding tip on the surface of the sheet you are welding on. This allows you to have the most precise cut you can have. That being said, you can cut up to ¼-inch thickness on any sheet you want. It can cut on stainless steel, mild steel, and even aluminum pretty well.
The most exciting part of this machine is that it's so user-friendly and built for non-pro users, as well. Just open the box that it arrives in and take the plug out. Connect it to the device and power it up with a household 120V output. That's it! It can easily work with household power sources. Not only that, but you can also use it with a generator as a power source. It works equally well.
As for the build quality of this performer, it's surely pretty impressive. It is made from all-metal construction. The entire body is strong and made of hard metal. That means you can easily use it for a long time, even if you are using it on a daily basis. Plus, it's super simple to use and equally simple to carry!
Highlighted Features
It comes with a Drag torch technology for precise cutting
The cutter can cut materials up to ¼ inch thickness
Made from all-metal construction for durability
It can be connected to a household power source at 120V output
Lightweight and simple-to-use device
Lotos comes into play with a superior-quality Plasma cutter in the market. Well, you can easily tell it from the other cutters from the rugged look it offers. Made from high-quality metal materials, this cutter can offer you a long-term service, for sure. Not to mention, you can use it with the household power option, too.
Make the most out of this superior plasma cutter with the pilot arc technology. Having this technique on board, you can easily cut any metal without touching the surface. That means simply the tip of the cutter will do enough to get this thing going. Having said that, you can easily cut through mild steel, alloy steel, copper, stainless steel, and even aluminum with this plasma cutting machine.
From 0 to 50 DC output, you can easily cut half-inch on a metal sheet. If you can take it to the extreme point, you can get a maximum cut of ¾ inch. Again, you have to make sure you are running the machine under 220 to 240V. As for 10-35A DC output, you can get a clean cut of 1/3 inch with a maximum offer of 2/5 inches.
The best part of this machine is that it can easily cut through surfaces that are quite rough and rusty. That, too, without causing a whole lot of slag. This is particularly useful for you if you are planning on cutting a sheet that's old and going all rusty. No need to clean it up before you need to cut it.
Highlighted Features
Brilliantly cuts through rusty and rough surface
Up to ¾ and 2/5 inch cutting system
Cuts steel, copper, and aluminum sheet
Works on pilot arc technology for a precise cut
Lightweight and compact design
Another champ in the welding field is the PrimeWeld 3-in-1 Plasma cutter. Yes, you read it right; the device can weld in three different ways. Namely, Tig or stick welding, arc welding, and plasma welding, obviously. However, you don't need to reset the whole device to switch from one welding technique to another, as it takes only a few clicks on the side.
Being a superior plasma cutter, the machine can cut cast iron, copper, mild iron, and aluminum. Its 50A power makes it really easier for it to deliver the maximum power required for any kind of material underneath. Again, its 60% duty cycle plays a vital role in making it a pretty much power-saving device. It consumes less power than most of its counterparts in the market.
One thing's for sure; you can easily get going with using this machine right after you open it up. Firstly, the machine is quite user-friendly for anyone to start using it. Secondly, it's designed as one of the safest devices out there. How? Well, the machine doesn't apply flammable constituents. This clearly mitigates the risk of an accident for any new user.
Being just above 30 pounds, you can understand how lightweight this machine is. You can easily carry it around, holding on to the useful handle on the top. The handle is very comfortable and handy to pick it up and relocate it.
Highlighted Features
It comes with a 3-in-1 feature to cut in different techniques
The duty cycle is 60%, so that it consumes less power
User-friendly design for new users to get used to
Weighs just 32 pounds for easy carrying
It doesn't have flammable constituents to mitigate accidents
And finally, on our quest to find the best budget plasma cutter, we have the Sungoldpower 50A Air plasma cutter. Trust us, getting the advanced inverter IGBT technology in such a compact and budgeted device is truly a miracle come true. That, too, with both 110V and 220V output compliance which makes it a truly versatile device to work with.
That means you can easily connect the device to your household power output to make it work. Again, if you want, you can also use it in industrial areas too. So, you've got the flexibility you need. And in case you need any adapter for this purpose, you have already got it with the device as a free supply.
As for the cutting power, the device comes with a superior cutting facility. You get ½-inch to ¾-inch cutting with this one. Plus, you can spare yourself some time by not applying any polish later on. That means you get a polished cutting right after you cut the material.
Having said that, you can make the most out of your power capacity as the device comes with a 60% duty cycle. This allows you to save on your power bill. To set the right power output, you can use the bright LCD screen for easy navigation. And once you need to move with the device, simply pick this 24-pound device with the handle without any effort!
Highlighted Features
Introduces advanced IGBT technology
Dual-frequency for both household and industry applications
Bright LCD screen for easy navigation
Comes with a 60% duty cycle for efficient power use
24-pound easy to carry and lightweight profile
What to Look for While Buying The Best Cheap Plasma Cutter – A Definitive Buying Guide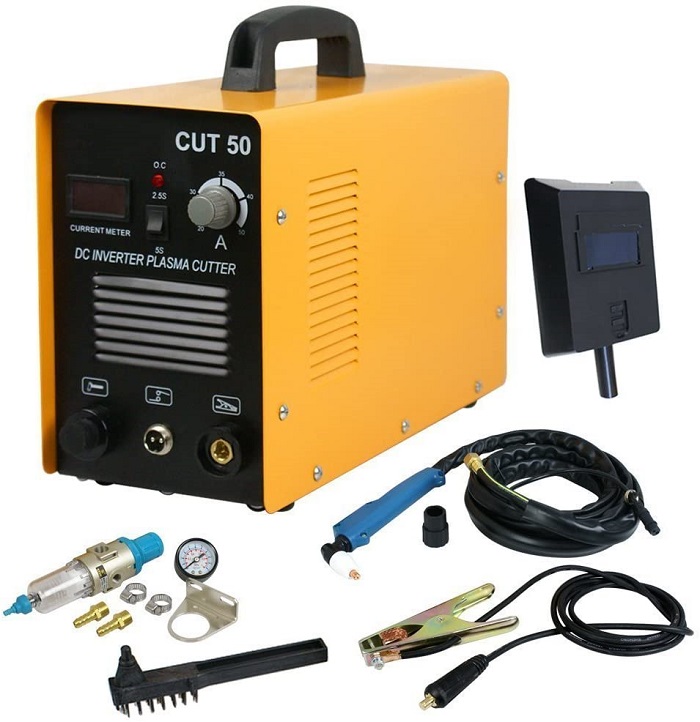 Getting a budget-version plasma cutter doesn't mean you have to let go of some of the most important features. You need to make sure that certain features are there to make it a worthwhile one with an affordable price tag. So, here we are, with a few vital tips for you to keep it perfect.
Consider The Power Source
The first thing you need to confirm is the power source you are going to use for the plasma cutter. If you are planning to use the device at home in your household environment, you need to go for the 110/120V machines. This is because the household power outputs range from 110 to 120V.
However, the household power sources are not suitable to cut anything over ¼ – ½ inch gauge plate. In that case, you may need to increase the power to 220/240V in your cutter. But that will require you to switch to industrial or commercial power output.
So, depending on your needs and convenience, select the power source first before trying out other features.
What's The Maximum Cutting Power?
The thickness of the material you are going to cut is also quite crucial. You can't just get a cutter from the market and start applying it to the material in your project. Depending on the thickness of the plate gauge, you need to select the cutter. Again, the maximum thickness of the cutter may not mean that it may cut it perfectly. It's simply the highest it can get. So, it will end up making a cut that's not smooth enough for you.
Suppose a cutter can cut a maximum of ¾ inch; you need to use it for cutting half-inch or less for a smooth and perfect cut. So, make sure you are keeping this calculation in mind.
The Type of Torch
Okay, this is a bit serious. The type of torch you are using determines how well you are going to get a cut. Generally, there are three different types of torches in plasma cutter welding machines. Standoff torch, drag technology torch, and torch start. Here's a quick look at all of these techniques.
A standoff torch has a stand that is placed at the bottom of the nozzle. This stand establishes a confirmed distance between the material you are welding and the nozzle. This is why the double arcing is mitigated at the metal and the tip. Again, during the second arc, this one can stick both together. That's why it's a suitable choice for any plasma cutter.
With drag technology, you can get rid of the stand that we found on the standoff torch. It lets the nozzle touch the material, but it doesn't cause any double arcing. The torch can easily move along the material while cutting. However, it can cause a lot of dirt and damage to the nozzle, so you need to take extra care in this case.
This has very little difference from the TIG machines. The nozzle touches the material during the cut, and you need to lift it up a bit to prevent double arcing. Although it works well, it's not very suitable for a plasma cutter. Some brands do use this technique to lower the price, but it shouldn't deceive you in any way. So, try to avoid this one if possible.
Consider The Duty Cycle
Generally, the duty cycle on a plasma cutter refers to the duration you can use it in a 10-minute period. Given that it will be continuous and without any overheating. The higher the duty cycle, the longer period it will serve – that's the basic idea. So, it will be obviously better for higher cutting requirements.
However, a higher duty cycle means a higher price. So, you better be careful while looking for a higher duty cycle in a plasma cutter. The 40% to 50% duty cycle should come at a lower price within your budget. But it doesn't mean that the lower duty cycle anyway means lower performance. So, you can consider this, for sure.
Frequently Asked Questions
Q1. Why Should You Buy An Inexpensive Plasma Cutter?
Ans. How expensive is a plasma cutter depends on what it has to offer. Usually, the high-priced plasma cutters come with higher power outputs, like 220 to 240V. Again, these cutters have a duty cycle of 60% and more. These factors determine the hike in the price of these plasma cutters.
However, these premium features are not necessary for all users. If you are planning to use it for your daily use or household chores, a lower duty cycle and 110V power output will do good for you. So, yes, depending on your lower requirement, inexpensive plasma cutters are worth a shot.
Q2. How Reliable Are Cheap Plasma Cutters?
Ans. It's not that anything that comes with a lower price tag should be deemed as lower in quality. You should judge the features the device has to offer, and if it fits your necessity, it's a good one to go with.
Again, make sure you are picking up products from renowned brands that are popular for their quality and perfection. It will definitely make sure you are using a good-quality plasma cutter.
Q3. How Hot Can A Plasma Cutter Get?
Ans. Usually, a plasma cutter can get heated up to 45,000-degree F. It is advised that you should not look directly into the flame of the welding scene to save your eyes from damage.
Q4. Can You Cut Aluminum with a Plasma Cutter?
Ans. Yes, you can cut aluminum with a plasma cutter. In fact, it's a distinct characteristic of a plasma cutter that it can cut aluminum pretty well.
Q5. Do Plasma Cutters Use Gas?
Ans. Yes, plasma cutters can use gas that is electrically conductive. This is because it can transfer energy to any material from the source power supply. This allows the device to finish cutting in a faster and quicker manner.
Final Words
It's not that you are missing out on a lot of things when you are using the best cheap plasma cutter. If you know how to locate the most useful device at an affordable price, it's going to be a win-win situation for you. Again, if you are planning to use a plasma cutter in your household repair works, it's better to get the best budget plasma cutter.
So, try picking up any of the above reviewed budget-friendly plasma cutters from our list; you will definitely be satisfied!